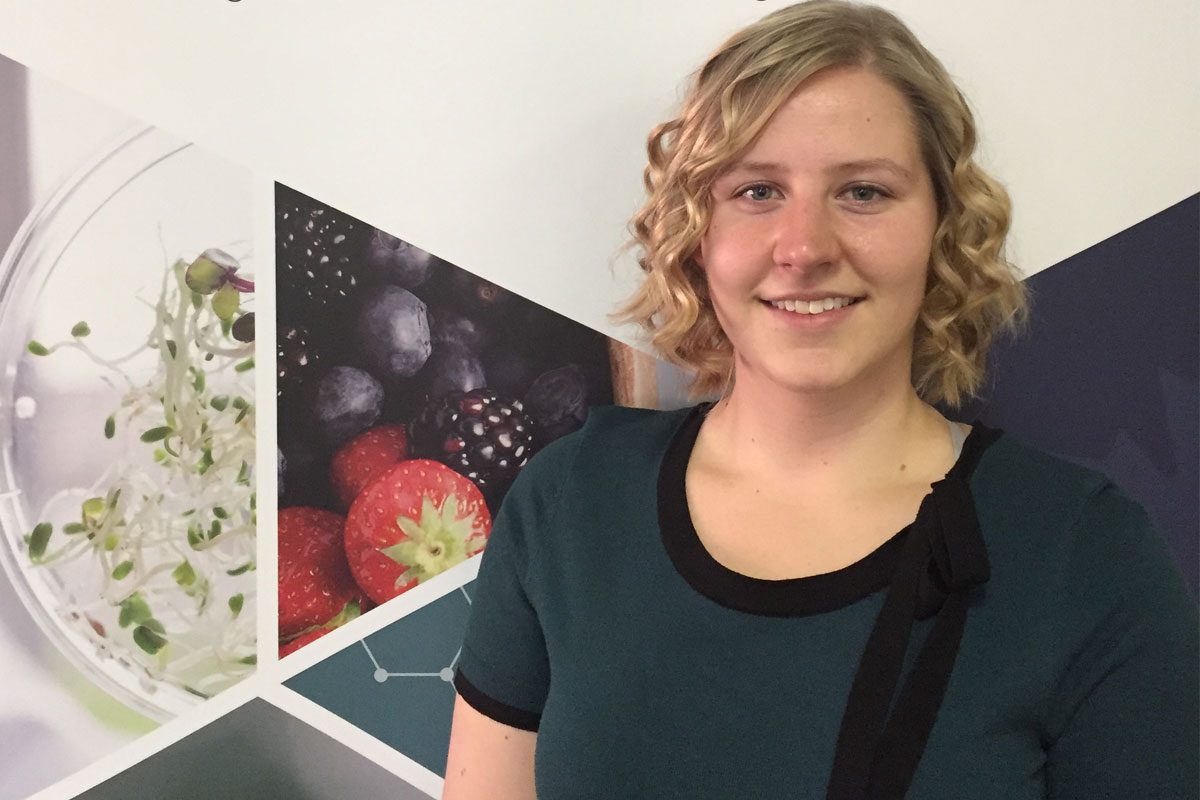 Philanthropy jump-starts career for ag grad
November 12, 2019 —
After five years of full-time study, Giselle McNally was more than ready to say goodbye to textbooks for a while. The agriculture grad freely admits that university was a challenge, and there were times when she wasn't sure it was worth it. Then, a few weeks before convocation, came her just reward.
McNally was the 2018 recipient of the Manitoba Pork Council Prize for students in the Faculty of Agricultural and Food Sciences, setting her on a financially secure path from the moment she graduated.
With the Manitoba Pork Council receiving a National Philanthropy Day award this month, UM Today is taking a look at the many ways the Council's philanthropy has touched the lives of UM students. We checked in with McNally [BSc(Agric)/18], who has since settled into her job as an inspector at the Canadian Food Inspection Agency (CFIA).
WHAT INSPIRED YOU TO STUDY ANIMAL SCIENCE?
Growing up in a rural farming community, everyone had animals, whether as family pets or farm animals. As a kid, I loved any activity that involved learning and interacting with them, so when it came time to choose a career path, I decided to go with the only job I knew of that involved animals: veterinary medicine. Once I got to university and joined the Faculty of Agricultural and Food Sciences, I realized that there were many other career opportunities involving animals, so I changed my focus and pursued a Bachelor of Science in Agriculture, focusing on Animal Systems. It was the best move I could have made; I really liked the smaller class sizes, the knowledge and openness of all of the department staff, and of course, all of the farm tours!
HOW DID HAVING FINANCIAL SUPPORT CHANGE THINGS FOR YOU?
It provided me with added security and peace of mind. I felt like I finally achieved something after having worked on my degree for five years. University was not easy for me. There were times when I felt like the stress of studying and preparing projects on such tight timelines wasn't worth the stress and lack of sleep, so being recognized for my efforts was a major confidence boost.
After graduation, I knew I had a job but I didn't know for how long. My initial contract with the Canadian Food Inspection Agency was four months and I was concerned that I would have to start job hunting as soon as I started. Having the extra financial support allowed me to focus on adjusting to life after university and learning about my job. This ultimately reduced my stress level and improved my job performance, which led to me getting a permanent position. I didn't anticipate that happening within a year of starting with the Agency; I was very excited when it did.
WHAT EXACTLY DOES BEING AN INSPECTOR INVOLVE?
Every day is different and the variety in my work is what I really enjoy. A big part of my job is working with the public, so I am constantly meeting people with different backgrounds, which means I hear about many different opinions and values. My empathy and emotional intelligence have increased as a result, and those are skills that I can take home with me. Some days I feel like I travel the world without actually leaving Winnipeg!
A large part of my day is spent following up on labelling complaints: concerns about best-before dates, net quantity, ingredients lists and allergen labelling. This normally begins with a visit to the retailer or facility responsible for the product. Once the root cause of the problem is identified, a solution can be implemented and then I follow up at a later date to ensure that the problem has been resolved.
Another part of my job is providing answers and additional information regarding labelling requirements to industry and the public. Regulations can be difficult to read and understand, and I act as a resource for clarification of the Food and Drugs Act and Regulations and the Safe Food for Canadians Act and Regulations. The best part of this is that the more questions I receive, the more I learn myself!
HOW HAVE YOU BEEN ABLE TO APPLY WHAT YOU LEARNED AT UM TO YOUR JOB?
By far the most useful skill that I learned in university was how to research and find reliable information. As we move further into the digital age, more information is available online and that information is not always accurate. Knowing how to find reliable information sources is critical to making informed decisions. Knowing where your information is coming from is just as important as knowing the information itself.
DO YOU HAVE ANY ADVICE FOR FUTURE AG & FOOD SCIENCES STUDENTS?
Remember to balance education with experience. A post-secondary degree doesn't guarantee you a job. Take every opportunity you can to volunteer. Ask your professors and peers for any student employment opportunities in your field. Attend career fairs. Make employers take notice of you. Much of what I've learned about my job has come from doing the job rather than from official training or education, and a lot of things don't always happen like they do in the textbook.
WHERE DO YOU WANT TO GO FROM HERE?
I'd like to have an opportunity to work in some of the other business lines at the CFIA, particularly animal health. One day I would also like to return to university and complete my master's degree in Animal Science, but right now I'm enjoying my life after university and settling into my career.