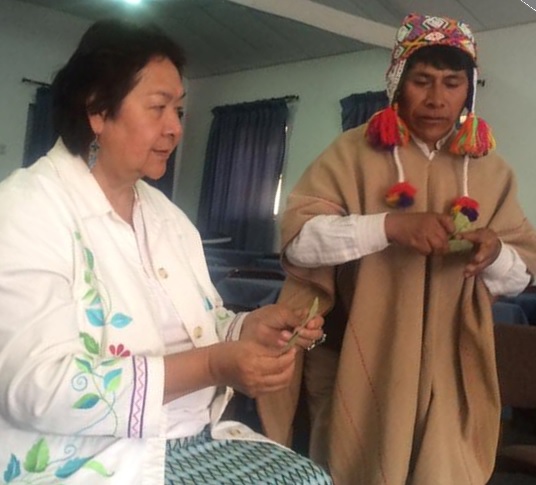 Peru study program students embark on 'epic journey'
October 7, 2016 —
Petroglyphs, ancient ruins and floating islands made from bundled reeds highlighted the Peru study initiative led by Dr. Laara Fitznor this year.
"They still have relevance today. People are still using them to connect with today's realities for Indigenous pride and the recognition of continuation of culture, traditions, and history, said Fitznor, who described leading a delegation of six students to the South American country this summer as an "epeic journey," the first of what she hopes will be an annual two-week trip.
The initiative, supported of Extended Education and the Research Center of the Andean Cultures (CICAN), takes the UofM Group to sacred Inka sites in Cusco as well as the floating Island communities of Uros and Taquile at Lake Titicaca where indigenous communities hosted the travel study group.
Because Peru's Indigenous Peoples face many of the same issues as their northern Indigenous neighbours, including the legacy of colonization, the trip is an opportunity for Faculty of Education students to learn how different Indigenous communities are working to reclaim their Indigenous traditions, history, and knowledges.
"Those are the kinds of things that I was trying to bring to the front with my colleagues," said Fitznor.
Led by guides who took the delegation to key Indigenous communities, Fitznor of northern Manitoba Cree background, brought along her traditional drum and shared songs with the host communities.
"They led us through ceremonies and feasted with us," said Fitznor. "There was always gift and Indigenous cross-cultural sharing. But it's not just learning about how people live, it's about interactions, being mindful of the economy, being mindful of the ecology."
As part of the program, students are required to engage with readings, story work, and review literature that addresses Indigenous knowledge and perspectives on Indigenous repatriation, language renewal, cultural reclaiming, culturally relevant teaching and research.
The initiative stems from discussions between Fitznor and CICAN's Jose Zarate, starting in 2014, and culminating in the two institutions signing a travel study program partnership agreement, contributing to U of M's strategic Indigenous achievement goals.