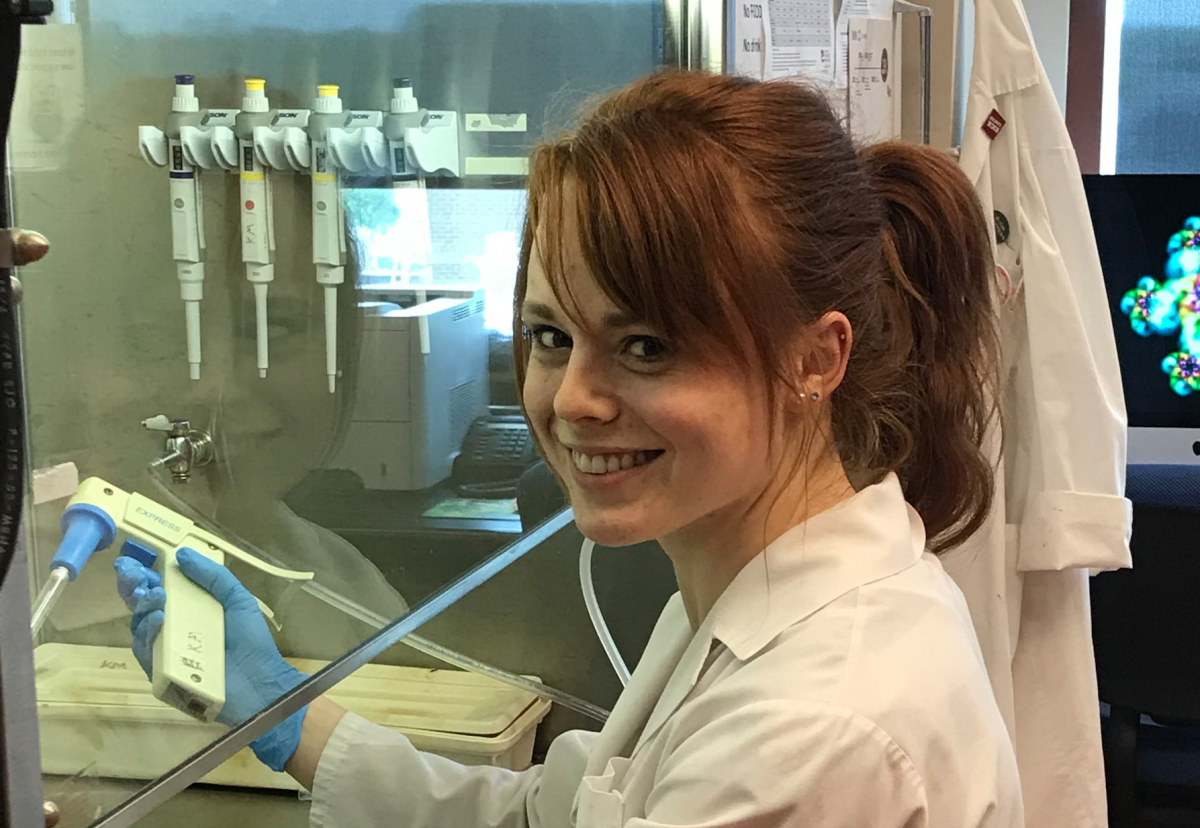 Personally motivated, completely dedicated to the fight
June 5, 2019 —
At age sixteen, Kailee Rutherford was diagnosed with cancer.
When she began chemotherapy, she immediately saw that most of the other pediatric cancer patients were much younger than she was – some not even a year old – and she was aware some of them succumbed to the disease.
She recalls: "At a young age I was faced with a harsh reality. It's different when you're also going through it, realizing you won't see someone around the clinic anymore because they're gone, and wondering why it was them and not you."
Despite her sudden confrontation with adversity, Rutherford still managed to maintain excellent grades in high school, was elected student council president, and became an ambassador for the Terry Fox Foundation. In 2014, she was the recipient of an Emerging Leader Award and Schulich Leader Scholarship, for which she noted in her application: "I'm a positive person, and have taken the curve ball life threw at me using it to make a difference; sharing my story with others and showing them how hard times can come with opportunities to help foster change for the better."
I realized that I couldn't ever completely leave the world of cancer behind; I needed to help in the fight
Rutherford has been a full-time student in the genetics honours program at the University of Manitoba and graduates with her Faculty of Science classmates on Thursday, June 6, 2019.
Rutherford readily admits that her diagnosis motivated her career focus. She explains: "When I was just over halfway through treatments there was a distinct moment I first felt the deep desire for a career in oncology. I realized during this time that I couldn't ever completely leave the world of cancer behind; I needed to help in the fight."
A student researcher at CancerCare, she knows that her work is essential to solving some difficult questions about the disease: "I'm trying to identify genes that, when misregulated, play a role in cancer development and progression by negatively affecting the stability of chromosomes. These types of studies are important in better understanding the development of cancer and may lead to the identification of therapeutics that target cancer cells more specifically."
Rutherford is very thankful she received the Schulich Scholarship, as it eased a pressing financial burden.
She says: "Coming from a small town well outside of city limits, the transition to university came with the additional challenge of moving away from home and my support system. Not having to worry so much about financial costs is a huge relief, especially knowing my career goals would involve years of schooling beyond my undergraduate degree."
Her advice for students entering university this year? Maintain a work/life balance.
"While it's important to focus on your studies, don't put so much focus into it that you completely forget to take care of yourself," she notes. "For me, it was finding the balance of schoolwork with being involved in the community while learning to be aware of my overall health and state of mind. Once I found that balance, I found an improvement in myself both academically and in personal aspects as well."
Rutherford speaks from experience about the fight to cure cancer in general, but is realistic about the prospects.
She says: "While I think medical science will find ways to cure all cancers, I don't think it will be the 'one size fits all' cure for cancer, since it's not just one disease, but hundreds of different diseases. Even one type of cancer such as breast or lung cancer can have different subtypes that need to be treated differently. By better understanding what goes on in cancer cells, we have come a long way in cancer treatments, post-cancer monitoring, and patient outcomes."
"But we still have much to learn," she adds.