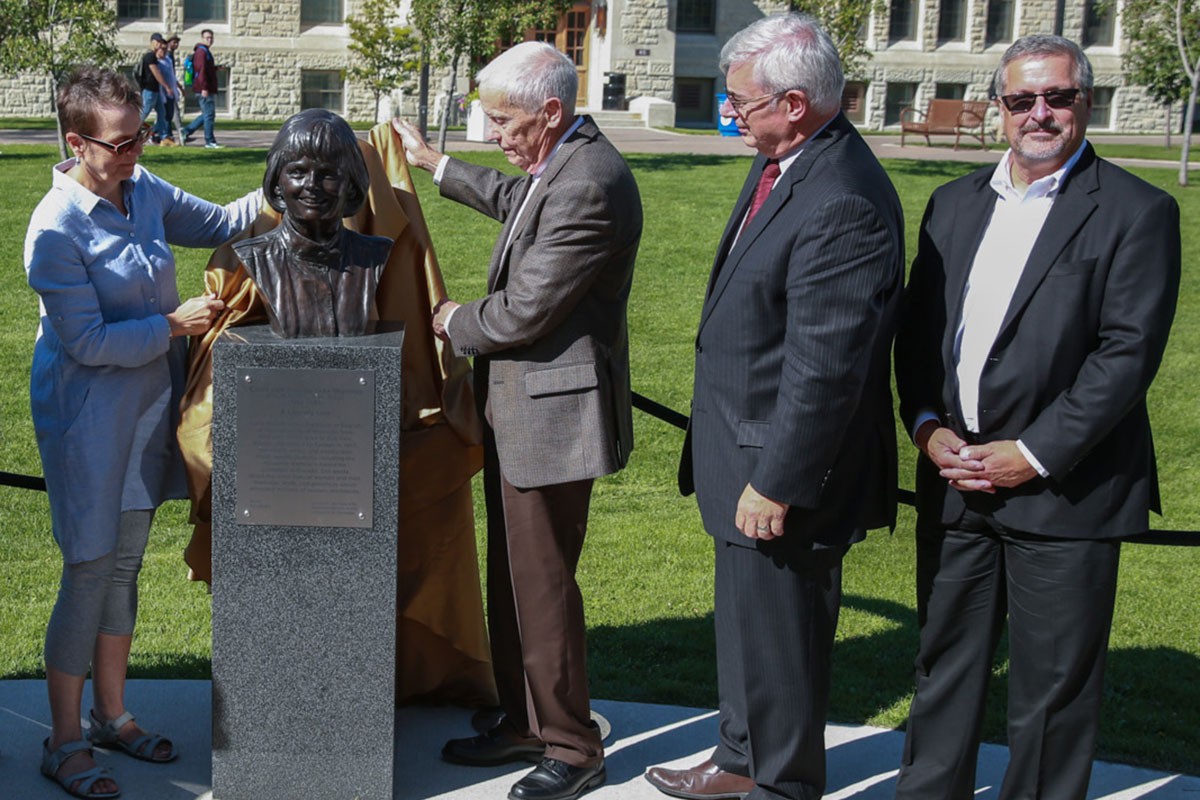 Paying tribute to the legacy of a literary lion
Commemorative bust created to honour Carol Shields
September 8, 2016 —
The University of Manitoba honoured internationally acclaimed writer and former faculty member Carol Shields through the official unveiling of a commemorative bust on Sept. 8 at Innovation Plaza.
Shields taught at the University of Manitoba for nearly two decades. She joined its department of English in 1980 and taught students until her retirement in 1999. Shields died in July 2003.
Her work, which included non-fiction, poetry, drama and fiction, attracted accolades far and wide. In the mid 1990s, her novel The Stone Diaries won both the Governor General's literary award and The Pulitzer Prize. Some of her other celebrated works include Swann, The Republic of Love, Unless and Larry's Party.
In January 2003, the U of M recognized Shields with an honorary Doctor of Letters degree.
Shields was born in 1935 and raised in Oak Park, Illinois. She enrolled at Hanover College in Indiana in 1953. She also spent a year at Exeter University in England as an exchange student, where she met Don Shields, an engineer from Canada who would later serve for several years as dean of the U of M's Faculty of Engineering.
After she graduated from Hanover College in 1957, they married and settled in Canada, living in a number of cities before arriving in Winnipeg in 1980.
Along with amassing local, national and international awards, Shields mentored many developing writers and earned widespread recognition for her impact on communities.
In 1998, the Governor General of Canada made Shields an Officer of the Order of Canada. Four years later, she was made a Companion of the Order of Canada – the country's highest honour.
Innovation Plaza was established in 2013 to celebrate and honour University of Manitoba academic staff who have demonstrated sustained excellence and global impact and influence through a body of research, scholarly works or creative activities with a series of commemorative busts. The project was made possible through the vision and leadership of the Richardson Foundation.
Research at the University of Manitoba is partially supported by funding from the Government of Canada Research Support Fund.