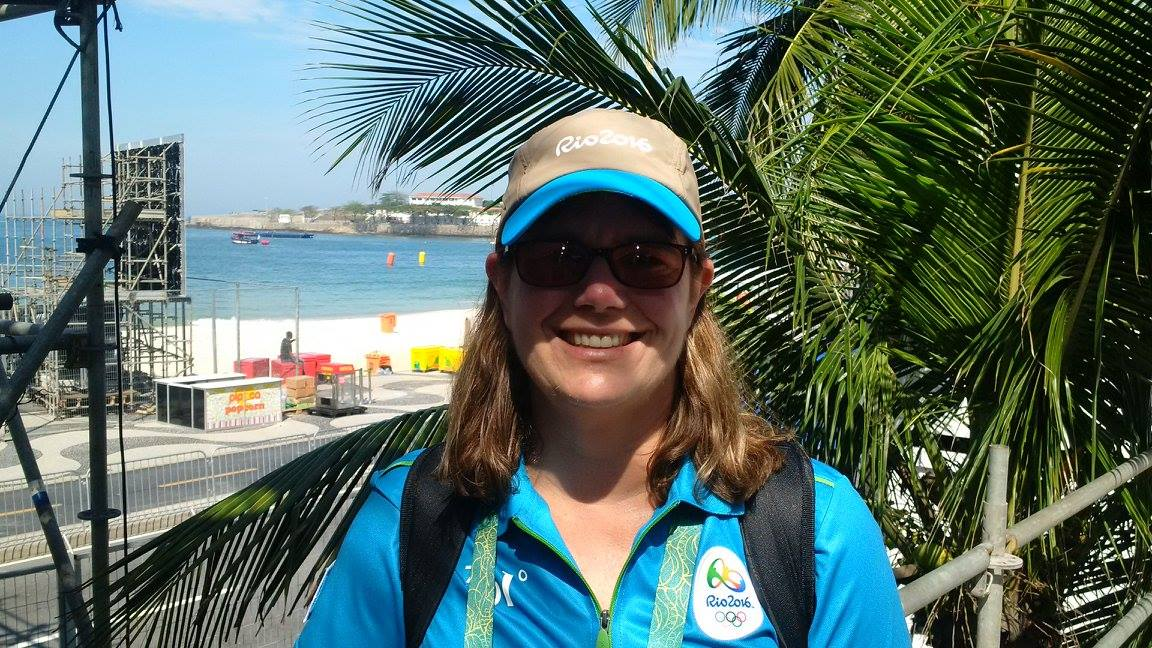 Pandemic restrictions make third trip to the Olympics all business for Asper staff member 
Kelly Mahoney, UM alumna and Director of the Asper Career Development Centre, heads to Tokyo to serve as head referee for triathlon  
July 20, 2021 —
Very few individuals get to experience the excitement of attending the Olympic Games, but Kelly Mahoney, UM alumna and Director of the Asper School of Business' Career Development Centre, can share her experiences from not just one Olympics, but three. For two weeks, Mahoney will serve as head referee in the sport of triathlon at the 2020 Tokyo Olympics.
While Mahoney spends her days ensuring Asper students achieve their career goals, in her outside world, she has a close connection to triathlon, a sport that mixes swimming, cycling and running. Her career in the sport spans over 20 years. Starting with recreational involvement and then quickly transitioning to officiating the sport as part of her swim coordinator role with the 1999 Pan Am Games in Winnipeg.

The Asper School of Business communications team caught up with Mahoney as she was preparing to leave for Tokyo.

In your role as head referee, what are your responsibilities?
As technical officials, our job is to ensure safety and fairness for all the athletes on the field of play. In my position as head referee, I am the person who makes the decisions about whether or not to apply penalties if an athlete makes a mistake on the course or something goes wrong on the course.

For the most part, I'm sitting in a control room with another official whose job is video review. If we get a call, for instance, from the transition area that an athlete has mounted their bike before the mount line then I will take a look at that. I will go in, I will review, rewind the tapes, and watch in slow motion to see if the athlete actually did violate that rule of the competition. If yes, then I will apply a penalty.

Which Olympics have you participated in?
This is my third Olympics. I was at the 2008 Beijing Olympics, and I was a transition official in that Olympics. Then in Rio, at the 2016 games, I was the chief venue control officer. When you are in that role you sit in a room with television monitors around the course, and you are the liaison with all of the local organizing committee stakeholders from security, workforce, medical, broadcast, to volunteer lead.

This time around the Olympics must look very different. What kind of rules or regulations do you have to follow when you get there?
The requirements are very stringent. We've been asked to monitor our health for 14 days before flying. We are reporting daily temperature checks and have to take two COVID tests within 96 hours of traveling. They both have to be negative or you will not be allowed onto the plane.

Once you arrive in Tokyo, you have another test and then you are put into a quarantine area until that test comes back negative. You go through a dedicated Games entry point separate from regular travelers to Japan, and once that's done you are put on a shuttle where you actually check in to your hotel to avoid a line-up at the reception. We are all staying in our own hotel rooms, which is different because we usually share a room with another official. We are isolated in our rooms unless we are at the venue working. We've had to submit activity plans about where we will be at any given time and we will be tested every day – it's a saliva antigen test.

I can only imagine the Olympics brings many athletes together that wouldn't otherwise meet because they are playing different sports. It really is an opportunity to get to know people from different cultures and background. Are you going to miss that aspect?

Oh, absolutely. Depending on where our event falls in the two-week sport calendar, we would attend either the opening ceremonies or the closing ceremonies and that is not being allowed. So, we'll watch them on TV.

Typically, at the games you get to see other sports. We are part of the Olympic family and often given passes to attend other sports. And certainly, we're not doing that this year. When I was in Rio, we were up on Sugarloaf Mountain, we were on Copacabana Beach, we were exploring as a tourist would be, during our down time. In Beijing, we were at the Forbidden City and the Summer Palace, in addition to watching water polo, diving , to name a few events. When we weren't actually working, we were being tourists.

And often Team Canada athletes will support other Team Canada athletes from different sports. When you are in the Olympic Village, they get to meet each other, and so basketball players are eating with gymnasts.

This year will be very unique, but it's going to be a games that goes down in history. We have to try and enjoy it as much as we can, and be grateful to have been selected amongst officials from all over the world.
___________
The Tokyo 2020 Olympics runs from July 23 to August 8 with the men's individual triathlon taking place on Monday, July 26, women's individual triathlon on Tuesday, July 27 and mixed triathlon on Saturday, July 31. Watch for former Asper BComm student, Tyler Mislawchuk, ranked #8 in the world, winner of the Tokyo test event in 2019, as he competes for Canada in the men's individual triathlon on July 26.