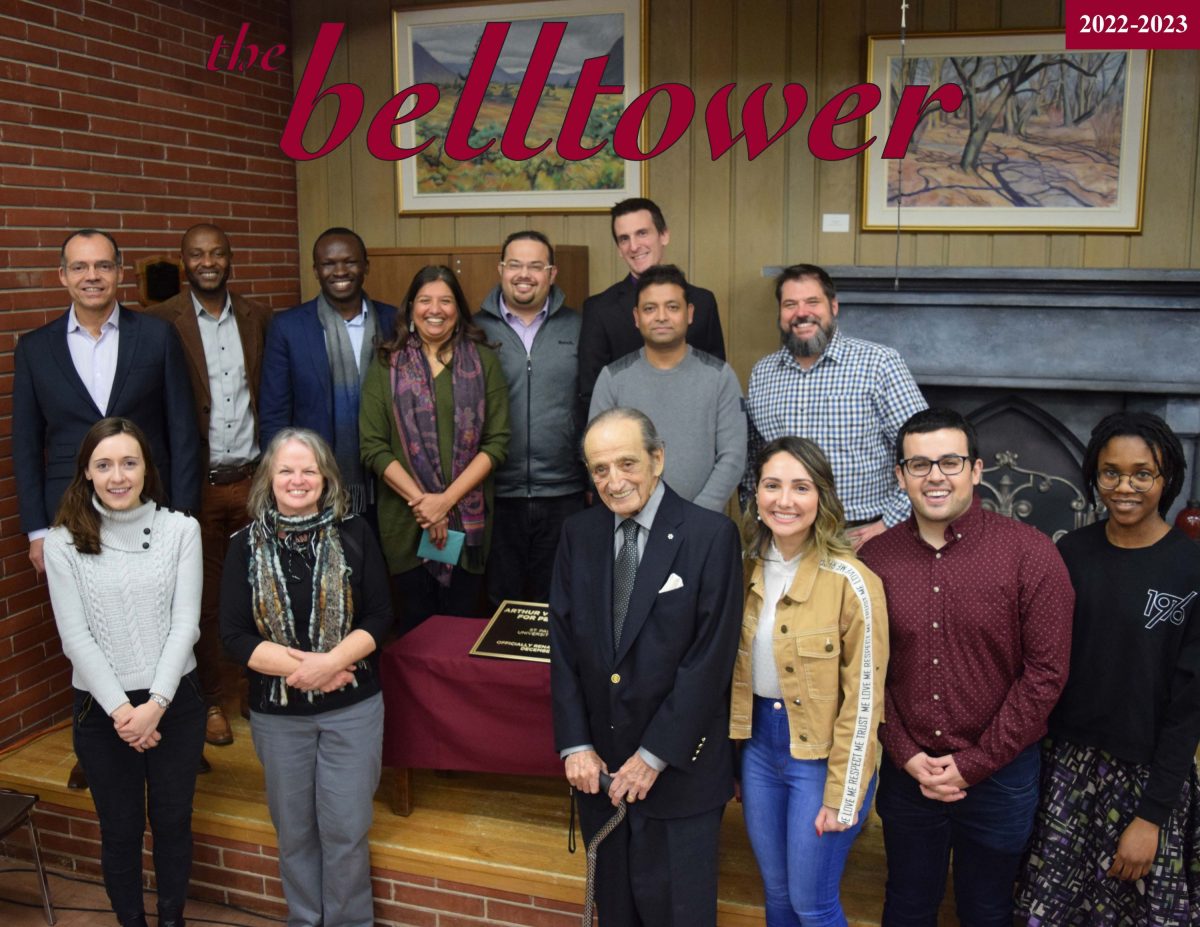 PACs alumni deliver captivating stories in this year's Belltower magazine
St. Paul's College releases Belltower 2022-2023 magazine
April 26, 2023 —
St. Paul's College at the University of Manitoba has recently released the Belltower 2022-2023 magazine, which provides a snapshot of the college's activities, achievements, and challenges over the past academic year.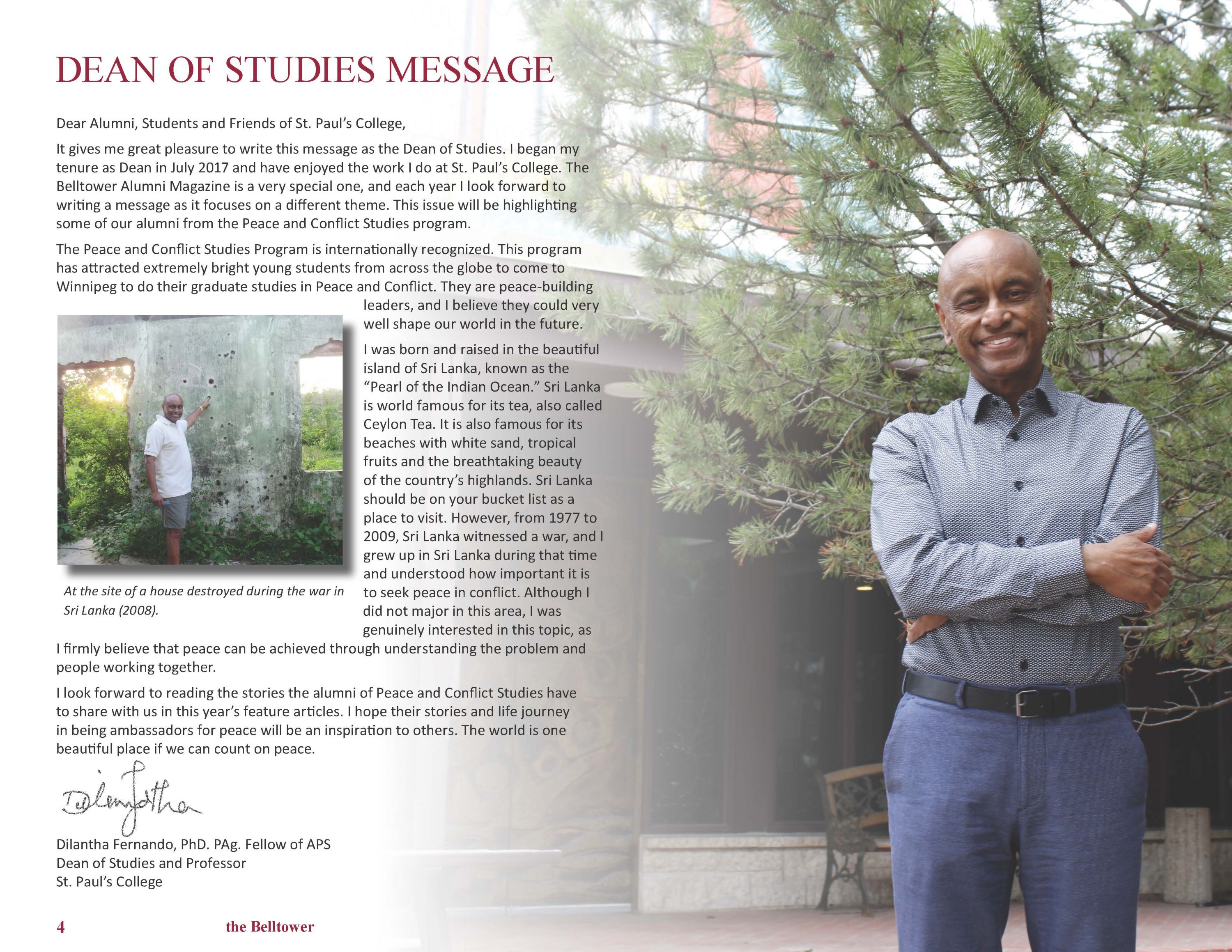 "The community of St. Paul's College continues to serve those University of Manitoba students who are College members, as well as our scholars, staff, alumni, donors and volunteers," said Rector Dr. Christopher J. Adams, B.A. Hons (UM/SPC 83), M.A. (UM/SPC 86), Ph.D. (Carleton 95). "Students join St. Paul's College to be part of a smaller, diverse, and respectful learning community. Our students are succeeding in a wide range of faculties, including Medicine, Nursing, Business, Arts, Fine Arts, Sciences, Engineering, and many others."
This year's report features articles from four outstanding Peace and Conflict Studies Program (PACS) alumni Chuck Egerton, Katerina Standish, Lydia Schoeppner, and Yuliia Ivaniuk, who have generously shared their program experiences, pursued interests after graduating and perceptions on matters in the world today.
"This issue of the Belltower profiles a number of alumni from the Peace and Conflict Studies program whose home base is at what is now the Arthur V. Mauro Institute for Peace and Justice," said Mary M. McGunigal, Chair of the St. Paul's College Foundation Inc. Board. "Their stories are inspiring, and all of us who are part of St. Paul's College can share a sense of pride in their achievements. Although we may observe and experience examples of conflict in the world and in our lives, our students and alumni offer hope for respectful and meaningful resolution of differences."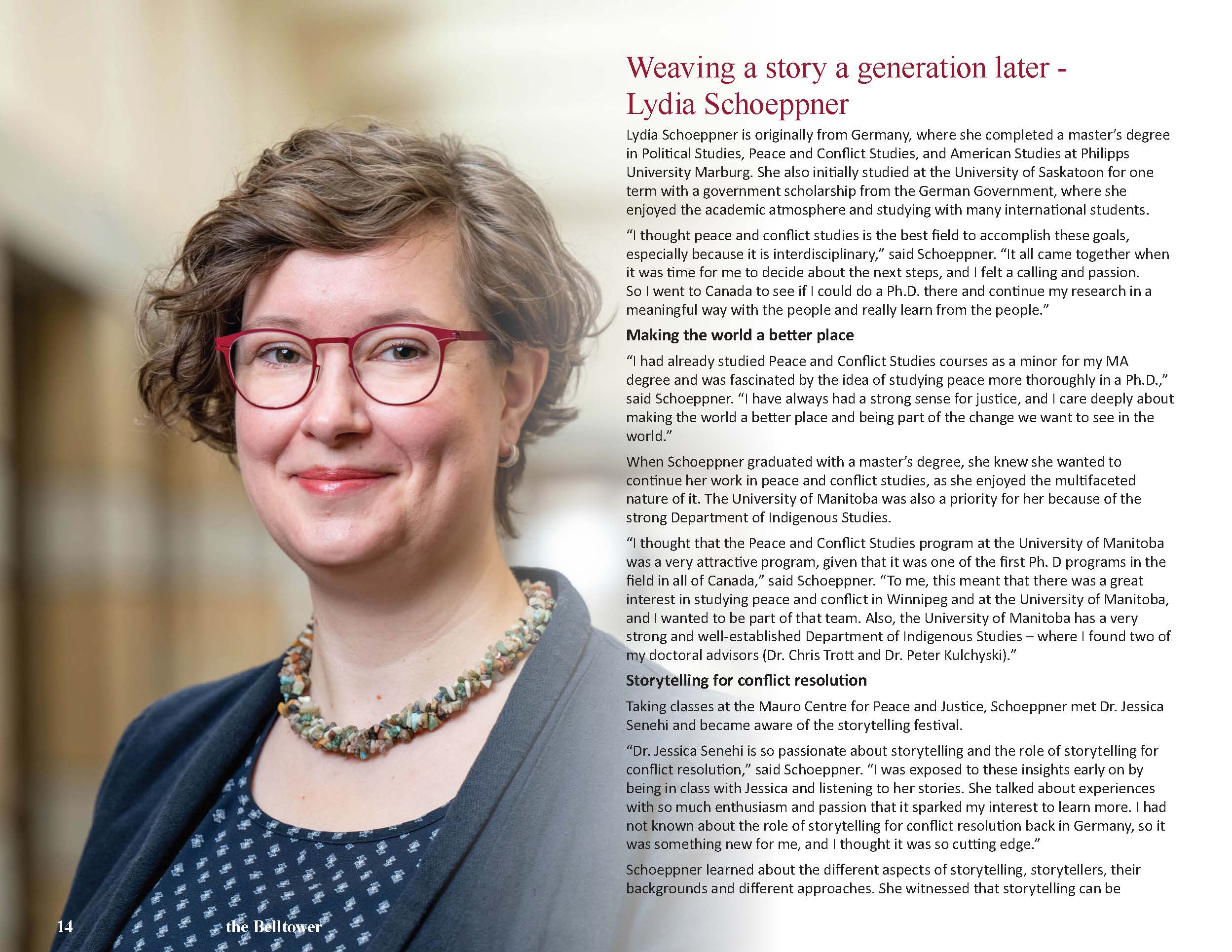 Chuck Egerton shares his insightful perspective as a photographer and practitioner of the Bahá'í faith. He immensely enjoyed his time in the Peace and Conflict Studies program and created a genuinely unique doctoral thesis that used a newly devised method of interviewing and portraiture.
Katerina Standish's imparts her experiences as a Peace and Conflict Studies student and how they empowered her to develop herself into an accomplished writer. Her article is a testament to the college's commitment to empowering students and fostering community on campus.
Lydia Schoeppner's journey in the Peace and Conflict Studies program particularly captures the diversity of storytelling as a method of engagement and connections with the community that create active dialogues. She explains how the power of a story is more substantial when it is utilized as a dialogue.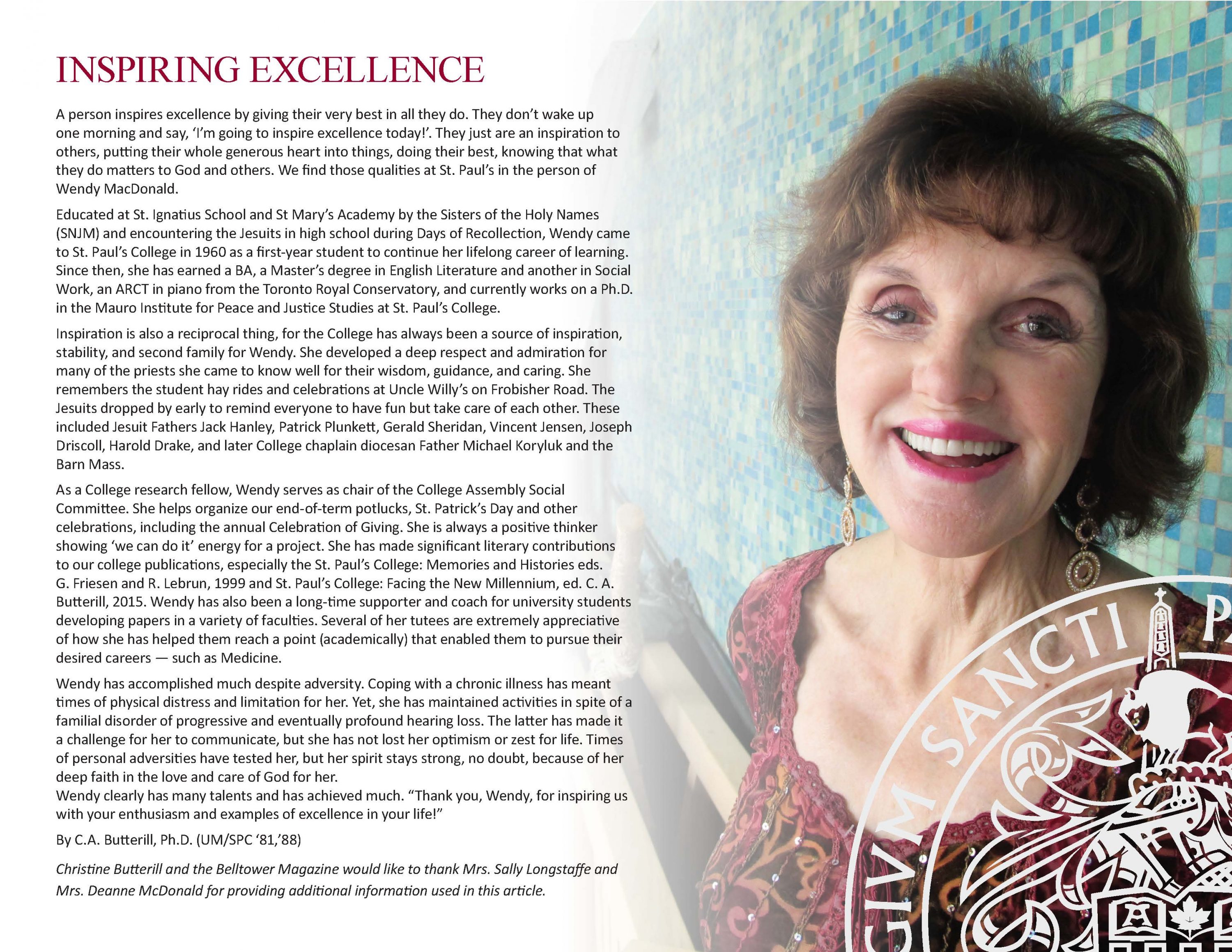 Yuliia Ivaniuk highlights her time at St. Paul's College and her research into the impact of social media on political polarization in Ukraine. Her work is a prime example of the College's commitment to research excellence and preparing students for success in a rapidly changing world.
Overall, the Belltower 2022-2023 report features articles from four exceptional individuals who exemplify the college's commitment to inspiring academic excellence, community engagement, and social responsibility. Their work inspires current and future students and highlights the college's unwavering dedication to preparing students for success in a rapidly changing world. If you wish to learn more about the incredible work at St. Paul's College, read the Belltower 2022-2023 report found at https://umanitoba.ca/st-pauls-college/community-and-alumni/college-publications