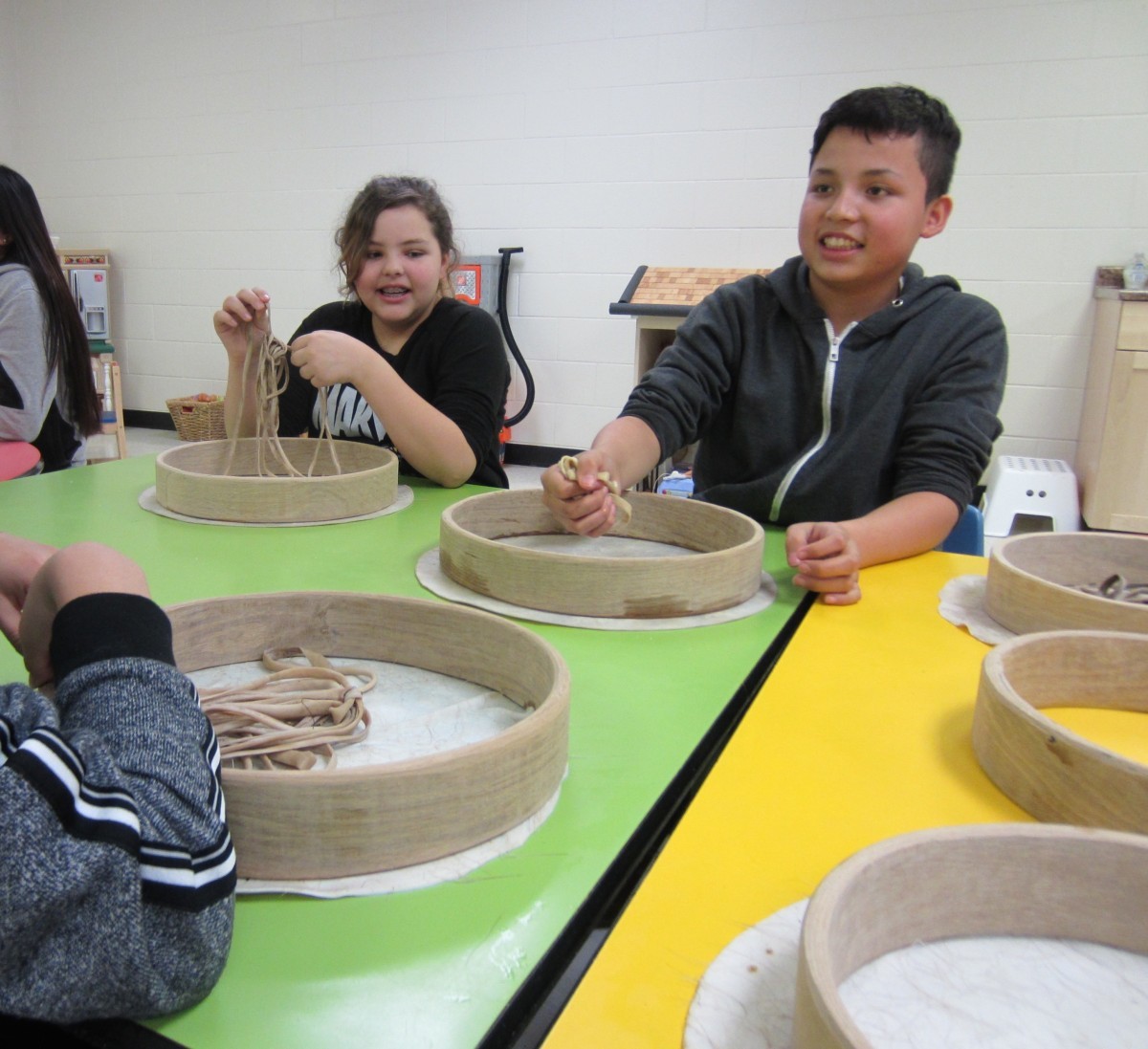 Outreach program promotes Indigenous science discovery
Project focused on increasing Aboriginal students' confidence in subject by incorporating traditional, western teaching
January 7, 2016 —
Learning how sage can be used for medicinal purposes, finding out a tree's age in a boreal forest, and making traditional drums were all part of the activities that 12 aboriginal students at Victor H. L. Wyatt School were able to take part in as part of a unique outreach project led by Education professor Barbara McMillan.
McMillan received a 2015 U of M Major Outreach Award for her project, entitled "Two-Way Learning: Building Identity and Confidence in Urban First Nation Students," which incorporates western math and science teaching concepts with traditional aboriginal knowledge. The pilot program she developed for the Outreach Award just wrapped up at the end of December.
The idea, says McMillan, was to "see if these types of activities really increase their [the students'] knowledge of who they are as a people. And also give them confidence as learners."
From September to December last year, 12 Grade 7 students from Victor Wyatt took part in afterschool and in-school activities such as sage harvesting, aboriginal games and hoop dancing, snowshoeing, drum making and a closing feast. They also visited the Youth BIOlab at St. Boniface Hospital Research Centre.
Each visit included the accompaniment of a western science teacher or educator and an Aboriginal elder or expert versed in traditional or spiritual ways. For example, the students examined the ecosystem of the Boreal forest and the classification of plants with a former biology teacher, and learned about the ways those same plants would have been used by Indigenous peoples from an elder.
The result was a group of students who thoroughly enjoyed the experiences and took renewed pride in their Indigenous heritage and its connection to science and nature, as noted in video narratives created by the students when the project was over.
"The Wednesday field trips made me proud," said one female student who was part of the Outreach program in the video created by teacher Chris Enns. "I learned a lot about my culture as Ojibwa. I feel happy I got to meet so many people who respect Aboriginal cultures."
"I liked the Boreal Forest because it shows you what you can do with Mother Nature and how you can survive with all the medicines in the plants," said a male student. "The [field trips] remind me about how important Aboriginals are, and I'm very proud to be Aboriginal," he said.
The program was conceived of by McMillan, along with Cory Kapilik, an Education alumnus who is now the coordinator of aboriginal education for the Louis Riel School Division, and Tim MacKay, principal at Victor H.L. Wyatt School. Victor Wyatt was chosen for the pilot program as it has an Aboriginal population approaching 50 per cent, says McMillan.
"We believe that an after-school program focused on traditional ways of knowing nature and western science would begin to bridge the gap experienced by First Nations students in Middle School science, enrich the students' identity as Aboriginals and develop their confidence as learners and leaders," they said in their proposal.
It is "an attempt to…make science culturally relevant and meaningful, in order to alleviate the alienation and marginalization that many First Nations students experience in school science," McMillan says.
The Outreach project is an attempt to build on recent research by science teacher educators Glen Aikenhead (University of Saskatchewan) and Derek Hodson (Ontario Institute for Studies in Education) from 2011 which found that for First Nations learners, success in school science was not about assimilation to North American science but rather about "crossing borders" from one's cultural worldview into the culture of science and engaging First Nations students in "two ways of knowing nature."
McMillan also points out that intent of the UM Outreach Award is to enrich connections between the university and all segments of the community, not to do pure or applied research—though now that the program has wrapped up, she may apply for a research grant to study whether the students' learning was enhanced and their confidence benefitted from having traditional indigenous knowledge wrapped in their school education.
Thus, one of the key goals, she said, was to not only make students realize that Indigenous ways can be a major component in learning about science and math but also to show school-age Indigenous students that universities and colleges are welcoming places for them.
"The hope is that the people who are involved in it are exposed to and will come to campus and will be interested in coming to school here, eventually. So some of the sessions take place right here in the [Education] building."
Yet another goal is that the students who have just completed the program will build their identity, increase their confidence as learners and become leaders in their school when they enter Grade 8.
McMillan hopes that the project can be continued and expanded to include more schools and more students.
"It's an interesting project. I'm really hopeful that these kids who haven't had any traditional knowledge in their school education will benefit from the experience."