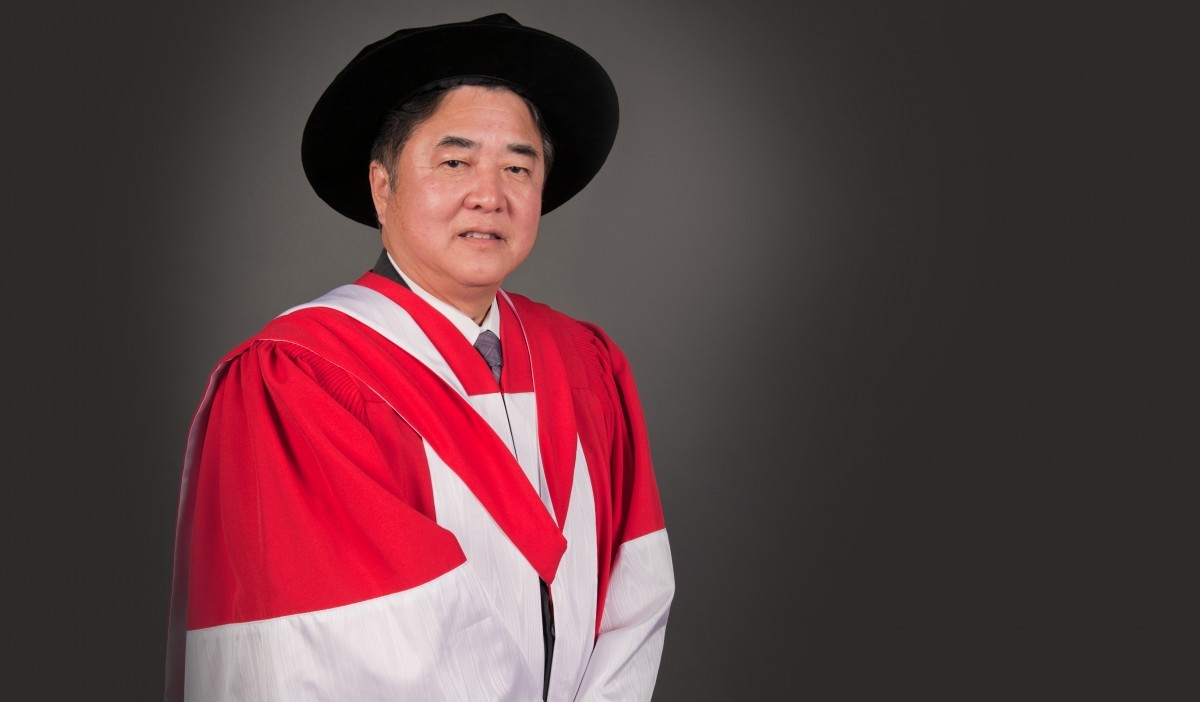 Outgoing Lieutenant Governor made his mark
June 17, 2015 —
On Friday, June 19th, the Honourable Philip S. Lee will officially conclude his term in office as Manitoba's 24th Lieutenant Governor; Janice Filmon will be installed as the Province's 25th Lieutenant Governor.
Born in Hong Kong in 1944, Lee came to Canada in 1962 to further his education at the University of Manitoba, earning his Bachelor of Science in 1966. During his student years, he was elected Chairman of the University College Students Association.
"Since his university days, the Honourable Philip S. Lee continues to be an active member of St. Paul's College," said Christopher Adams, rector, St. Paul's College (University of Manitoba). Alongside him has been his wonderful wife Anita and their three daughters (Margaret, Mabel, Malinda) who through their own experiences have forged strong relationships through Christ the King Chapel and the Fr. Harold Drake, SJ Library."
"Prior to becoming the province's 24th Lieutenant Governor, His Honour's leadership skills were demonstrated through his service to the College's Foundation Board of Directors, and the creation of "The Honourable Philip S. Lee, C.M., O.M. and Family Scholarship"," continued Adams. "Annually, this Scholarship provides an award for an international student who has achieved academic excellence while being actively engaged in the life of St. Paul's College. As always, we look forward to welcoming The Honourable Phillip Lee and Anita Lee along with their family to future occasions at the College and thank them for their kindness and outstanding leadership."
Lee's impact has been felt beyond St. Paul's College. His support for the University and the broader community has had far-reaching effects. In 2001, Lee was bestowed with an honorary degree from the U of M.
"On behalf of the entire University of Manitoba community I congratulate Philip Lee on his years of service to the Province of Manitoba," said President and Vice-Chancellor David Barnard. "Philip Lee is a tremendous advocate for the University, and he is a great example of how University of Manitoba alumni are making important contributions to the community."
Lee has a distinguished record of leadership within Winnipeg's Chinese-Canadian community. For more than three decades he has served as an advocate for the concerns of Manitobans of Chinese heritage, while also serving as a bridge-builder between Winnipeg's Chinese-Canadian community and the wider community at large.
"Philip Lee exemplifies the great contributions that University of Manitoba alumni make to building strong, dynamic communities," said Patricia Bovey, Chair of the University of Manitoba Board of Governors. "His interest in our students and the work of the University is much appreciated and sets an excellent example for us all. I am grateful for his years of dedicated service to the people of Manitoba."