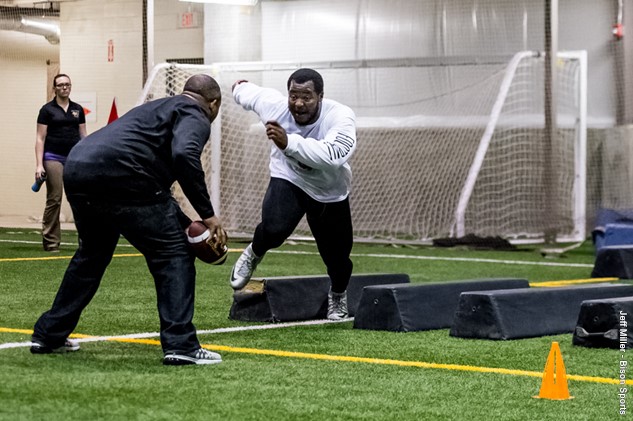 Onyemata shines for NFL
Bison football superstar showed off for National Football League
March 15, 2016 —
University of Manitoba Bison football star David Onyemata worked out in front of 17 National Football League coaches and one Canadian Football League coach on March 14.
The action took place at Investors Group Field and at the Subway Soccer South – Winnipeg Indoor Soccer Complex.
Onyemata made an impression to the large contingent of NFL coaches and scouts with his numbers registered during the Pro Day.
"I felt pretty good and I received some good feedback today from teams," commented Onyemata after his Pro Day. "I wasn't thinking numbers and I just wanted to do the best I could. I felt I did really good and was pumped throughout the day. It would be really great if I got picked and happy to get the opportunity."
Onyemata's day started by preparing for the weight room workout at the Manitoba Bisons football facility. He was later tested for over an hour with numerous drills including broad jump, 40-yard dash, Pro Agility, 3-Cone and defensive lineman specific drills.
Two defensive line coaches, Bill Johnson of the New Orleans Saints and Chris Wilson of the Philadelphia Eagles, were assisting Onyemata with the on-field drills.
The 6'4″, 300-pound defensive lineman finished his fourth playing season at Manitoba in the 2015 season and was selected as 2015 J.P. Metras Trophy award winner.
Onyemata was also named 2015 CIS First Team All-Canadian at the defensive tackle position along with earning 2015 Canada West All-Star Team selection.
The NFL Draft 2016 will take place in Chicago from April 28-30 and will have seven rounds picked.