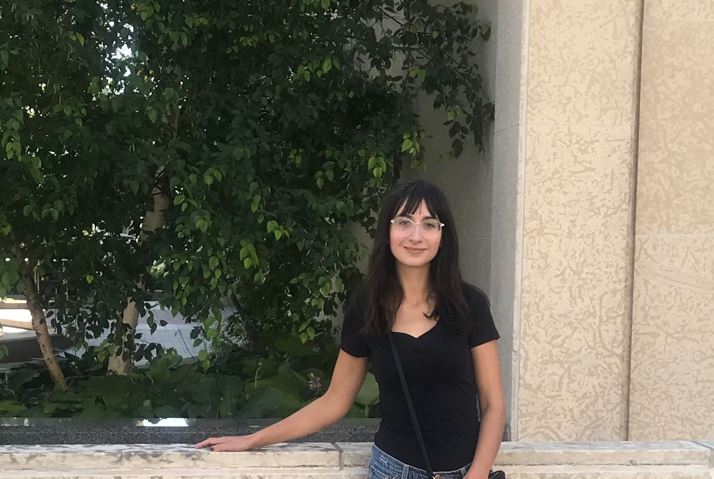 Online parenting forum offers unique student research experience
URA provides opportunity to build relationships, gain skills and gives glimpse into future graduate studies
January 12, 2023 —
Kyla Wiens, a third year Psychology Honours student in the Faculty of Arts, started university knowing she wanted to pursue graduate studies in clinical psychology. Understanding that research experience is an essential element in graduate studies applications, she started looking for opportunities early in her second year of studies. The Undergraduate Research Award (URA) was a perfect fit.
The URA provides an exciting opportunity for students with a thirst for knowledge and aspirations of research experience to spend 16 weeks full-time from May to August immersed in their field of interest. It's also coupled with a $7,000 monetary award.
In the summer of 2022, Wiens worked under the supervision of Dr. Leslie Roos, assistant professor in psychology and co-principal investigator in the Hearts & Minds Lab. Along with a team of undergraduate and graduate students, post-doctoral fellows and academics, their research aims to evaluate and develop scalable programs that promote parent mental health and wellness and family relationships.
We spoke with Wiens about her URA experience:
FACULTY OF ARTS: WHAT RESEARCH DID YOU CONDUCT? DID YOU UNCOVER ANY IMPORTANT FINDINGS?
WIENS: Our research project name was "I'm not alone": A Qualitative Analysis of the Building Emotional Awareness and Mental Health (BEAM) mHealth Program Forum.
We qualitatively analyzed the content of an online parenting forum that was a component of the Building Emotional Awareness and Mental Health (BEAM) program. BEAM is a 10-week program that was designed to promote mental wellness and parenting skills for mothers experiencing depression and anxiety during the COVID-19 pandemic. This research is the first to examine how mothers of young children who are part of an mHealth intervention, where mobile and wireless technologies are used to support the achievement of health objectives, engage with each other using an online forum. Most importantly, we found that programs like BEAM that utilize program forums to facilitate communication and peer support can be a way to enhance participant engagement and receive real-time feedback on program content.
WHAT DID YOU LEARN FROM THE URA EXPERIENCE?
As a student, working on this award provided me with an opportunity to build relationships with faculty and graduate students in the field of psychology. Of course, I learned so much about what conducting scientific research really looks like, but I also gained valuable insights into what to expect from graduate programs and how to put together a competitive application.
Because I am interested in working in Northern communities where mental health services are often very difficult to access, I would like to investigate whether an mHealth program such as BEAM would be a viable option for increasing accessibility in these communities.
I also really enjoyed meeting other undergraduate and graduate students who have similar interests. It was great to collaborate on the project and learn some new perspectives.
WHAT ADVICE DO YOU HAVE FOR OTHER ARTS STUDENTS WHO ARE CONSIDERING APPLYING FOR AN URA?
Working on the URA is a great way to develop and fine-tune your research interests. When I first applied, my interests were quite broad, but now I feel like I have more focus and direction in the research I would like to conduct in the future. I think one of the main reasons that my URA application was successful is because I interviewed faculty members whose research interests were relevant to my future career goals. My advice would be for students to go into it with a sense of curiosity and a willingness to learn.
HOW DO YOUR STUDIES IN THE FACULTY OF ARTS COMPLEMENT YOUR RESEARCH ACTIVITIES AND YOUR FUTURE CAREER GOALS?
I have taken courses in a variety of different subjects toward my Bachelor of Arts (Honours) degree including psychology, sociology, linguistics and religion. The most interesting thing about studying all these subjects is that there are so many connections across disciplines that are often surprising to me, and these unexpected connections continuously deepen my understanding of the world around me.
Visit the Undergraduate Research Award webpage for full details on the program and to find a list of student research opportunities available in the Faculty of Arts for the coming year.