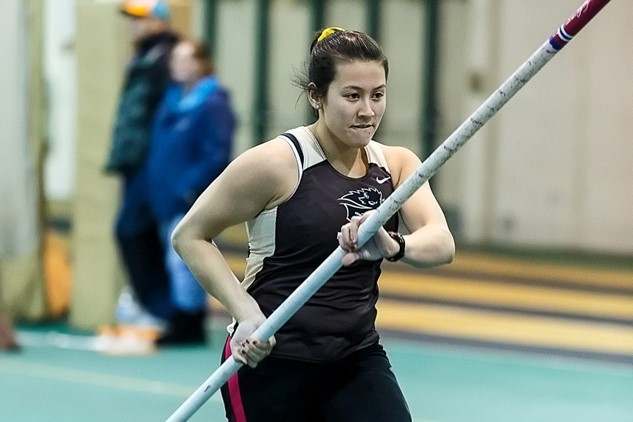 On track in Toronto
Manitoba Bisons track and field men improve on last year's record
March 14, 2016 —
The University of Manitoba Bison track and field men finished 12th overall at the CIS Track and Field Championships in Toronto over the weekend.
This is an improvement from 2015 when they finished 13th.
Alhaji Mansaray finished second in high jump (2.10m) and second in the 4×200 relay.
The Bison women's squad were tied for 14th spot with 12 points.
Melissa Richards finished fifth in women's pole vault with a jump of 3.81 metres. She also came in fifth in the women's 4×200 relay.
"One of the most exciting things that came out of the weekend was the performance of our younger athletes," said Bison head coach Claude Berube. "This includes the rookies who proved they were not intimidated by the competition and came to compete with the other athletes."
There were 22 Bison athletes, 10 men and 12 women, at the 2016 Championships.
For full day-by-day results, visit GoBisons.ca.
BASKETBALL:
The University of Manitoba Bison men's basketball team fell to the UBC Thunderbirds over the weekend in the conference bronze medal game.
The final score was 101-72.
Despite the loss, this was the first time in the program's history the Bison men made it to the final four.
Their playoff run comes after an incredible 17-and-7 regular season.