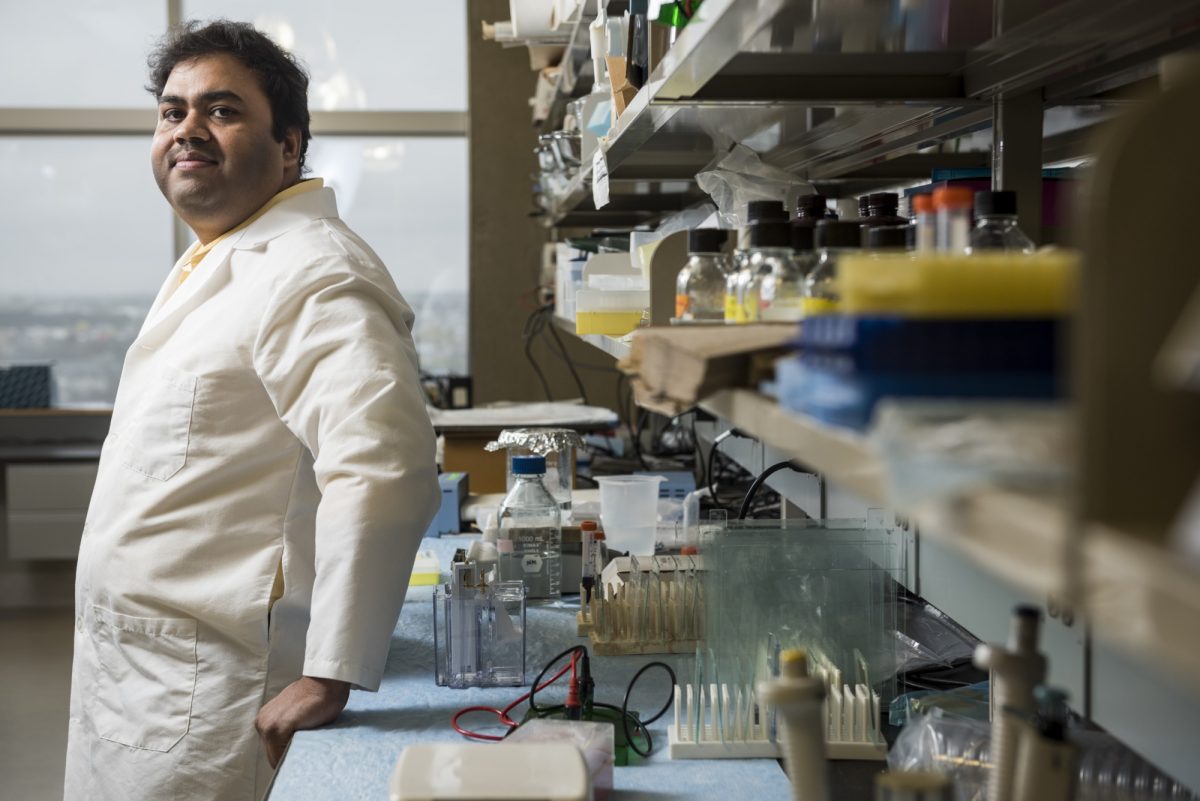 On the path to preventing rheumatoid arthritis
February 9, 2021 —
After watching a close family member suffer with rheumatoid arthritis, Vidyanand Anaparti [PhD/15] was motivated to make a difference.
In 2015, Anaparti joined Max Rady College of Medicine professor Dr. Hani El-Gabalawy's research program which focuses on discovering the origins of rheumatoid arthritis. Since then, Anaparti's work has been recognized and was listed as one of the Arthritis Society's Top 10 Research Advances of 2020.
"I understand the pain my family member goes through every single day," said Anaparti, a postdoctoral fellow in internal medicine, Max Rady College of Medicine, Rady Faculty of Health Sciences. "If I'm able to prevent at least one person from getting the condition, I will think that my research is successful."
When Anaparti joined El-Gabalawy's team, he was tasked with researching the cellular switches that turn genes on and off.
Anaparti studied First Nations people, who have elevated rates of rheumatoid arthritis, to figure out what factors precede or aid in the onset of the chronic disease. One of the factors is cellular switches called microRNAs. Anaparti was interested in people who had levels of anti-citrullinated protein antibody (ACPA), a type of autoantibody whose levels are routinely measured to assess the risk of developing rheumatoid arthritis.
Anaparti found that the first-degree relatives of patients with rheumatoid arthritis have altered levels of certain microRNAs and these individuals exhibit a microRNA expression pattern similar to rheumatoid arthritis patients. Anaparti found that altered microRNA expression in ACPA-positive first-degree relatives is consistent over time and how they're expressed varies depending on the type of immune cell.
"We were able to detect these microRNAs in people years before they developed rheumatoid arthritis," Anaparti said. "We have the potential to identify individuals before they become a patient."
Another discovery that Anaparti made was that the methylation, a cellular switch, of specific genes in rheumatoid arthritis patients was different from healthy people and might play a crucial role in the disease's development. He also identified that the levels of some metabolic markers are shifted in at-risk, ACPA-positive first-degree relatives of people with the chronic inflammatory disorder.
Anaparti also found that methylation and microRNAs have a direct influence on the expression of certain genes involved in rheumatoid arthritis.
He has published his findings in reputed journals, including Arthritis & Rheumatology and Arthritis Research & Therapy. His research has been funded by Research Manitoba, Arthritis Society of Canada and Health Sciences Centre Foundation.
"Vidyanand is a bright and creative scientist who is meticulous in his experimental approach," El-Gabalawy said. "He is an integral part of our human immunology research team and is an excellent mentor for trainees in our lab."
Using data generated from Anaparti's research over the last five years, El-Gabalawy's team has secured funding from the Canadian Institutes of Health Research for a project focused on rheumatoid arthritis in First Nations people that will include a clinical trial to see whether the combination of turmeric, omega-3 and vitamin D can reduce the risk of rheumatoid arthritis.
Currently in the lab, Anaparti is working on advancing his findings on microRNA by trying to understand their biological role.
"The ultimate objective is to prevent people from getting rheumatoid arthritis," Anaparti said. "All of this research, all of this understanding, is a step forward in the right direction."