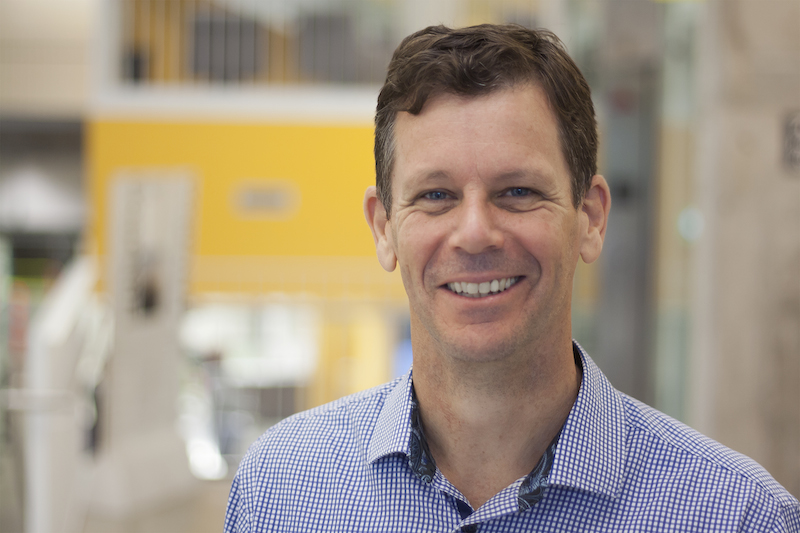 Olympian at the helm
August 8, 2016 —
With a career that has taken him from serving in the military to coaching high performance athletes, and now to the U of M, Gene Muller brings a diverse background to his new role as director of athletics and recreation. The Asper MBA grad has had a long connection with the U of M as a coach, student and staff member. His time as an MBA student helped focus some of his experiences, but also reconnect him to the University, eventually bringing him into this new role. UM Today sat down with Muller to discuss his professional background as well as his Olympic experience.
UM Today: Let's go back to the beginning to when you served in the South African Defense Force. What was your role?
Gene Muller: I studied at the University of South Africa, got a Masters degree in Clinical Psychology and worked within the military as a psychologist. I did a combination of therapy and what is known in the South African National Defense Force as operational psychology. They needed someone who was trained as a soldier and a psychologist in operational settings.
What was that time like in South Africa?
It was an interesting and historic time because it was a time of democratic transition for South Africa. Mandela had been released midway through my conscription and then I chose to stay on for another six or seven years afterwards in the military.
How did you make the transition from the military into coaching?
I was still competing as an athlete in field hockey while I was in the military. In South Africa, because they don't have coaches for many of the teams they will look to a player to help out with coaching, so I kind of got into coaching by accident. The teams that I coached became quite successful and I got an opportunity at the national level as an assistant coach. I never felt that I chose coaching, I felt that I was recruited by it, rather than choosing the path of a coach. I really enjoyed it – I loved it – and had an opportunity to coach full time and took that on. I became national coach within a year of making that decision, which was in 1998.
You were head coach of the team that qualified for the 2000 Olympics in Sydney, Australia. What was that experience like?
I was really young as a coach. I was 32 years old. It was the first time that the South African women's team had made it to an Olympic games. The thing about the Olympics – you understand it later – it is a magnifying event. I learned that it magnifies success and happiness for a very small amount of people, and not for the rest. It was a difficult experience for me.
What made it so difficult?
It was a time of personal upheaval for me, so it was a very lonely experience for me, especially as a coach where there is not the shared experience of a player. I found it quite lonely. It dramatically changed my view of coaching. After the Olympics I started viewing coaching as a craft that I needed to improve at instead of glory to be achieved. When you're a young coach or a young player you focus on the results, but after that experience I wanted to become good at coaching, I wanted to do things right. I understood my role as a coach and sports' impact on my life much clearer after the Olympics. I wanted to become good at something, and that's devoid of anything else except the satisfaction that comes from progressing at your craft.
At what point did those realizations come? Was it a dramatic "aha" moment?
Absolutely. We went in with quite a good team and we ended up losing close games, and the pressure of that, and the inquiry into it, I found to be quite difficult. You have no idea what to expect before an event like that. I realized that sport is transactional; people like you when you are winning, people want to be around the players when you are winning. When you're out of it, it's quite lonely. I very badly wanted to go back to the Olympics as a head coach again with that knowledge, but our team lost in the final qualifying match for both Athens and London.
But you did return to the Olympics in 2008, but in a bit of a different role. What was that like?
I went back as a consultant with Australia, which is a very different experience. You are paid for analysis and ideas. You are paid for making a small difference, not necessarily for being with the team. You don't own the result as much; you just become a source of creativity and a sound board.
How was your Olympic experience in 2008 different from 2000?
I was outside of the pressure. It was enjoyable to watch games with a detachment, and to watch the games from the stands and not from the ground level. I enjoyed that because you become truly an analyst as opposed to a participant. It was an enjoyable experience. I enjoyed the hands-on part of coaching, but that was without a doubt more fun.
How did you first come to U of M?
It was a coaching position and teaching position. A friend of mine knew of a position opening up and suggested my name. I was contacted we went from there. I got a six-month coaching contract coaching the Bisons and the Canada Summer games field hockey program. During that time I was chosen to be the Canadian field hockey coach.
You then spent six years in Vancouver as the head coach of the national field hockey team, followed by six years with the national field hockey program in Ireland. What brought you back to Canada?
In the time that I was here I had met my future wife, so there was always a pull to come back to Manitoba. We came back because I was tired of the nomadic lifestyle of a coach. Coaching is demanding in a way that it demands obsession and continual attention, and that becomes hard when you have children. You always realize with coaching, especially when coaching national programs, that by definition it is limited. Basically the only question is how long can it possibly last until either you get fired or you choose to stop. I chose to stop.
But your return to Manitoba didn't bring you straight to the University.
Within a month or two of coming back I was asked to be the general manager of field hockey Canada. I did that commuting for a year, but that was really hard to sustain. I had to manage the organization through a 60 per cent funding cut. I found out about the cut two weeks after taking the job. To make it financially sustainable I had to dismantle a big part of the operation, yet maintain the people that were critical to the success of the teams.
That must have been a tough time.
That was the toughest job I ever had – a sport that I loved, I had to oversee the dismantlement of non-essential parts of it. That was difficult because I had to terminate people's contracts with the organizations, which is really hard. I was proud that I managed to persuade the correct people to stay, and the Canadian men have now qualified for this Olympics, and the Canadian women are the highest they have been in the last 10 years. That was a really tough experience and it was probably the event that led me to go back to school fulltime to re-tool myself. I went and did the MBA fulltime.
And after the MBA you were hired as the director of recreation at U of M.
I had built relationships in the Faculty of Kinesiology and Recreation Management through my time here in 2001, and also taught a course on high performance coaching while I was working as the general manager as well, which had made me a known quantity, and probably, through those connections, I was offered the position at the Faculty. I did that for a year-and-a-half before I was appointed as athletic and recreation director.
Do you see a connection between your time in the military, your head coaching experience, and now being a manager of these units at the University?
I think the South African military gave me an awareness of how big systems work and how to navigate through a big system. I learned a lot about teamwork, I learned a lot about purpose, and how to contribute to a sense of purpose. I think those lessons as a coach were in a similar vein – that as the leader in a team, part of your role is to impact systemic reasons for success and failure. How you clear obstacles, how you create synergies, I think I have a constant awareness of that. The thing that I have learned about systems is the importance of managing winning and losing within a system. We often have these ideas of leaders as relentlessly pursuing their goals – sometimes with a cost to other people. I have realized that that doesn't work because people don't forget. If people experience a situation, which you have been involved in, and they experience it as a loser, they will find ways to rectify that situation. I am continually aware that if you want to progress, there cannot be too many losers, because the system eventually balances. I am aware that other people need to achieve their aims in the achievement of your aims.
What are your goals for Bison sports?
My task right now is just to get to know the people that are working there – to get to know the operation of Bison sport. My initial experience has been really positive. I am not arrogant enough to propose a direction, I want to learn what it is and build on that. I am not sure where it will end, and I probably have a better idea of the process of how to get there. I really believe that my role is in just focusing on that. I want to be diligent and disciplined at establishing and monitoring the process of improving.
How can you balance your two roles (director of athletics and recreation)?
Whether it is recreation or high performance sport, you are dealing with performance. For recreation, I want to create an environment where people feel motivated and welcome to use our facilities. For our athletes, I want to create an environment that is professional and challenging and, if they stick to our programs, they can end up winning matches, tournaments, and championships. There is no way I would have a chance of balancing that without really good and capable staff. The intention is for my role to strategically position both, to strategically impact both.
What will you take from your experience in recreation services that you can apply to Bison sports?
We have really competent people in Recreation. Our Mini U programs and our Recreation Services units are well managed. I have been really lucky that way, but I also expect our people to be successful. I expect our people in Bison Sports to be successful. I am not surprised to discover great people there. One lesson in particular is the value of regular touch points – this enables us to decide and respond quickly. I try to connect regularly and trust that this allows us to make good decisions.