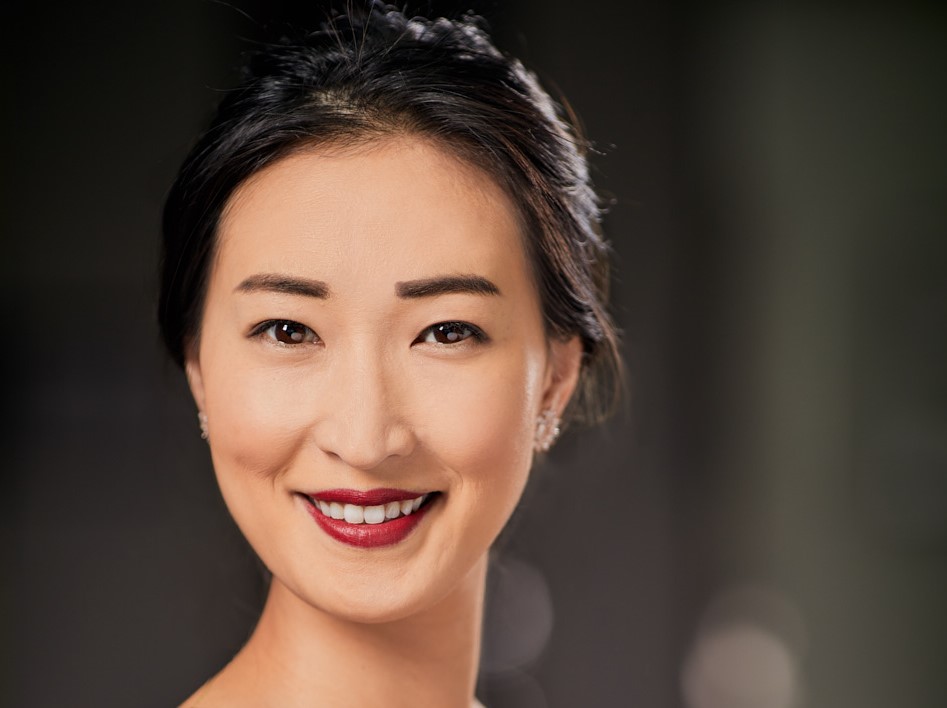 Olivia Kang is 'pure delight'
2020 DFOM graduate Olivia Kang's beautiful spirit emanates from her performances
July 15, 2020 —
NOTE: We in the Desautels Faculty of Music are incredibly proud of our students. While COVID-19 is sidelining in-person commencement ceremonies around the globe, we want to find alternate ways to celebrate our graduates and give them the recognition due to them. Until we can gather together to properly applaud the years of study and practice that have led to this milestone, please join us in congratulating our 2020 Desautels Faculty of Music graduates.
Today we celebrate Olivia Kang!
To know Olivia Kang is have sunshine in one's life. Between her stunning voice and her wonderful personality, she is an absolute wonder, and Canada and the Desautels Faculty of Music are very lucky that she chose to study here!
"Olivia's seeking has taken her across the world and we're so glad that she has spent some time with us here at the Faculty sharing her talent and her generosity," says Mel Braun, professor of music and vocal area head in the DFOM who worked with Kang in the Opera Theatre Ensembles.
The Seoul, South Korea native has been singing since she was young, and an early win in an elementary school singing competition convinced her at a young age that singing would always be a part of her life in some capacity.
"It was always in my heart to pursue music," she says.
However, it was not until a high school teacher heard her sing "Aegukga" (South Korea's National Anthem), and begged her to study music that she decided to make it her career.
"He spent a year convincing me," she says of her initial hesitation.
After receiving her Bachelor of Music from the University of Seoul, Kang spent several years teaching voice. While she loved working with music students, she realized that she wanted to continue her own training, and adventurously travelled to the Victoria Conservatory of Music (VCM) to study voice. After spending a year doing intensive development programs and workshops at VCM, Kang's passion for music was reignited, and she applied and auditioned for her Master of Music at the University of Manitoba, studying with Tracy Dahl.
In the faculty
As soon as she came to Winnipeg, Kang threw herself into the Manitoba community. Kang's bell-like soprano voice, comedic acting abilities, and massive stage presence have made her a favourite for diverse roles both in the faculty and outside of it. During her master's studies, she performed in the faculty's Opera Theatre ensemble, the Desautels Chamber Opera Group, and the Cantata Singers. Outside of the faculty, she also performed with Manitoba Underground Opera in their production of Dido and Aeneas – which the opera company creatively reimagined in a modern high school setting. Kang also performed in churches around the city, surely providing a revelatory experience for worshippers. On top of her phenomenal talent, Kang is just an amazing, lovely human being. She is always ready with a smile, and has genuine interest in the lives of those around her.
"Olivia has the voice of an angel and the soul of a seeker," says Mel Braun of the worthy recipient of one of the Dr. Bonnie Buhler Graduate Scholarships in Music.
"During her two years at the Faculty, she made herself an indelible part of the community in the Desautels Faculty," he says.
In her first term in the DFOM, in 2018, Kang played the role of "L'Architecture" in the Desautels Chamber Opera Group's production of Les arts florissantes, the chamber opera about personified arts being torn between peace and war in 17th century France.
The following year, in 2019, Kang was awarded the role of "La Fee" (Fairy Godmother) in the University of Manitoba Opera Theatre's scene performance of Cendrillon (Cinderella). Her strong and beautiful voice was hypnotic in the scene about granting a sleeping Cinderella's wishes and making her dreams come true.
This past year, Kang played "Fido," a lumberjack pantomiming as a dog in early mythical America in the Opera Theatre's production of a Paul Bunyan scene by Benjamin Britten. Her expressivity, fine acting, and beautiful delivery made the scene a joy to watch. Certainly, her flawless stage presence in roles both comedic and serious makes her a truly versatile opera singer.
"She grew enormously as a singer and always brought a unique feistiness to her performances, whether as a survivor in Charpentier's "Les Arts Florissantes" or an over-eager puppy in Britten's "Paul Bunyan," says Braun.
She admits that she had to work hardest with the English language pieces she learned during her time in the faculty.
"English sets are the most challenging music I learned, yet are some of my favourite pieces," Kang says.
Despite the difficulty, she has mastered the challenge, winning the English Art Song (Adult) category at the 2019 Winnipeg Music Festival. (The same year, she also won in the French Mélodie (Adult) art song category.)
One of the songs she was most taken with came from Songs from Letters: Calamity Jane to her daughter, Janey 1880-1902 by Libby Larsen.
"I got to act and perform Larsen's set on my first recital. It was totally different experience to act as a frontierswoman, and also a heartbroken mother," she says.
This past year, Kang steeled herself to perform for the Desautels Faculty of Music Concerto competition, a competition for which she practiced assiduously.
The result?
"I am one of the winners of the [2020] Concerto Competition," she says of one of her proudest awards in the faculty. As a winner of the competition, she would have delivered a solo vocal performance backed by the University of Manitoba Symphony Orchestra (UMSO) in the 2020-2021 season.
"I was looking forward to singing with UMSO and working with [UMSO conductor] Naomi Woo," she says a bit sadly, as the concerto competition winner's performances in the upcoming academic year have been postponed due to the pandemic.
"I hope I can still perform with them in the nearest future!" Kang says.
We definitely hope so, too!
When it comes to her proudest moments in the faculty, Kang has a difficult time deciding.
"Actually whenever I perform as a DFOM student, I was happy to share the music and interact with audience – a house concert at the Buhlers', at the [DFOM] Faculty Gala, Opera Theatre performances or midday concerts!" she says.
A natural performer, she is wonderful to watch and hear in absolutely everything she performs.
Credit Recital
Due to the disruption caused by COVID-19, the Desautels Faculty of Music had to cancel all of its remaining events for the 2019-2020 season. In addition to final ensemble performances, about 40 student credit recitals were cancelled, including those of graduating students, whose final credit recitals serve as a sort of capstone project showcasing what they have learned throughout their studies. Unfortunately, Kang's recital was among the cancelled.
She had chosen a repertoire as unique and spirited as she is.
"I would have performed four bird-themed songs by four different French composers, Schubert songs, Aaron Jay Kernis' song cycle Simple Songs, Bel canto songs, and a Korean art song," Kang says.
The Kernis song cycle was another of her favourites learned in the faculty, and she is disappointed that she didn't have the opportunity to perform it as a bookend to her studies, as the pieces have become a kind of musical mantra for her. The themes of the songs, which are drawn from diverse places – the Bible, the writings of Hildegard von Bingern, Japanese Zen master Ryokan, and the Sufi poet Rumi – have become a kind of mantra for her.
"The texts are poetry from the world's great religious and literary writers," Kang notes.
"For me, this song cycle is telling us how to live a life and it calms me down whenever I sing them," she adds.
Faculty mentors
Kang came to the Desautels Faculty of Music specifically to study with Tracy Dahl, and she's very glad she did.
"Tracy Dahl has taught me so much and has helped me dig deeper," she says.
"She guided my singing journey and she always sees the big picture. I don't panic when I am confused, because I know she will be there for us," says Kang of her major practical study instructor.
Dahl has been equally impressed by her time working with Kang.
"Olivia is a focused and intentional singer. Her work ethic is outstanding, always prepared and having decided on her own what she wants to focus on in her lessons," says Dahl.
"That said she was always open to exploring something new and unexpected. I think she wanted art to be like math – follow a set of rules and you get the correct answer. However I think one of Olivia's biggest gains was learning to think outside the box," she says of the in-depth interpretation work they did together.
"I will remember our staging her presentation of art songs and how that pushed boundaries and gave us such a memorable performance. Olivia learned that there are many options for solving technical issues, ways of telling the story and interpreting the music of composers," adds Dahl.
"Having that adaptability – or call it creativity – as an artist is a wonderful life skill. I hope Olivia will continue to be brave and bold. I am so thrilled that I got to hear her sing in her native language, and I will miss this beautiful, bright, shining voice and person," says Dahl.
In addition to Dahl, Kang is thankful for the faculty guidance she has received during her time with the DFOM.
"I cannot mention only one person because the faculty helped me enormously – Tracy Dahl, Mel Braun, Monica Huisman, Laura Loewen and Katherine Twaddle. This team is just superb!" she says.
"What a joy Olivia is!" says Katherine Twaddle, DFOM opera studies coordinator who worked with Kang in the Opera Theatre ensembles.
"She has a beautiful crystal clear soprano voice and sings with so much musicality and grace. She also has a powerful stage presence and her confidence has just snow balled during her time with us," says Twaddle.
"She has brilliant comic timing and is fearless when it comes to trying out new ideas in acting. She is a hungry sponge and as a result of her dedication, curiosity and willingness to try new things, she has come along leaps and bounds – all this wrapped up in a kind and generous spirit," Twaddle adds.
"Olivia is just pure delight," agrees Monica Huisman, vocal instructor in the DFOM.
"Her infectious smile, positive energy and beautiful instrument were always a joy to have in the studio. Her growth during her time at our faculty as a singer, colleague and personality was so remarkable. She is one of the most gracious and thankful people I have ever had the pleasure of teaching. She will be sorely missed, and I wish her nothing but more beautiful music making!" adds Huisman.
We could not agree more with their sentiments!
When it comes to next steps, Kang has some fantastic news for all of us! This accomplished soprano will be teaching local music students the art of song and performance.
"I'm back to teaching in July and the fall. Also I will look for singing opportunities in Winnipeg since I decided to stay here for a while," Kang says.
However long she stays in Winnipeg will be a great gift to Manitoba! We have been so incredibly fortunate to have her in the Desautels Faculty of Music, and we know that this world traveller will have a career thrilling the world with her voice and acting!
Congratulations, Olivia!