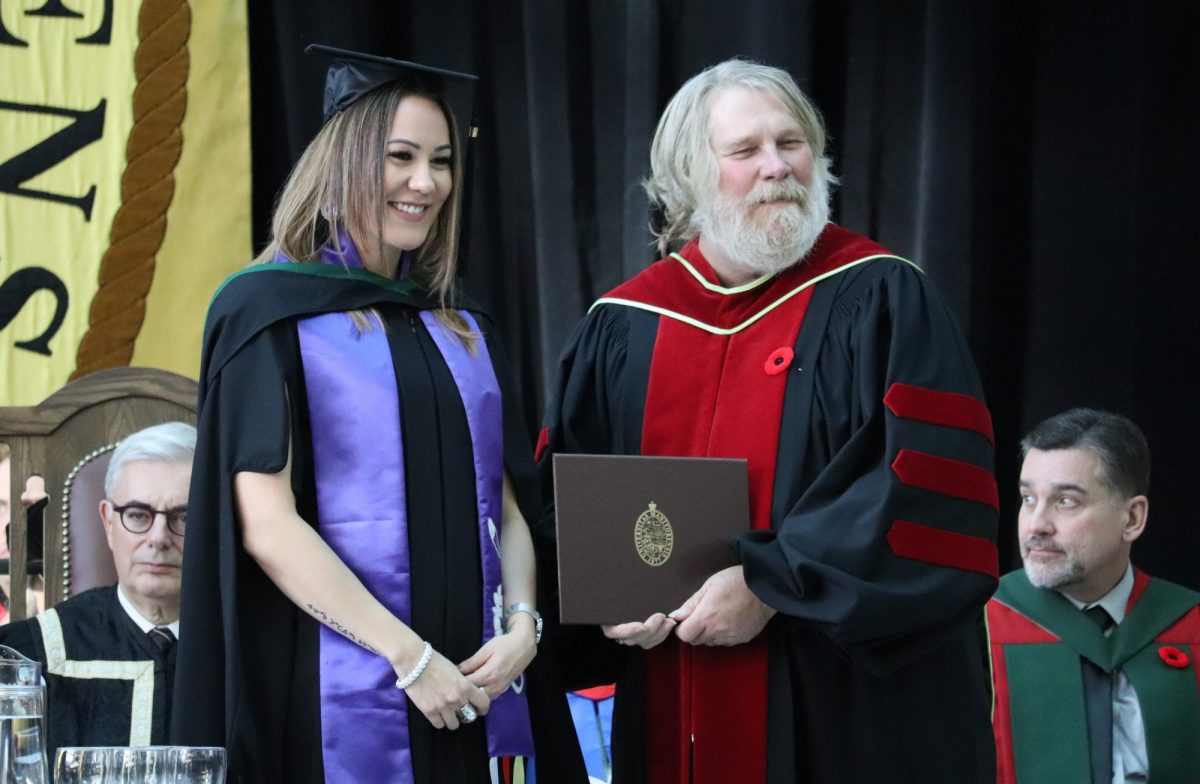 Occupational therapy grad giving back to her First Nations community
November 13, 2019 —
For single mother Kimberly Moors, graduating with a master's degree means more than embarking on her new career – it also gives her a chance to give back to her community and honour her Indigenous roots.
Moors, who was raised in Thompson, Man., is a band member of God's Lake Narrows, the home of her mother, a residential school survivor. She was sponsored by the band while she pursued her bachelor's degree in kinesiology, which she achieved in 2016. This also led to a rich university life that included winning the 2016 Female Athlete of the Year Award as a member of the Bisons swim team.
Her interest in athletics guided her to pursue a master's degree in occupational therapy, for which she was sponsored by the training institute at the Manitoba First Nations Education Resource Centre (MFNERC).
Moors, 33, is one of 49 Master of Occupational Therapy (MOT) graduates and 119 Rady Faculty of Health Sciences graduates in total that received degrees at the University of Manitoba fall convocation held Nov. 7 at Bannatyne campus. She recently started working as a provisional occupational therapist with children in four First Nations communities – God's Lake Narrows, York Landing, Pukatawagan and Pinnaymootang.
"My journey to get here has been tough, but I am so grateful for it all, as it has made me strong and resilient. I'm also happy that I'm making my mom proud," said Moors.
Other graduates included those from the Master of Physical Therapy (MPT), Bachelor of Respiratory Therapy (BRT), MSc Rehabilitation Sciences and Master of Physician Assistant Studies (MPAS) programs.
Since launching in 2008, the MPAS program has graduated 122 physician assistants (PAs), most of whom are employed in Manitoba. This fall, 14 MPAS graduates join the ranks, including Jennifer Forbes who received an award for her Capstone project, Starting Strong: Exploring Experiences of Prenatal Care among First Nations Mothers.
"Our MPAS graduates accepted employment in a variety of positions, including urgent care, rural and urban hospitalist roles, and specialty care centres such as cardiac sciences and MS-neurology," said MPAS director Ian Jones. "The graduates will optimize patient care in any area lucky enough to have them as they already demonstrate a commitment to quality patient care."
When addressing the graduates, Dr. David Barnard, president and vice-chancellor, University of Manitoba, and Dr. Peter Nickerson, vice-dean, research, Rady Faculty of Health Sciences, both noted the important role health-care professionals play in supporting Indigenous populations.
"We know that in our community, Indigenous people have large health gaps that we must address. Many of those gaps are rooted in systemic racism that has permeated our country for hundreds of years," said Nickerson, who appeared on behalf of Dr. Brian Postl, dean, Rady Faculty of Health Sciences and Vice-Provost (Health Sciences).
"As you start your first jobs as physician assistants and occupational, physical or respiratory therapists, I ask you to reflect on your role in reconciliation," he said.
The ceremony also saw an honorary degree given to Dr. Morley Hollenberg, an internationally renowned biomedical researcher who completed his bachelor's and master's degrees in chemistry at the U of M before he was awarded a prestigious Rhodes Scholarship. Hollenberg's publications have transformed many branches of research and knowledge pertaining to cardiovascular, gastrointestinal, musculoskeletal and neurological diseases.
Hollenberg said he was humbled to follow in the footsteps of others who have received honorary degrees from the U of M.
"As we've learned from Dr. James Peebles, the most recent Nobel Prize awardee from U of M and former honorary degree, even the sky is not your limit," he said. "Given the right tools, our only limitation is your imagination."
Prior to the convocation ceremony, 22 awards were presented to 18 Rehabilitation Sciences graduands at a luncheon at Canad Inns Health Sciences Centre. Multiple award winners included Andreea Alexandrescu (MOT), Erin Unger (MOT), Matthew Short (MPT), Katie Dalmaijer (MPT) and Gold Medal winner Hanna Kilas (BRT).