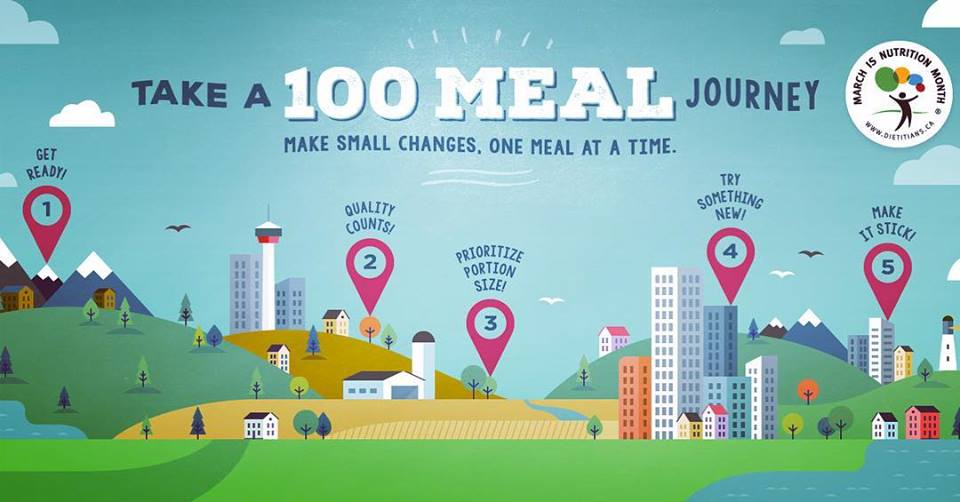 Nutrition Month: a journey to health
March 8, 2016 —
Did you know that March is Nutrition Month? The Nutrition Education and Community Outreach (NECO) Committee and Human Nutritional Sciences presents #neconutritionmonth2016, and we want YOU involved!!
This year's theme is the 100 Meal Journey. Canadians eat about 100 meals each month, so we invite you to join us in making small changes one meal at a time towards a healthier YOU, as well as discovering strategies to make those changes stick!
How YOU can get involved:
Check out our interactive booths throughout the month, where you can enter to win contests to win fantastic prizes that include a FitBit, cookbooks, wellness planners, lunch containers, and Superstore gift cards! We will also be handing out free fruit, hemp hearts samples, and free pulses cookbooks in recognition of theInternational Year of Pulses!
Wednesday, March 9th, 2016 9:00am – 3:00pm @ The Engineering Atrium
Monday, March 14th, 2016 9:00am – 3:00pm @ The Agriculture Atrium
Wednesday, March 16th, 2016 9:00am – 3:00pm @ University Centre
Thursday, March 17th, 2016 9:00am – 3:00pm @ University Centre
Participate in our month-long Instagram Contest by posting pictures of how YOU are making steps in your 100 meal journey to a healthier lifestyle. Be sure to tag us (@uofm_neco) and use the hashtag #neconutritionmonth2016 to enter our contest for your chance to win a S'well water bottle at the end of the month!
Stop in at our Bannock Making Session and learn how to make this simple and delicious treat!
Date: Friday, March 18, 2016
Time: 1:00-3:00 pm
Place: Migizii Agamik Aboriginal Student Lodge
Attend our afternoon workshop, where Jorie Janzen, a registered dietitian and expert in sports nutrition will be presenting on foods that help boost athletic performance, as well as suggested pre- and post-workout meals.
Date: March 30, 2016
Time: 2:30- 4:30 pm
Place: 206 Human Ecology
We want to hear from you and see how you are making steps towards a healthier YOU!
Tag us on Facebook (@uofm_neco), Twitter (@uofm_neco), and Instagram (@uofm_neco) using the hashtag #neconutritionmonth2016 throughout the month of March!!!!
——-
Nutrition Month Coordinators: Shanice Huziak, Shaunie Slobdzian, Harlie Poschenrieder, Hannah Chan, Josephine Armah Nutrition Education and Community Outreach (NECO) Committee