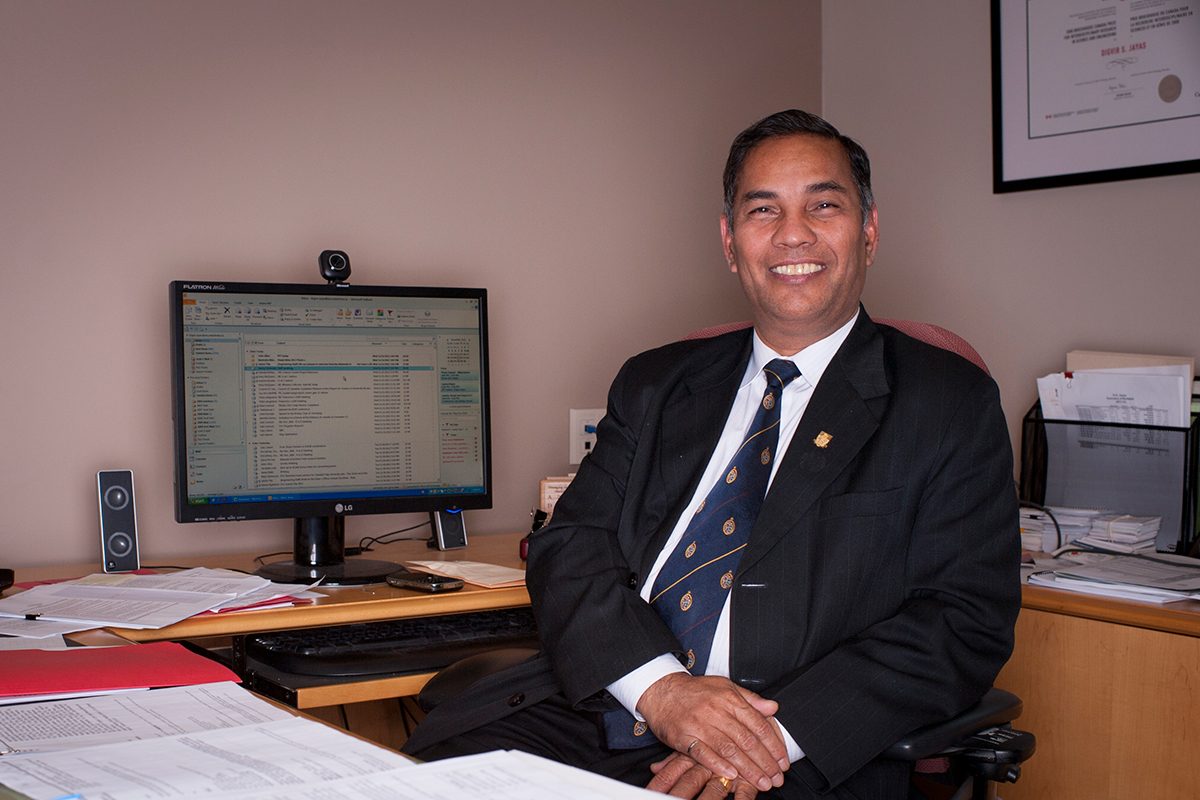 NSERC names U of M's Digvir Jayas as new Vice-President of Council
July 20, 2018 —
Her Excellency the Governor General has named Vice-President (Research and International) and Distinguished Professor Digvir S. Jayas as the new Vice-President of NSERC Council, effective June 25, 2018 until May 14, 2021.
Jayas will be primarily responsible for leading and managing the Council. This is done in close collaboration with NSERC's President and Corporate Secretary. Duties of the Vice-President and Chair include:
Planning the work of the Council;
Leading Council meetings;
Working and liaising with the President of NSERC;
Managing the performance of the Council, its Committees and members;
Representing the Council to outside parties.
The Vice-President and Chair, or his/her delegate, is also a member of the Independent Audit Committee.
"Dr. Jayas has served on the NSERC Council since 2014 and I am pleased to congratulate him, on behalf of the University of Manitoba, on his new appointment as Vice-President of the Council," said Dr. David Barnard, President and Vice-Chancellor of the U of M. "From his individual research contributions to his innovative approach to supporting the research mission at the University of Manitoba to his unwavering commitment to service, Dr. Jayas has established a new standard for excellence that will inform his leadership at NSERC, and will be of great benefit to our national research community."

The Council works to advance Canada's research and development agenda. Its primary responsibilities are to set the strategy and high-level policies for NSERC, and to review and evaluate performance. The Council approves funding to broad program areas for scholarships, grants and fellowships.
Dr. Jayas has been a member of the NSERC Council for more than four years and has served on several of its committees, including the Committee on Research Partnerships and the Special Committee of Council on the NSERC 2020 Strategic Plan.
He has received several awards in recognition of his research and professional contributions, including a Canada Research Chair in Stored-Grain Ecosystems, 2017 Sukup Global Food Security Award from the American Society of Agricultural and Biological Engineers, along with the NSERC Brockhouse Canada Prize in 2008. In 2009, he was inducted as a Fellow of the Royal Society of Canada.
Research at the University of Manitoba is partially supported by funding from the Government of Canada Research Support Fund.