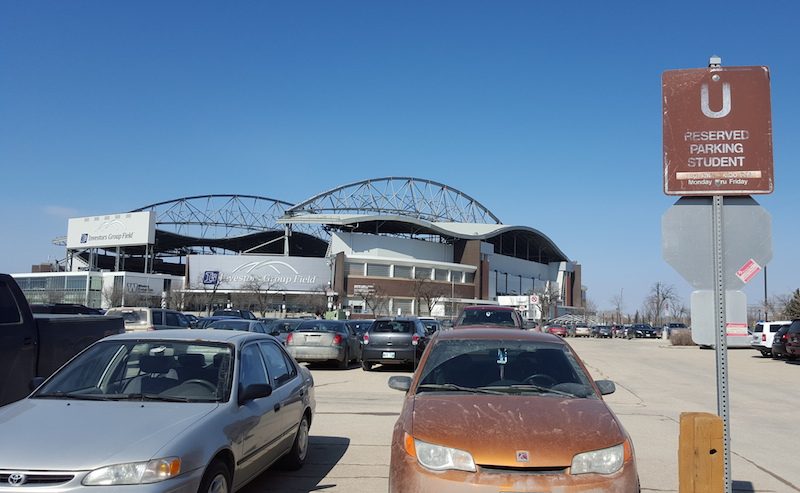 Notice of parking citation increase
After remaining static since 2001, U of M parking citations will rise to match city rates
March 23, 2016 —
Effective May 1, 2016, parking citations will increase at the University of Manitoba to match Winnipeg Parking Authority rates.
Parking citations are an integral component of parking enforcement and help Parking Services ensure that staff, students and visitors to our campus comply with parking regulations. In order to fulfill its commitment to paid parkers, a sufficient deterrent is necessary to prevent violations and to anchor the enforcement efforts.
Cameron Neufeld, manager of Parking Services, notes that while enforcement of the parking regulations is an important part of the strategy to ensure that parking violations don't occur, it's not the number one focus. However, he says, it became evident over the last few years that the citation rates were not high enough to deter many campus visitors and commuters from parking without the proper permit or payment.
Neufeld says that Parking Services receives calls throughout the year, especially during peak times and during extreme weather, from frustrated staff and students with paid permits who can't find parking in their assigned lot.  If illegal parkers occupy paid parking stalls on campus, it can leave permit parkers without a spot.
First increase in 15 years
U of M parking citation rates have been static since 2001, which means it's been 15 years since any increase. Beginning May 1, general parking violations will be charged at $35 if paid within 10 days, and $70 thereafter. Previous citation rates were $20 if paid within 10 days, and $40 thereafter. There will be no change to the parking citation rate for improperly parked violations. Citation rate increases are listed in full below.
Neufeld says that the citation increases have been made with concrete goals in mind: to increase compliance and efficiency of operations.
Over the past number of years, there has been an increase in parking violations; it seems that some violators are risking a citation rather than the certainty of paid parking. An increase in repeat offenders seems to support that suggestion. In the past five years, 18,067 people have been issued two parking citations or more. More than 50 per cent of regular campus commuters have multiple parking citations listed on their customer file. Instances of theft of service tripled in 2013-14 from the previous academic year and increased another 50 per cent in 2014-15. Parking Services assigned theft of service fines to 32 individuals in 2013-14 and 48 in 2014-15.
The recommended increase to parking citation rates were approved by the Board of Governors after consultation with the Parking Advisory Committee (made up of representatives from the Faculty of Health Sciences, Human Resources, UMSU, Student Life, Physical Plant, the Office of Sustainability and Security Services), UMFA, the Office of Legal Counsel, the U of M Comptroller, the Winnipeg Parking Authority and Parking and Transportation managers of other Canadian Universities.
"In a perfect world, if everyone followed the parking regulations, we wouldn't need parking enforcement," says Neufeld.
"Our hope is that the increase in the fine amounts will persuade more people to follow the regulations. If the increase in fines produces an increase in revenue, we will apply the revenue towards our ongoing mandate to meet our community's transportation needs by providing environmentally sustainable, innovative and professionally-managed parking and transportation options.
"Most feedback received [about the citation increase] has been positive, especially considering it has been 15 years since the last increase in citation rates," he adds.
Citation Rate Increases
Infraction: Violation of section 2.42, 2.43, 2.46, 2.47, 2.50, 2.52, 2.53, 2.54 (No permit displayed, time/ticket expired, parked at hooded meter, parked on sidewalk/grass, no idling area, snowmobile parking)
Old rate : $40 ($20)
New rate: $70 ($35)
Infraction: Violation of section 2.48 (Improperly parked – not wholly within stall)
Rate (No Change): $40 ($20)
Infraction: Violation of section 2.51 (Accessible parking without permit)
Old rate : $100 ($60)
New rate: $300 ($150)
Infraction: Violation of section 2.44 and 2.45 (Fire lanes/hydrants)
Old rate : $75 ($50)
New rate: $100 ($50)
Infraction: Violation of section 2.59 (Invalid permit displayed – stolen, forged, altered)
Old rate: $75 ($50)
New rate: $150 ($75)
Infraction: Fine levied per violation of section 2.56-2.59 (Theft of service)
Old rate: $250
New rate: $350
For more information about parking, see: umanitoba.ca/campus/parking/