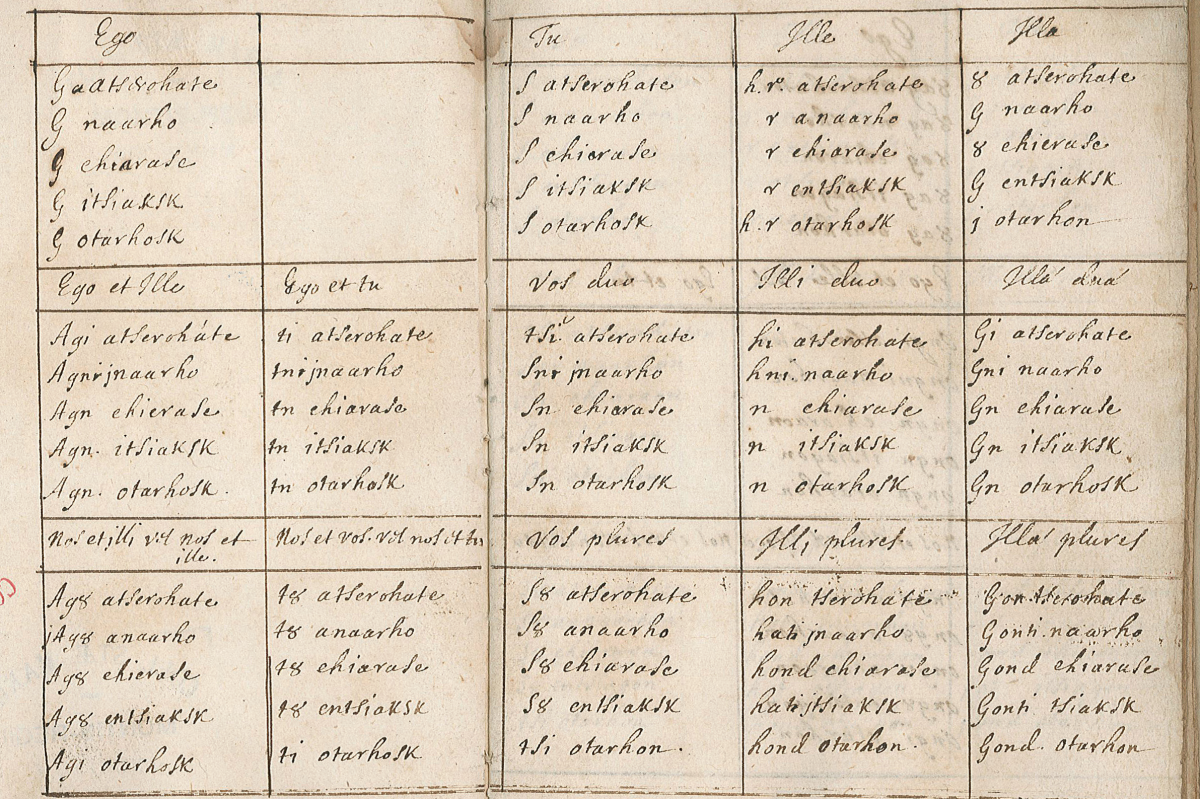 Nothing Without Sound: Jesuits, Indigenous Languages, and New Dialogues
November 14, 2017 —
This week, an exhibition and symposium will focus on Jesuits' work towards Reconciliation with Indigenous peoples.
The symposium is titled: Nothing Without Sound: Jesuits, Indigenous Languages, and New Dialogues. It celebrates the arrival of the exhibit: Writing the Word, Cultivating the text: a Jesuit legacy of Indigenous language tools, on loan from The Archive of the Jesuits in Canada. The exhibition will be mounted across the hall from the Fr. Drake Library at St. Paul's College.
Dan MacLeod, interim director of the Jesuit Centre for Catholic Studies in St. Paul's at the U of M, says: "We have worked in a very productive partnership with the archive to bring the material here. The exhibition incorporates Indigenous languages and perspectives into our physical space here at St. Paul's, and the symposium on November 16 includes important presentations, especially our 2017 Jesuit Lecture presented by the Provincial of the Jesuits in Canada, Fr. Peter Bisson, S.J."
MacLeod notes that the exhibition and symposium address the need for Reconciliation with Indigenous people in Canada.
"I think that among the larger goals of reconciliation at the University and in our smaller community at St. Paul's is the pursuit of a sincere accounting of how Indigenous perspectives can be better incorporated into our work," he explains. "Because of continued threats to Indigenous languages, the exhibit and symposium will provide an interesting way for us to facilitate discussion and expose students and scholars to perspectives on language in both technical and social aspects."
In addition to Fr. Bisson speaking about Jesuit efforts toward reconciliation, the symposium includes presentations on a variety of Indigenous languages from a number of perspectives from across North America: from archivists, linguists, and historians. Speakers include scholars breaking new ground on these issues, as well as emerging scholars and people working with Indigenous languages outside the academic community.
MacLeod adds: "The Jesuit Centre launched a course on Indigenous-Catholic relationships this fall, so we feel the symposium and the exhibition are part of a sustained effort by St. Paul's to pursue reconciliation."
This event is made possible by a grant from the University of Manitoba's Indigenous Initiatives Fund.
The symposium is on November 16, 2017, and will be held in Hanley Hall, St. Paul's College
Speaker list:
Morning Session (9:00-11:30 am)
Theresa Rowat, Director, The Archive of the Jesuits in Canada – "Jesuit Documents, Indigenous Voices: subjectivity and stewardship in a time of reconciliation."
Dr. David J. Costa, University of Miami (Ohio) – "The Jesuit Illinois Manuscripts and the Miami-Illinois Language."
Dr. John Steckley, Humber College, "Building Word Bridges Across a Cultural Divide: Jesuit Linguistic Work with the Wendat."
The Jesuit Lecture (1:00-2:00 pm)
Fr. Peter Bisson SJ, Provincial of the Jesuits in English Canada – "All Our Relations: The 2017 Jesuit Lecture."
Afternoon Session (2:00-3:45 pm)
Dr. Mary Ann Corbiere, University of Sudbury – "Learning Nishnaabemwin: Strengthening a sense of rootedness."
Chantale Cenerini, University of Manitoba, "Finding the balance: Grounding a Michif language project in Indigenous epistemologies."
Carol Beaulieu, Indigenous Languages Manitoba – "The Continuum of Indigenous Languages."
For more information, please contact:
Jesuit Centre for Catholic Studies
St. Paul's College, University of Manitoba
Phone: 204-474-9165