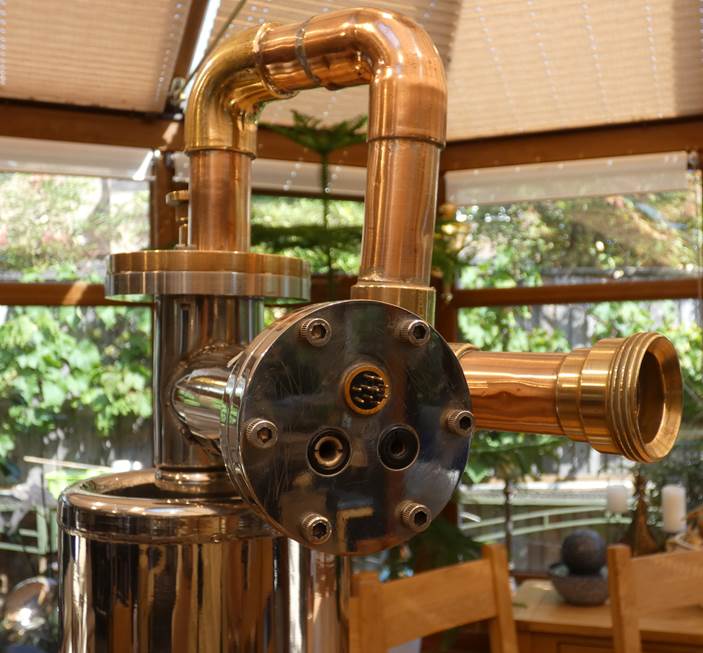 Nothing But Blue Sky: How Research for Its' Own Sake Can Change the World
Dr. Barrie Reece Assures Young Scientists That Pure Science Is Worth It
September 6, 2017 —
Barrie Reece, CPhys, FinstP, wants young scientists to know two things: curiosity for curiosity's sake is a good thing, and pure scientific research is important. Not only can your curiosity provide you with the answers you're looking for in your current research, but it can contribute to discoveries that may have much greater and unexpected applications in the future.
Reece knows whereof he speaks. As a post-graduate student, and then a Lecturer in the Department of Physics at the University of Birmingham (UK) in 1966, and specializing in nuclear physics, Reece found himself in need of a powerful magnet for experiments that were to utilize a beam of polarized neutrons.
For the purposes of the experiments, it was necessary to turn the neutrons upside down, which could be achieved by passing the beam through a strong magnetic field along their direction of travel. That magnetic field could be provided by a typical "solenoid" comprising a coil of copper wire, but the copper coil used would require thousands of amperes of electric current, making it unmanageably big and producing a large amount of heat that would be difficult to dissipate.
Reece decided to replace the copper with a superconducting alloy of niobium tin, which loses its resistance at the temperature of liquid helium. With the wire kept at liquid helium temperatures, the solenoid could be made of many turns of wire but require less than 10 amperes of current to produce a very high magnetic field in its centre. Being a superconductor, the alloy would take up much less space than copper, and would have the added benefit of not generating any heat.
Reece took his design to the British Oxygen Company (now part of the Linde Group) and commissioned them to build the magnet he required to his specifications. There was one crucial difference in Reece's design: his magnet had a horizontal hole running through the middle of it, open to the air. "You could put a small rat in it!" Reece relates with a chuckle, insisting that no rat was actually used during any of his subsequent experiments.
Since the hole Reece included in his magnet design was completely unique, it was deemed a patentable feature by the makers (BOC). Unfortunately, universities in the UK at that time disallowed their staff and students from patenting their research, so Reece was unable to copyright his superconducting magnet. He made the decision to give BOC permission to patent it.
With his neutrons in order and experiments with the neutron beam being successfully completed, Reece went on to life after academia. His magnet remained at the University of Birmingham cyclotron, to be used by the staff and students there, including a Senior Lecturer by the name of Jasper McKee and a Research Fellow by the name of Saewoong Oh.
It wasn't until years later, by which time Reece had changed fields to become a Medical Physicist, that he found himself visiting the Hammersmith Hospital in London, England. Exhibited there was the first ever MRI (Magnetic Resonance Imaging) machine in operation. Patients lay in a hole in a Superconducting Solenoid/Magnet which looked suspiciously familiar to Reece:
"I looked at it and thought 'It's just a bigger version of my magnet!'"
As it turned out, BOC had sold the patent for Reece's solenoid to the Oxford Instrument Company, and it was upon his design that their MRI machine was based. The component that he had conceived specifically for his own experiments years before was now beginning to be used to benefit patients all over the world!
By the time Reece was making his noteworthy discovery at Hammersmith, his original magnet had made its way to the other side of the world. This was thanks to McKee, who had come to the UofM in 1974 as a full professor and Director of the Cyclotron Laboratory to continue the research he had begun back in England. McKee joined Dr. Oh, who had collaborated with Reece on the cyclotron work, as well as the production of a polarized deuteron source.
Unfortunately, Reece's magnet was damaged in transit overseas and could not be used. An updated replica was made so that research could proceed, and Reece's damaged original was put in storage in the basement of the Allen Building.
It wasn't until January 2017 when Reece's curiosity again got the better of him that he reached out to Physics Senior Scholar James Birchall, who (coincidentally) happened to be Reece's last post-graduate student back at the University of Birmingham. Reece asked if his magnet was still here. Birchall was doubtful that the magnet had survived a clean-out of the storage area twenty-five years earlier following the closure of the Cyclotron Laboratory, but promised Reece that he would ask someone he knew at the University to take a look around for it.
Reece was thrilled at the news of the magnets'. "To our immense surprise, there it was, in a very old crate covered in dust and debris… So therefore I asked if I could be given it back."
Fast forward to a sunny morning in August 2017: Reece and his wife Ann are sitting in the office of Dr. Robert Stamps, newly minted Head of the Department of Physics. They've arrived in Winnipeg to arrange for the return of Reece's magnet to the UK. Joking that the solenoid would likely be "…more than what the baggage allowance is", Reece talks about what he plans to do with it now that it's going home to England.
He plans to contact Siemens, who currently holds the patent on his invention. He may decide to contact the Science Museum of Kensington or the medical Wellcome Collection (Museum) in London or may offer it to the Worshipful Company of Scientific Instrument Makers, of which Reece is a member.
All Reece knows for certain is that he doesn't want his magnet to go back into some basement storage area to be forgotten again. His preference is for it to be on display, so everyone who sees it can learn how pure science can lead to great things.
Stamps sums it up best:
"This magnet is an example of how blue sky research often produces results that can directly benefit society in ways that were never imagined or intended. Moreover, it illustrates how science nurtures, and indeed depends upon, human linkages that cross time, geography, and discipline."