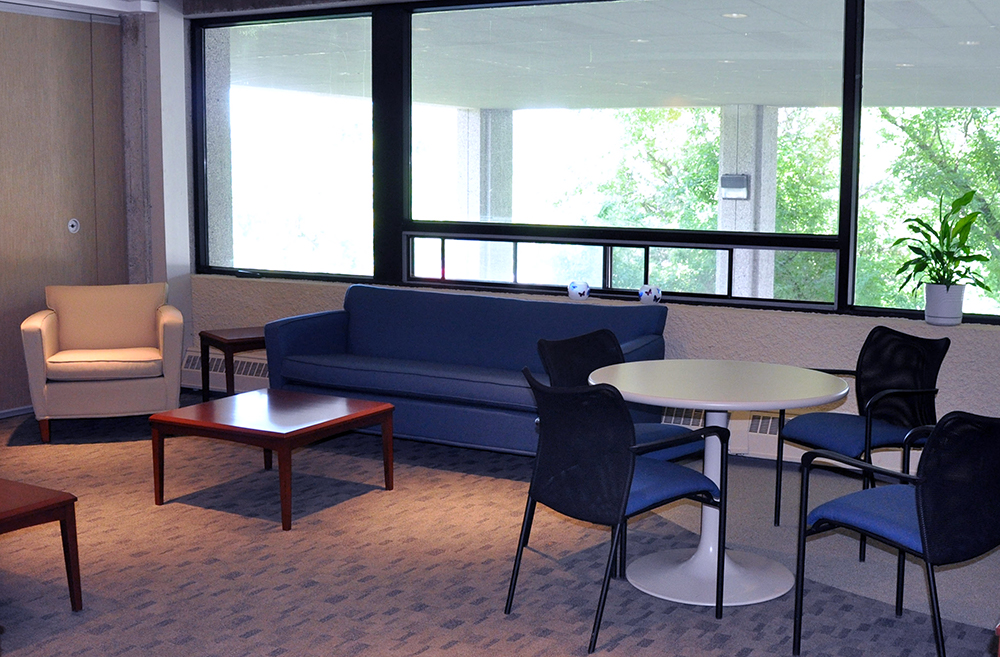 Not your ordinary staff meetings
Faculty of Law administrative staff stay upbeat during pandemic with morale-boosting check-ins
December 11, 2020 —
By late October, we were all Zoomed out and tired of boring staff meetings. "Let's go around and everyone share something new you learned this week," our usual meeting chair, the Dean's Executive Assistant and Office Manager, Marica Kort suggested one day in late October to our close-knit group of 11 Law Faculty staff. That changed things up a bit. Another week, we shared a way in which we had recently used our problem-solving skills.
Then one day Kort couldn't attend, but rather than postpone, she asked another staff member to chair in her place, and from there, a new meeting concept arose with staff taking turns chairing, and proposing a new topic for sharing and discussion each week. Since then, staff have been looking forward to weekly meetings and coming away feeling less isolated, more cheerful after a good visit with colleagues, and more often than not, having learned something new.
Admissions Officer, Marie Jivan, proposed a topic of something we accomplished that we were happy to have off our plates. Some items mentioned reminded fellow staff of interrelated tasks some of us share with each other and helped us move some matters forward that we otherwise would not have been able to.
For her week, Academic Program Assistant Rosa Muller invited everyone to share what they're doing to stay healthy – mentally and physically. Self-care is important, she reminded us, being an organizer of annual health and wellness activities for the law students. In the ensuing discussion, we reminded ourselves to take our union-mandated lunch breaks even while working from home, to get outside and get moving, stay connected but set boundaries between work-life and home-life. One brilliant staff member shared her family's practice of finding something once a month to celebrate – with cake!
Law Faculty 20-year staff veteran, Maria Tepper revealed that she's been feeding apples to deer on her walks in a nearby park while on her work breaks. This earned her gentle ribbing from her colleagues who called her "Snow White" after the animal-loving animated Disney princess.
We commiserated on missing the inevitable Halloween 'leftovers' and collective baking that – in a normal year – would start to appear in the office almost daily as the holidays approach.
Web and Graphic Design Assistant, Lily Deardorff is in a unique position of not yet having experienced the Robson Hall environment, having joined the team during the Fall term. "I was hired during the height of the pandemic, and have been working remotely," she said. "These meetings have been essential for me to get to know my coworkers and experience the office culture."
Recently, Acting Dean David Asper, Q.C. joined our meeting where Chair of the Week, Office Assistant Jessica Tapatai, invited everyone to share a positive experience that made us smile or that brightened an otherwise gloomy day. A major theme that emerged from everyone was being thankful for what we have – be it good health, the ability to spend time with loved ones, or resilience in the face of adversity.
Does any work get done during these meetings? It sure does. While we can otherwise connect when we need to by email, MS Teams, and various other apps, these virtual get-togethers are our weekly sanity breaks and mood boosters to keep us connected and know that we're not alone while we work from home. This is our fun, creative way to keep it together during this time when it could be so easy to fall apart.