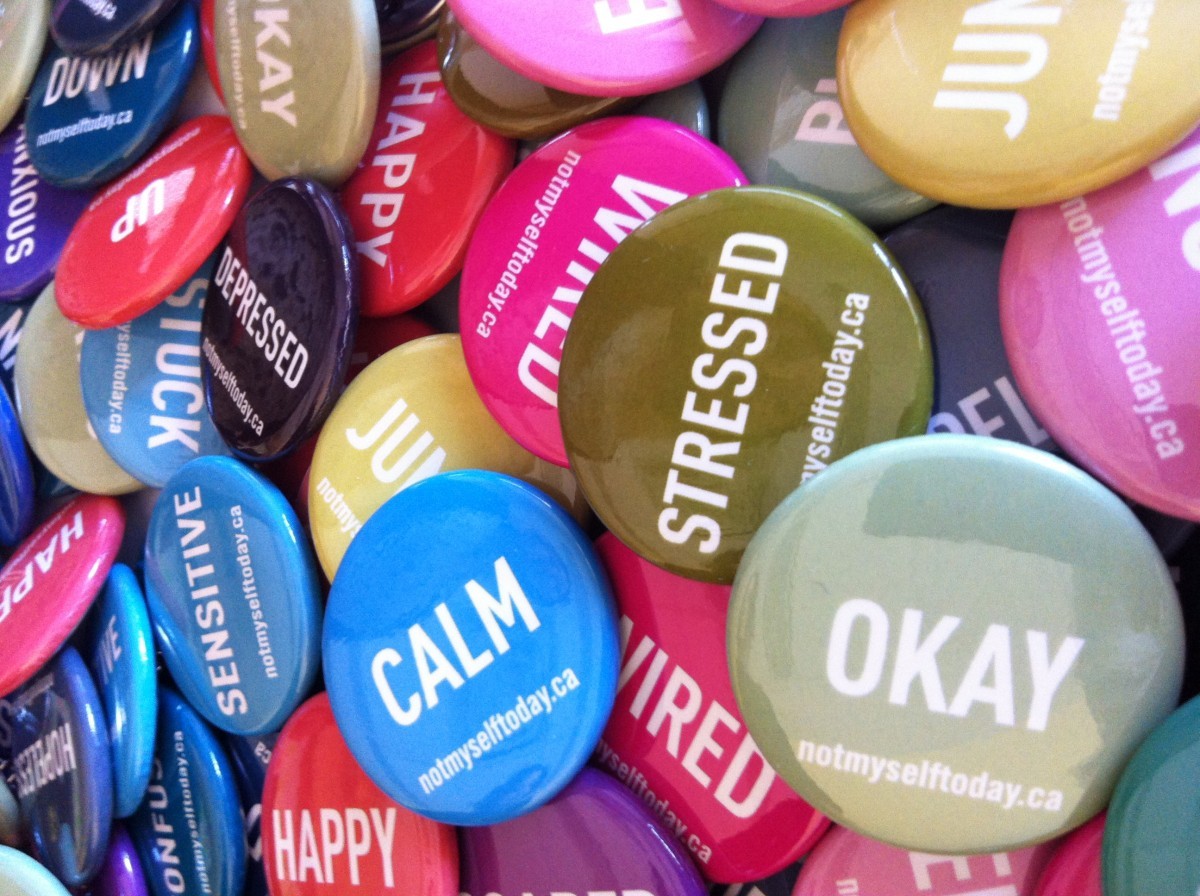 Not Myself Today, Mental Health Week
May 6, 2014 —
Have you ever had a work day when stress got the better of you? When you weren't feeling quite yourself?
For the second year in a row, the U of M is partnering with a new national campaign called Not Myself Today to raise awareness of mental health issues.
One aim of the campaign is to encourage people to pay more attention to their own mental health and well-being. Other goals are to positively change attitudes and behaviours towards those living with mental health difficulties or illnesses, and to influence positive changes in policies around mental health in the workplace — and for the U of M, it's a university-wide concern. Over 1,100 mood badges, 500 stickers and other promotional items will be distributed to U of M students, faculty and staff in University Centre this week — Mental Health Week, which this year runs from May 5 to 9.
The annual campaign is part of an initiative by Partners for Mental Health, a national organization dedicated to transforming how Canadians think about and support mental health. Launched on April 2, the campaign continues until May 9 to coincide with Mental Health Week. It provides resources for the support of mentally healthy workplaces, and culminates in a special day when workplaces across Canada come together to hold special events to raise awareness about mental health in the workplace.
The website of Partners for Mental Health notes some disturbing statistics that should make us understand mental health in the workplace as a significant issue. Over the next 12 months, 7 million Canadians will experience a mental health problem. One in three workplace disability claims are related to mental illness, and each day, 500,000 people are absent from work due to mental health reasons.
The U of M has partnered with Partners for Mental Health for Not Myself Today as part of a larger commitment it has recently made to addressing issues of mental health in its student and employee populations.
>> See here for the UM Today story on these two great students who are changing the conversation about mental health!
Workplace wellness tips for improving mental health at work:
Take short relaxation breaks. Take a few quiet minutes to try things that relax you, such as taking several deep breaths, closing your eyes, or thinking about a much-loved vacation spot or a person you love.
Recognize that feeling stress at work isn't a sign of weakness but a sign of the times – so take your mental wellness seriously and take your breaks!
Watch what you eat. Go for foods that give you real energy such as fresh fruit and veggies, string cheese, and whole grains to get you through the late afternoon slump.
Remember to stay hydrated. Adequate hydration (half your body weight in ounces of water per day) will decrease cravings and increase mental alertness!
Manage your time. Prioritize tasks, write them down and enjoy the endorphin rush you get as you cross them off when they're done. Don't forget to reward yourself!
Take time to listen to your body. Don't ignore the rumbling of your tummy, your stiff neck, your shallow breaths, or the call of Mother Nature!
Remind yourself to stand up and stretch at regular intervals by writing "STRETCH" on a Post-it note and sticking it on your computer monitor frame or putting it in your online calendar as a recurring reminder.
Laughter is the best medicine: it reduces the level of stress hormones and triggers the release of endorphins (a.k.a. happy hormones)! Have something in your workplace that automatically makes you smile, like a funny picture or a goofy toy.
De-clutter your work area and organize your workspace to reduce stress and make things easier to find.
Feel stressed or angry? Go for a walk! You can work off the extra adrenaline you have and return to your desk feeling more relaxed.  Feel sleepy? Go for a walk! Exercise has been proven to boost energy levels.