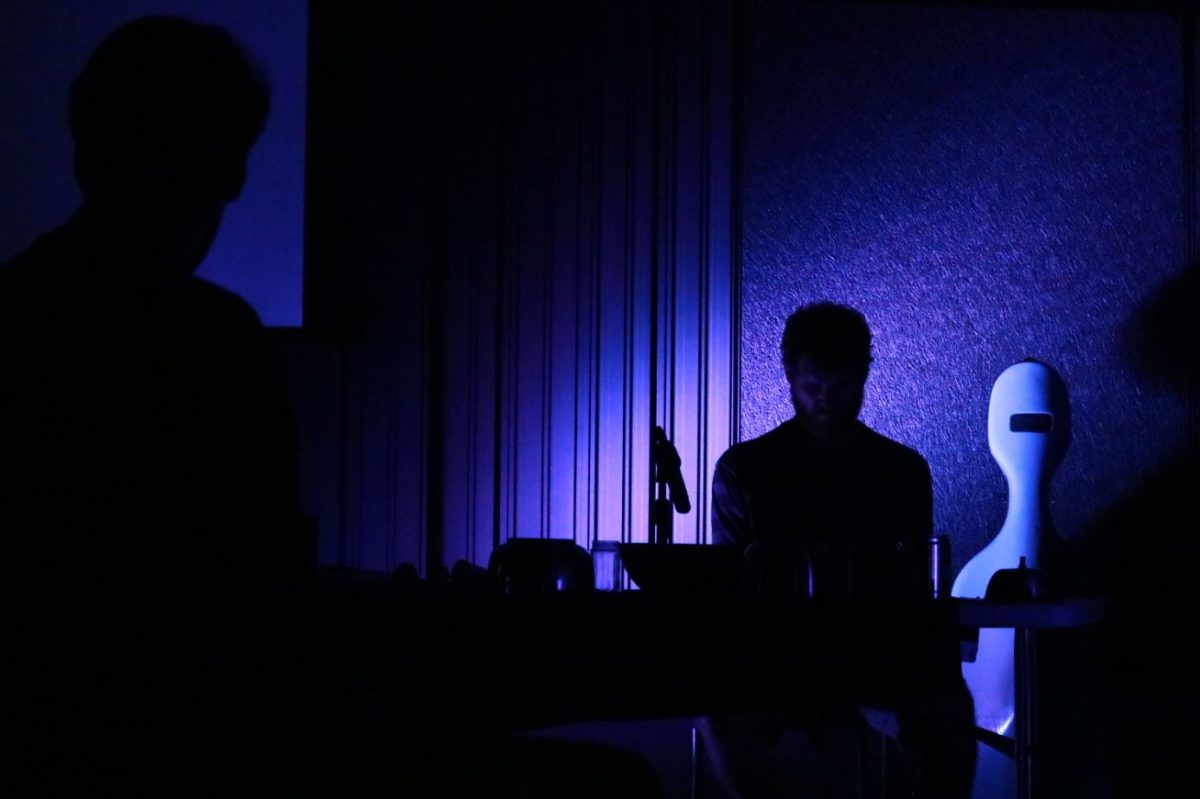 Nolan Hildebrand is composed of greatness
2020 DFOM graduate Nolan Hildebrand is a prolific composer and performer.
August 24, 2020 —
NOTE: We in the Desautels Faculty of Music are incredibly proud of our students. While COVID-19 is sidelining in-person commencement ceremonies around the globe, we want to find alternate ways to celebrate our graduates and give them the recognition due to them. Until we can gather together to properly applaud the years of study and practice that have led to this milestone, please join us in congratulating our 2020 Desautels Faculty of Music graduates.
Today we celebrate Nolan Hildebrand!
When planning one's future, many people begin by ruling out what they don't want in life. For Hildebrand, the elimination and decision process went hand in hand.
"[I knew that I wanted to pursue music] after working at non-musical jobs, and realizing that I need to do music for a career in order to be happy," he says.
The 2020 DFOM graduate has now earned his Bachelor of Music in composition, with distinction, no less!
In the faculty and beyond
Hildebrand, who hails from Morden, Manitoba, plays drums and percussion, and is highly skilled in electronic music. From the moment he stepped foot in the Desautels Faculty of Music, he has been collecting hard-earned accolades and showing the world just how talented he is, both musically and academically. He seems never to have missed an opportunity to create and perform.
He has performed with the University of Manitoba Percussion Ensemble, eXperimental Improv Ensemble (XIE), and the Wind Ensemble, and has performed music – and had his own compositions performed – in vastly diverse venues around Winnipeg, from the bustling Union Station in downtown for the Winnipeg New Music Festival, to the halls of the Forks Market, to even the greenhouses on the grounds of the University of Manitoba, and was featured in the 2019 Faculty Gala. With XIE, he even live-scored the 1922 silent film Nosferatu for a Halloween-themed XIE midday performance.
Hildebrand's diverse works range from avant garde to introspective, from anxiety-inducing to meditative, with listeners coming away from the performances having felt and learned something meaningful about their own lives and the world around them, so it's no surprise that they garner so much praise.
Hildebrand's works were also featured in Cameron Denby's Fresh Blood Project, a percussion collaboration between Manitoba composers and performers, where he developed the piece Your Immediate Millennial Indigo Stepchild.
His original composition Harum Scarum was also performed at the Forks by the University of Manitoba Percussion Ensemble for the Winnipeg New Music Festival.
Harem Scarum went on to be heard by many more people from across Canada when Hildebrand submitted it to the nationally competitive 2019 Torq Percussion Seminar's (TPS) Composition Competition, where he won second place. The piece was then performed for TPS audiences in Nova Scotia by fellow Desautels percussion student Wyatt King.
Hildebrand has also twice received the very competitive University of Manitoba Undergraduate Research Award (URA) in both 2018 and 2019 for composition research projects, marking him as the first music student to have received the award more than once.
He followed up that success in the Society of Composers, Authors, and Music Publishers of Canada (SOCAN) Foundation's 2019 Young Composers Awards, where he won second place for his composition "HEAT DEATH," a set of seven miniatures for violin, guitar, percussion, and tuba, which were first played for an audience of both humans and plants in the UM greenhouses.
With XIE, Hildebrand participated in the University of Manitoba Climate Strike, where the ensemble performed as part of a collaboration with the UM School of Art. Art students built a sculpture made of discarded items, and XIE then used various tools and vibration sensors to create an improvised performance on campus by interacting with the sculpture. At the end of the performance, the sensors were left attached to the sculpture while the XIE performers walked away. The sensors picked up the residual vibrations and sounds being emitted from the sculpture, which, for this listener, served as a powerful metaphor illustrating that the impact we have on our environments, and the pollution we create continues on long after we leave it behind.
The pieces that Hildebrand marks as his favourites learned and performed in the DFOM run the gamut, genre-wise.
"[My favourite pieces were] percussion in Kristen Wachniak's mini-opera Hedone, performing my own piece Nomad's Soul, and many of the concerts with XIE," he says, noting also that one of his favourite moments was hearing Swedish duo Jonny Axelsson and Fredrik Sohngen perform his piece portals at a reading session.
Faculty Mentors
Hildebrand is thankful for the mentors he has worked with in the DFOM.
"Prof. Gordon Fitzell has been my main teacher throughout my degree and has been essential in my development as a composer," says Hildebrand of his major practical study instructor, who is a professor of composition in the DFOM.
"I would not have been exposed to half of the fantastic music I had been if not for our weekly composition lessons," says Hildebrand.
For his part, Fitzell has relished his work with Hildebrand.
"Nolan was a delight to teach—always inspired, productive, well-informed, and fearlessly open to new perspectives," says Fitzell.
"He has an especially wide variety of interests, which he is able to synthesize into highly personal musical expressions," Fitzell adds.
"Prof. Orjan Sandred also was very essential in exposing me to the word of electronic and computer applications in music," adds Hildebrand.
"He offered me lots of exciting opportunities like the Advanced Electroacoustic classes field trip to Iceland and collaborative sound installation with the faculty of architecture," he adds.
Like the Climate Strike performance, the Iceland installation focused on the effects of climate change, and was previously written about here.
The installation that resulted from the trip to Iceland – titled Ís – Icelandic for 'ice' – opened on January 29, 2002, and was an interactive experience complete with touch sensitive flooring that led visitors through an audiovisual experience that connected them the sounds of ice becoming slush becoming water, documenting the cries of Iceland's melting glaciers.
"Nolan is someone who is genuinely creative and curious, and he has managed to fuse his various musical interests and skills in his compositions," says Sandred, a professor of composition in the DFOM who led the Iceland experiment and installation.
"It is great to see someone's personality come through in his creative work, and this is something that I truly enjoy in Nolan's music," adds Sandred.
"Prof. Colette Simonot-Maiello was very helpful in in my development as an academic writer and even helped me with my SSHRC proposal when I wasn't currently in any of her classes," says Hildebrand of the proposal he submitted to the The Social Sciences and Humanities Research Council.
For Colette Simonot-Maiello, assistant professor of musicology in the DFOM, the mentorship went both ways.
"I remember Nolan's SSHRC work starting as a grant proposal in my 20th/21st century music history class two years ago. He wrote a really fascinating proposal about examining different ways of interpreting graphic notation," she says.
"I'm so impressed with how Nolan developed this into a sophisticated SSHRC proposal last fall! Every time he asked me to read a new draft, I learned more about how new music notation symbols can actually develop specific meanings," she adds.
Credit Recital
Due to the disruption caused by COVID-19, the Desautels Faculty of Music had to cancel all of its remaining events for the 2019-2020 season. In addition to final ensemble performances, about 40 student credit recitals were cancelled, including those of graduating students, whose final credit recitals serve as a sort of capstone project showcasing what they have learned throughout their studies. Unfortunately, Hildebrand's was among the cancelled.
For his recital, Hildebrand had prepared to perform four of his compositions.
"I had planned to perform Couchlock for amplified cello, electroacoustic playback, and video; Your Immediate Millennial Digital Indigo Stepchild for marimba, auxiliary percussion, and electroacoustic playback; HEAT DEATH for chamber ensemble and electroacoustic interludes; and my solo experimental noise project BLACK GALAXIE," he says.
Fortunately, recording of most of these pieces, and many more, can now be found on Hildebrand's Soundcloud account.
Next steps
This fall, Hildebrand will be traveling Toronto, where he has been accepted into the University of Toronto's Master of Music program. Though we know UT will be immediately impressed by the talent and complex critical thinking skills that Hildebrand possesses, he is also bringing with him the first of many honours that he will achieve during his time there. The SSHRC proposal he crafted during his final two years in the DFOM has now culminated in a grant from the organization.
"My SSHRC proposal was recently accepted at the U of T. The proposal is entitled Classification of Graphic Notation Symbols in Works by Logothetis and Cardew," he says.
With his intellectual curiosity, his incredible work ethic, and his varied and evocative compositions, we know that massive accomplishments are on Hildebrand's horizon, and we can't wait to hear what he does next!
"I'm certain his craft will continue to flourish," says Fitzell, echoing our sentiments.
Congratulations, Nolan!