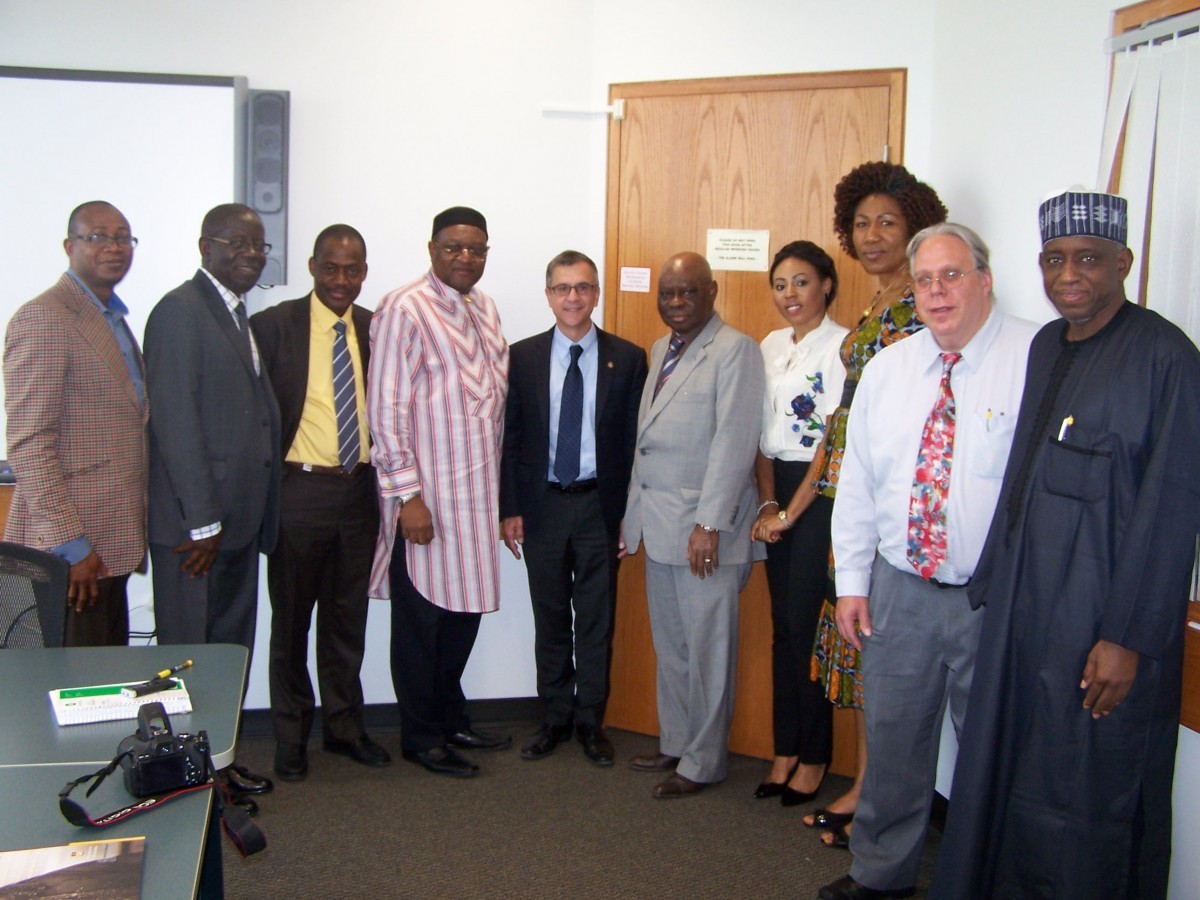 Nigerian university delegates visit Faculty of Education to discuss collaboration opportunities
David Mandzuk, Cameron Zywina, International Office, and Uche Nwankwo, Delegate Coordinator, discussed professional development options with seven delegates from the National Universities Commission, Nigeria
July 15, 2015 —
A group of delegates from Nigeria visited the U of M campus recently to discuss research collaboration, staff and student exchanges and idea sharing with several faculties, including the Faculty of Education.
During their July 9 meeting with David Mandzuk, dean of Education, the seven delegates from the National Universities Commission (NUC) in Nigeria discussed their desire to increase professional development opportunities, especially for those in administrative roles at universities in their country.
They also spoke about the country's current Presidential Special Scholarship Scheme For Innovation and Development, which sponsors outstanding students in post-graduate studies in the top 100 universities in the world. The idea is to "develop a critical mass of professionals who would serve as catalysts of change and agents of scientific and technical advancement."
The group hopes to develop a scholarship opportunity at the U of M with Graduate Studies in the coming years.
"Nigeria is such a potentially rich country—it deserves first-class graduates in technology and innovation," said Christopher Maiyaki, director of special duties, scholarship and diaspora linkages with the NUC, during the meeting with Mandzuk.
It is the first time that the Nigerian group has visited the U of M.
The group spoke with Mandzuk about the possibility of other types of collaboration, including staff and student exchanges, between the two countries.
"We are all really excited to be here. We are hoping to leave here with something tangible for our universities and for our two countries," added Maiyaki.
The group also met with officials in the Faculties of Engineering, Graduate Studies, and Agricultural and Food Sciences and the Centre for Global Public Health, and toured the Richardson Centre for Functional Foods and Nutraceuticals, among other activities.