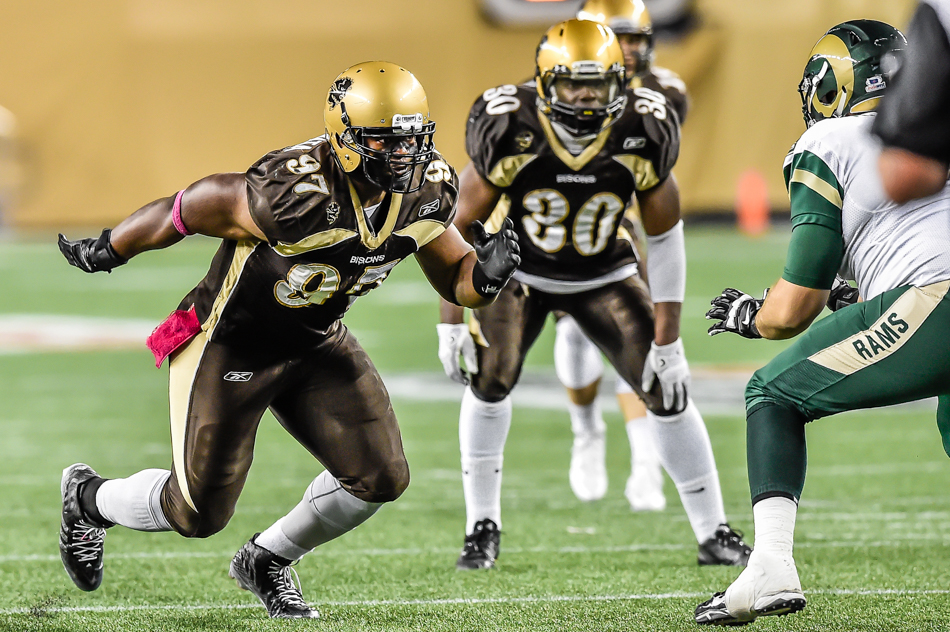 NFL scouting Bison
National Football League scouts look to check out Bison football star David Onyemata
March 9, 2016 —
The National Football League is coming to Winnipeg to scout out Bison football's David Onyemata.
Onyemata has made an lasting impact at the CIS level and is making a strong impression with NFL teams as he continues the pursuit to reach the professional rank.
"I am looking forward to the opportunity to work out for NFL scouts," said Onyemata. "I appreciate Coach Dobie and his staff and the support they have shown me. It is a privilege to represent the University of Manitoba football program as I pursue my dream of playing in the NFL."
The 6'4", 300-pound defensive lineman finished his fourth playing-season at Manitoba in the 2015 season and was selected as the 2015 J.P. Metras Trophy award winner. He had an award-winning season as was also named 2015 CIS First Team All-Canadian at the defensive tackle position along with earning a 2015 Canada West All-Star Team selection.
Onyemata was also selected and played in the prestigious East-West Shrine Game in January 2016 and received praise before and after the Shrine Game from numerous NFL scouts and media.
Onyemata is hosting a Pro Day Football Workout on March 14 from 10am-12pm at Investors Group Field.
It is expected 12 to 16 NFL scouts will be keeping an eye on him.
"We are excited that a significant amount of NFL teams will be present and are, of course, very proud to showcase our University, our program and represent the deep talent pool that is Canada West," said Bison football head coach Brian Dobie. "Above all is the pride and excitement all of us at Manitoba have for David and the tremendous opportunity that lies in front of him."