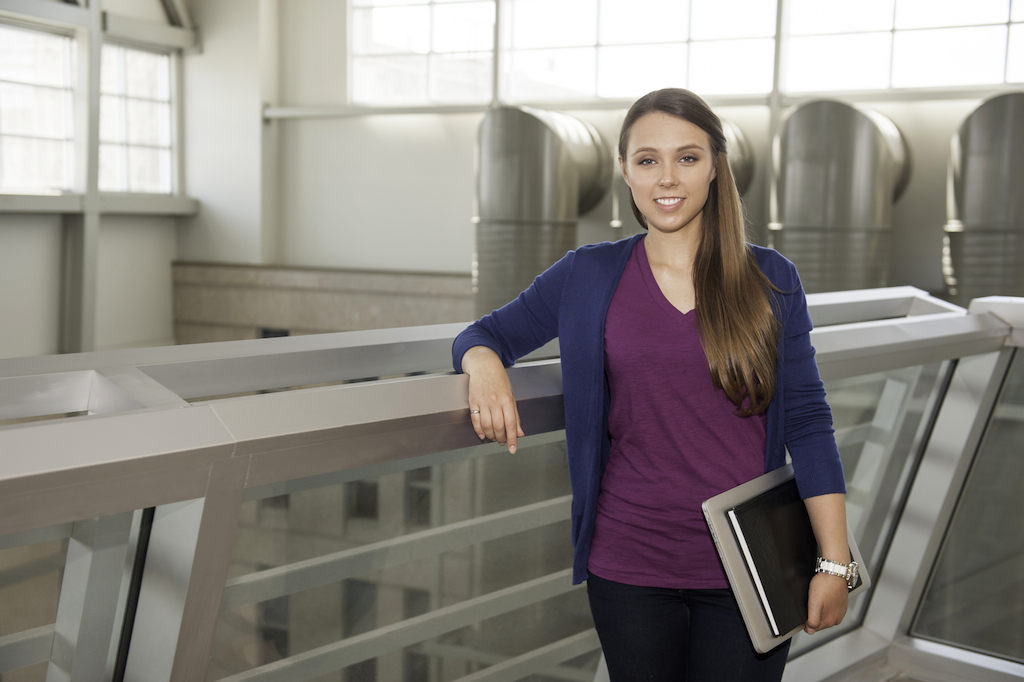 New Vanier scholar researches better maternal-fetal ECGs
August 14, 2014 —
University of Manitoba graduate student Kathryn Marcynuk is the recipient of a 2014 Vanier Canada Graduate Scholarship (read a Q&A with her here.).
Marcynuk's research in electrical and computer engineering aims to separate out the numerous background noises (referred to as the 'cocktail party problem') picked up during an electrocardiogram (ECG) of a mother and her fetus. The interfering signals make it difficult to reliably record a fetal ECG and can falsely indicate problems leading to unnecessary medical intervention. Separating the fetal heartbeat from the other signals is a physical application of the cocktail party problem.
The goal of this work is to improve the reliability of signal separation under noisy conditions by examining the statistical signal separation technique of independent component analysis for maternal-fetal ECGs. By improving information for physicians, more reliable fetal ECG recordings would help to reduce unnecessary medical intervention and its associated personal and societal healthcare costs.
These awards help recruit and keep in Canada top doctoral students from across the country and around the world. They are considered the Canadian equivalent of the United Kingdom's Rhodes Scholarships. Marcynuk will receive $150,000 over three years towards her research.
"Kathryn has shown herself to be an innovative researcher, exploring new approaches to complex analytical problems," said John (Jay) Doering, vice-provost (graduate education) and dean of graduate studies at the University of Manitoba.
The Vanier Scholarships recognize students who demonstrate leadership skills and a high standard of scholarly achievement in graduate studies in the social sciences and humanities, natural sciences and engineering, and health. Students are nominated by their university. Nominees are evaluated by multi-disciplinary peer-review committees and selected by a board composed of world-renowned Canadian and international experts.
"Ms Marcynuk stands out among her peers across the country and has been singled out for this award as a result," added Digvir Jayas, vice-president (research and international) at the University of Manitoba. "This highly competitive and prestigious award will support her research journey here at the U of M."
Marcynuk is among 166 national winners, bringing the U of M's total to 13 Vanier scholars awarded during the last six years.
Canada's three federal granting agencies—the Canadian Institutes of Health Research, the Natural Sciences and Engineering Research Council of Canada, and the Social Sciences and Humanities Research Council—administer the scholarships.
The Vanier program honours distinguished Canadian soldier and diplomat Major-General the Right Honourable Georges Philias Vanier (1888-1967), who served as Governor General of Canada from 1959 to 1967.