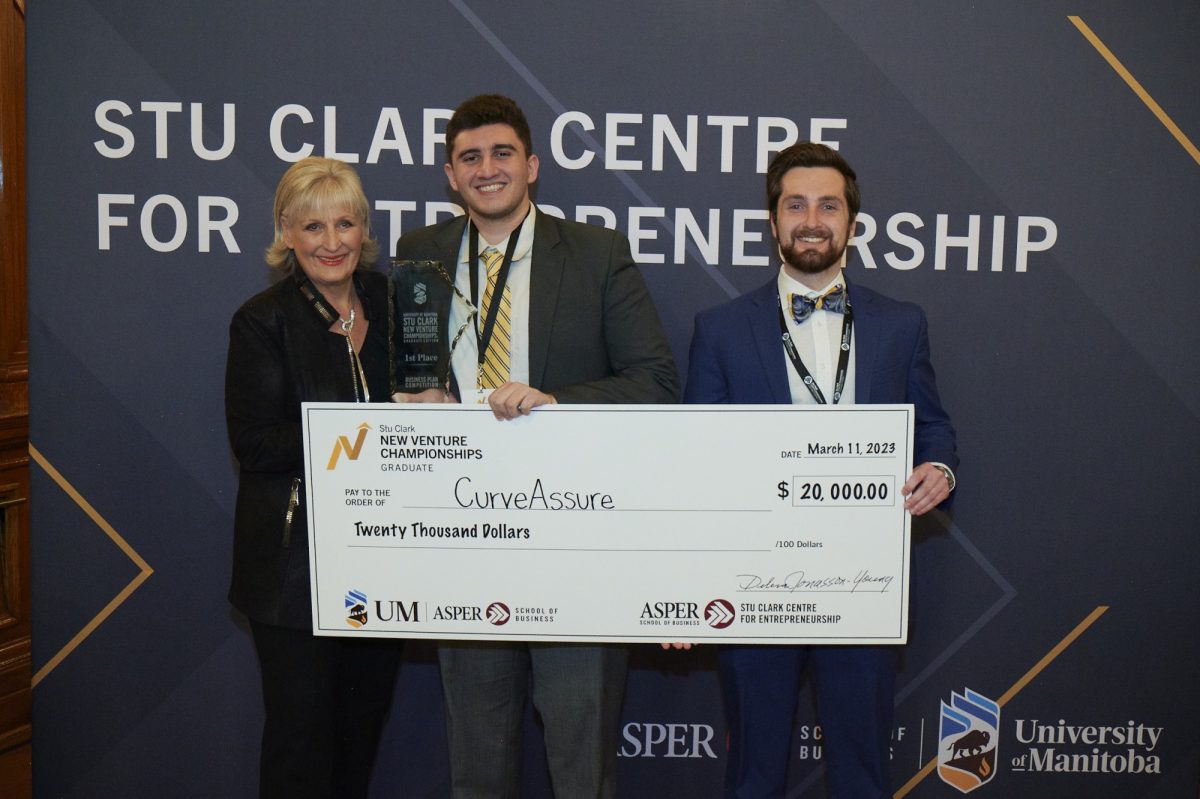 Stu Clark New Venture Championships returns in-person for high-caliber competition
Graduate and undergraduate entrepreneurs from across North America competed for $60,000 in prizes
March 16, 2023 —
The 2023 Stu Clark New Venture Championships welcomed student entrepreneurs from across North America to compete for the opportunity to kickstart their unique and diverse ventures.
After two years of virtual competition, the event took place in-person once again. Students presented and were judged live, testing their communication skills and inspiring their audience. While students prepare their pitches for months, there is little substitute for standing in front of a group of experts, registering every raised brow and tilt of the head.
Graduate and undergraduate teams presented an Elevator Pitch and Business Plan to distinguished judges during the three-day competition at the Fort Garry Hotel. From 80 applications, 16 undergraduate and 16 graduate teams were selected to compete for $60,000 in cash prizes.
Teams from Johns Hopkins, the University of Michigan, McGill and the University of British Columbia, and more joined a strong showing of local talent from UM to compete, connect and inspire.
Entrepreneurs have no shortage of passion. Along with the many skills that they hone, their ability to inspire that same passion in others is what can set them apart.
Executive Director of the Stu Clark Centre for Entrepreneurship at the Asper School of Business, Debra Jonasson-Young highlights the significance of this competition.
"The caliber and variety of submissions that we received this year were elevated and expansive. We were thrilled to return in-person to provide students with the experience of a lifetime at the Stu Clark Centre's most important annual event. It was a tremendous competition and an invaluable opportunity for students to develop a dynamic network and lifelong friendships."
The Stu Clark Centre for Entrepreneurship is run by a team dedicated to supporting the entrepreneurial spirit of all UM students, in part by maintaining strong connections with the local business community.
This event was made possible thanks to this community. UM alum, donor and competition namesake Stu Clark [BComm(Hons)/76, LLD/11] generously supported this competition. The Asper Foundation and The Associates of the Asper School of Business—a unique network of business leaders dedicated to the success of business education—have also been instrumental in making this competition a success.
Over 60 industry experts, local executives and professionals from a range of public and private sector organizations served as judges and audience members, offering valuable feedback to students. Stu Clark himself, as well as members of The Associates and Young Associates contributed both their time and expertise.
For one judge, participating in this event was a full-circle experience. Asper MBA student Graham Taylor won the graduate level business plan presentation at the 2022 competition. Taylor is the founder of Rogue Processing, which is the first cannabis co-packing facility in Manitoba and eliminates the need to expensively ship and pack product in other provinces.
Taylor describes the thrill of judging this competition. "At these events, it is always inspiring to meet other aspiring entrepreneurs and listen to their great ideas," he says. "It was great to be back and revel in that glory again—to live vicariously through the next winners and remember what it felt like. Winning was one of the greatest moments in my life, and revisiting that excitement was part of why I wanted to come back this year to judge."
The power of entrepreneurship lies in its ability to generate not just ideas, but passion—the conviction that a problem can be solved, that a process can be improved.
The New Venture Championships are an engine for this feeling, supported by a vibrant community of entrepreneurs who succeed and inspire together.
Congratulations to the 2023 winners:
Graduate Business Plan:
1st Place: CurveAssure – Johns Hopkins University
2nd Place: Pediatrica Therapeutics – University of Arkansas
3rd Place: UNCL Co. – University of Arkansas
4th Place: Vitruvian Matrix – University of Arkansas
Graduate Elevator Pitch:
1st Place: CurveAssure – Johns Hopkins University
2nd Place: UNCL Co. – University of Arkansas
3rd Place: Pediatrica Therapeutics – University of Arkansas
Undergraduate Business Plan:
1st Place: SteadiSpoon – Southern Methodist University
2nd Place: Peko – University of British Columbia
3rd Place: TalkMaze – University of Alberta
4th Place: inTuitionPay – University of Manitoba
Undergraduate Elevator Pitch:
1st Place: Peko – University of British Columbia
2nd Place: TalkMaze – University of Alberta
3rd Place: Acrylic Robots – McGill University