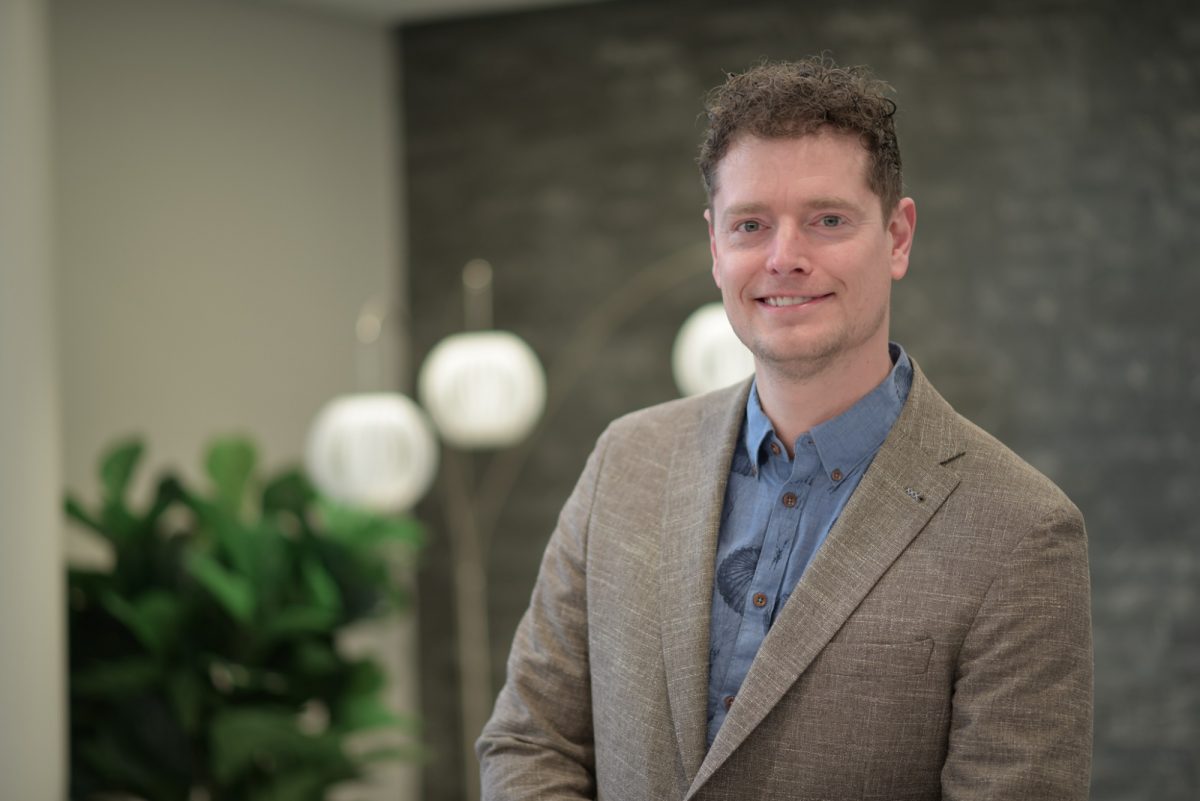 Asper student, Graham Taylor, wins Stu Clark New Venture Championships
For the first time in 14 years, a UM student has placed first in graduate edition of competition
March 21, 2022 —
Graham Taylor's first place finish at the 2022 Stu Clark New Venture Championships: Graduate business plan competition is one for the history books. He's the first University of Manitoba student since 2008 to place first in any of the competition's categories. Taylor competed against 16 teams who were selected out of more than 50 submissions.
In the final round, he beat out teams from the Georgia Institute of Technology, University of Arkansas and Johns Hopkins University. Besides bragging rights and a sense of accomplishment, Graham also took home a $20,000 cash prize. These funds will help him with his business plan — bringing Rogue Processing to life. Rogue Processing will be the first company in Manitoba to specialize in packing for Rogue Botanical and other cannabis cultivators in the prairies and Ontario.
Rogue Processing will use a low-cost NitroTin packaging line for dried cannabis flower in a peel-top can, replacing air with nitrogen to create a package that optimally preserves product integrity. The can is attractive to consumers and 100% recyclable. Because growers in Manitoba do not have a packaging license, which Taylor notes is difficult and expensive to acquire, Rogue Processing will help companies package locally instead of sending their product to other provinces like Alberta. By packaging locally, Taylor says he can help producers and growers save almost six figures a year in shipping costs.
"We submitted the application to Health Canada on January 14 and we're expecting about a six-month window," said Taylor. "The facility was fully constructed in November [2021] so now we're just waiting."
TAKING ADVANTAGE OF ASPER SUPPORTS
Taylor said he worked closely with the coaches at the Stu Clark Centre for Entrepreneurship (SCCE), particularly Carine Bado, receiving feedback on both his presentation and his business plan.
"They told me I had to overhaul it, because it was too technical and looked like a wall of text," said Taylor, referring to the 42-page business plan he trimmed down to 21 pages just in time for the competition. "They told me the judges are going to look through it quickly and it needs to be visually appealing. So, I spent days just hacking and slashing it until it looked uniform and visually appealing."
To prepare for the presentation part of the competition, Taylor met with Judy Jayasuriya, Lead of Experiential Learning at the Asper School of Business. Jayasuriya has a long history of coaching Asper case teams to national and international case wins. "I met with her at a Tuesday meeting — one I wasn't really prepared for — and, she gave some honest feedback," laughs Taylor. "It kind of hit me like a ton of bricks. I wasn't offended and I needed her honesty."
Following Jayasuriya's feedback, Taylor knew he needed to quickly work on his public speaking skills so he "crashed" several toastmaster clubs in Winnipeg. "I did two toastmasters in a row leading up to the presentation, but eventually I started to feel more confident. I set-up Zoom meetings with some classmates so I could gain more experience doing my whole presentation and have people actually ask me questions. Friday before the competition I did my presentation in front of some classmates and they didn't hold back. So, I spent the whole night before adding additional slides."
COMPETITION DAY
Due to the competition being virtual, Taylor and his wife had to find creative ways to give him some peace and quiet.
"My wife timed the grocery pick-up to my 9:20 a.m. presentation time. I was shooing the three kids off into the minivan 15-minutes before the presentation," said Taylor. "I had to get in the zone. I got my suit jacket on and my sweatpants, because you know — work from home. I even got my Stu Clark socks on that they sent to all the participants." At that moment, Taylor said he finally felt good, as though all the work he had done up to the final hour of the presentation was going to pay off.
Taylor's hard work did pay off, because hours later it was announced he would advance to the final round that afternoon.
"My first thought is what am I going to do with the children? Thankfully my wife took them downstairs to watch a movie with treats and popcorn," said Taylor, who had to find ways to work around the realities of working and studying from home. "I sit down and realize they're a bit too loud, so I'm using the kids' foam blocks and the cardboard boxes from the grocery pickup to build a sound barricade."
Mere minutes before the finals Taylor was finally able to sit down and focus. He was beginning to feel mentally and physical exhausted. "My brother was watching who had this sort of second-hand nervousness for me. He said I quickly put him at ease because I came off as confident. That was great to hear because that's the impression I want to give."
Later that evening Taylor and his family gathered around his laptop, eagerly waiting as the judges began to announce the results of the Stu Clark New Venture Championships. "They started announcing the business plan winners, and they announced the second and third place finalists. I immediately knew. And so, I looked at my wife and said, 'I won the whole thing!'"
Taylor says he owes a lot of his success to Jayasuriya, Bado, and the team at the Stu Clark Centre for Entrepreneurship.
"They were not only supportive on the business side of things, but also the human side of things. I'll never forget the Saturday morning after the semi-final, Debra [Executive Director, SCCE] was so impressed with how much of their feedback I tried to incorporate. I took their advice as gospel and it worked."