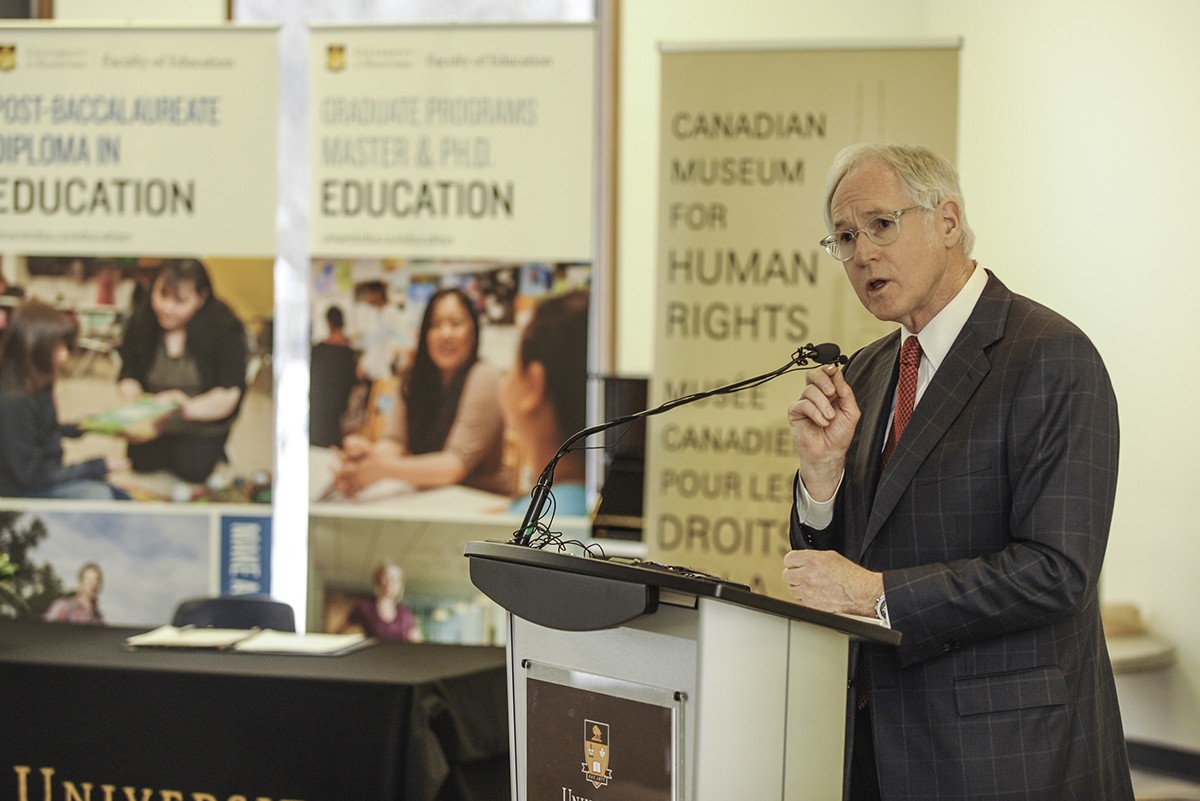 New teacher institute will focus on the 'Fourth R': Rights
March 17, 2014 —
A unique summer institute for teachers will provide training opportunities in teaching and learning about human rights issues.
The Canadian Museum for Human Rights (CMHR) and the Faculty of Education recently announced the creation of a program that represents the first-ever partnership between the CMHR and a university education faculty. Called "The Fourth R: Teaching and Leadership for Human Rights Education", it helps address teacher needs for more knowledge and skills in teaching about human rights, a subject that is increasingly being integrated into all school curriculum areas. The name recognizes that human rights education is as critical as the traditional "Three R's" (reading, writing and arithmetic).
"The purpose of this summer institute is to ensure human rights take a central place in education – not just as something we teach about, but also as something that informs how we teach,"  David Mandzuk, dean of Education, told a news conference at the Faculty of Education building on March 14.
"It will help educators think deeply and critically about how they represent human rights stories, which can be told from multiple perspectives."
He noted the university's long history of human rights research; currently over 150 faculty members at the U of M are engaged in human rights education and research.
Stuart Murray, CMHR president and CEO, said that the "collaborative nature of the Museum" means that it will become a trusted source for human rights learning – a goal that goes far beyond the exhibits visitors will see when the CMHR opens its doors as Canada's new national museum on September 20, 2014.
"One of the best ways to educate students about human rights is to teach the teachers," he said. "That's why we're already beginning to address gaps in human rights education through strong partnerships that will better equip educators at all levels."
He called the partnership between the Museum and U of M "indispensable." Today's document follows the 2011 agreement between the university and CMHR.
Last year, the CMHR partnered with the Canadian Teachers' Federation (CTF) to conduct a cross-Canada teacher survey, which revealed that 94 per cent of teachers wanted to acquire more knowledge and skills around age-appropriate methods for teaching about human rights.
The summer institute was the brainchild of  Jerome Cranston and Melanie Janzen of the Faculty of Education, developed in collaboration with CMHR Learning and Programming specialists. The CMHR has provided funding for program coordination.