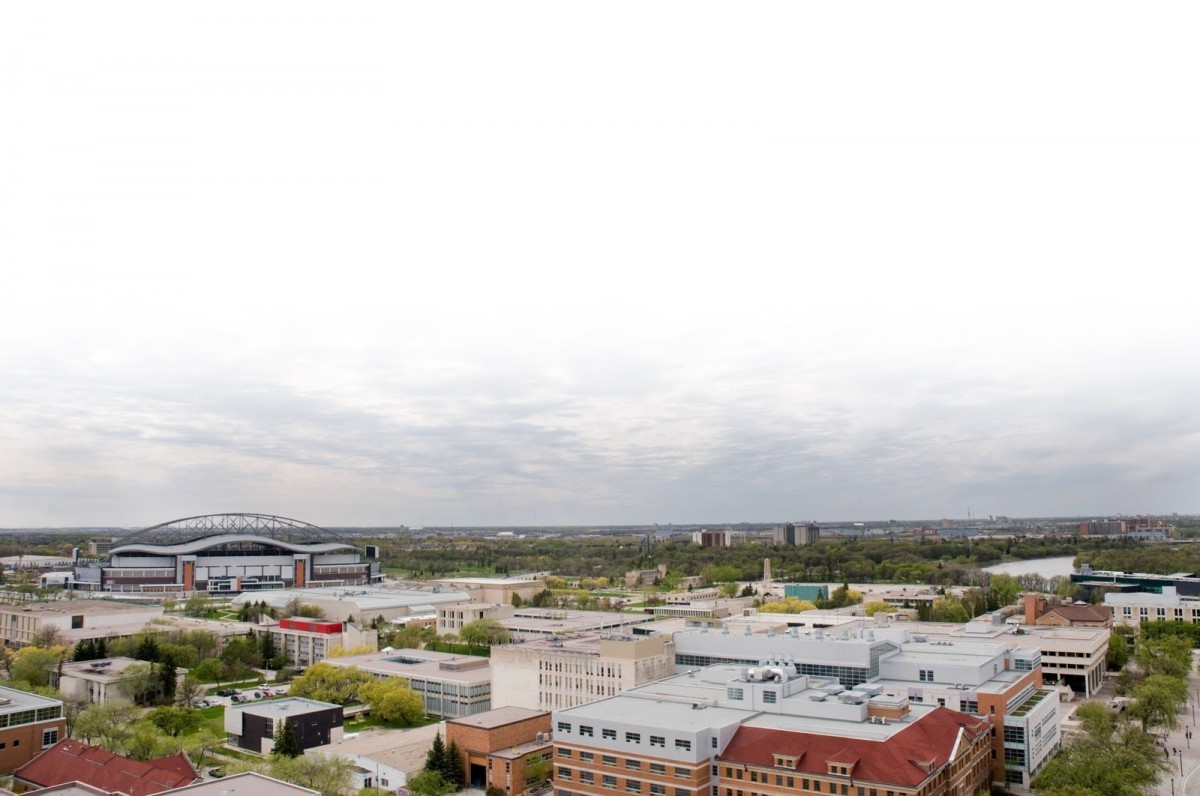 New stadium forges relationship between Bombers and Bisons
June 6, 2013 —
Eric Postma
On June 27 the Winnipeg Blue Bombers will officially open the brand new Investors Group Field on the U of M Campus. The date will mark the culmination of years of planning, negotiations, construction and hard work by the football club.
It's a date that many Manitobans have had circled on their calendars since the Canadian Football League schedule was released in early March, and a day that Garth Buchko, President and CEO of the Winnipeg Football Club has anticipated for years. "We're very pleased that finally after two years of construction that we are able to open Investors Group Field," said Buchko. "It's been a long time coming, but like all Manitobans, we're proud to be part of this."
June 27 will also mark the official beginning of a relationship between the Bombers and the U of M, a relationship that both parties expect to be very fruitful. For the university, importance is placed on welcoming thousands of new visitors to the campus to share the passion of football tradition that comes with the Winnipeg Blue Bombers. Investors Group Field will serve as an exciting new facility for Bison Football. The Bisons now boast the newest and largest stadium of all Canadian university football squads.
"The completion of Investors Group Field demonstrates that we can accomplish great things when we work together as partners," said President and Vice-Chancellor David Barnard. "We look forward to playing host to people who can come to our Fort Garry campus for Winnipeg Blue Bomber games and other special events. We are also excited about the opportunities this first-class facility provides for Bisons Football."
"We get to work hand-in-hand with the Bison football operations," said Garth Buchko. "Our coaches and management have been working with [Bison head coach] Brian Dobie an awful lot over the past six months, much more than we ever have before. For the Bison players to be able to walk on that field and maybe throw some passes with Buck Pierce, to be able to see how our players train, and see what's needed to get to the next level, is tremendous for the Bisons, but it's also tremendous for us."
The excitement of a new state-of-the-art athletic facility has already begun to affect the campus and surrounding community, and the Bombers delight in becoming part of a lively community. "This is a vibrant part of the city, and a lot of people don't understand how vibrant this campus is," added Buchko. "For us to be part of the vibrancy of the student body, the faculties, and everything else, is exciting for all of our staff."
The hope is that this new relationship between the Bombers and Bisons will be a boon for football in Manitoba. Winnipeg Football Club is dedicated to developing athletes and fans alike, starting at the grassroots.
"The more we can do to build football from a minor league level, be it junior football, high school football, peewee football, to university football, the more we can build that, and build the infrastructure of athletes in our city and province, the better we will be long term," said Buchko.
"It's all about building that next level of athlete to play football, and also building that next level of fan."
Investors Group Field Facts
Construction:
–          Approximately $200 million price tag
–          Broke ground May 20, 2010
–          Arch trusses support 8 acres of roof, which is the largest and highest in Canada, spanning 190 meters, rising to 200 feet in the air
–          Roof provides coverage from elements for 80 per cent of patrons
–          9000 tons of steel
–          28,000 cubic meters of concrete
–          450 pieces of precast bleachers
–          272,000 concrete blocks
–          8 acres of indoor floor space
–          33,500 seats (expandable to 40,000 for major events)
–          Playing field dips 25 feet below ground
–          400,000 man hours
–          2 HD video boards (30' x 123')
–          240 TV monitors
–          6 elevators
–          4,000 square-foot retail store
–          46 executive suites
–          More washrooms, concessions, legroom and amenities than the former CanadInns Stadium
Major Events
–          June 12, 2013: First Bombers' preseason game
–          June 22, 2013: Taylor Swift Concert
–          June 27, 2013: Winnipeg Blue Bombers Home Opener & Grand Opening
–          August 12, 2013: Paul McCartney Concert
–          Friday, August 30: Bisons Football Home Opener
–          June 2015: FIFA Women's World Cup
This article first appeared in the June 6, 2013 edition of The Bulletin.