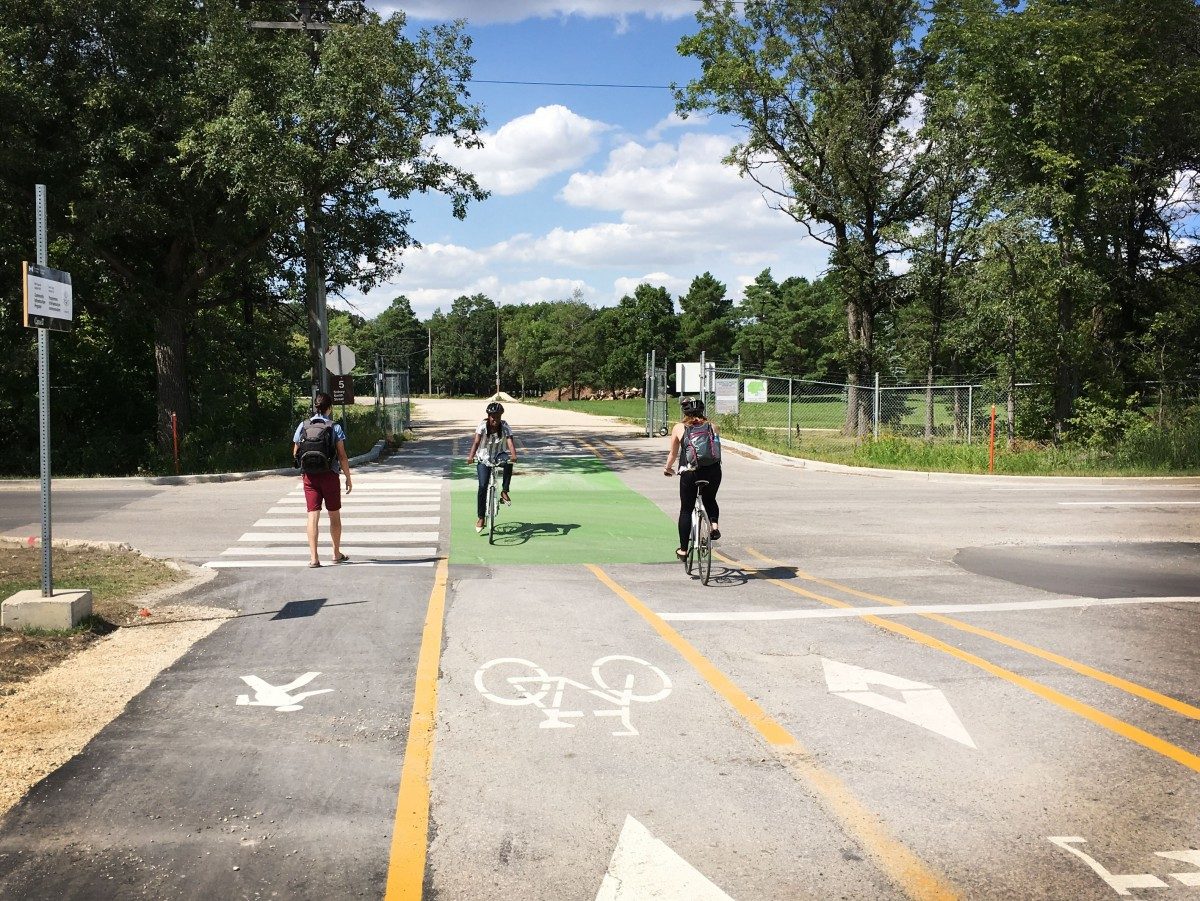 New pedestrian and cycling infrastructure on Sidney Smith
August 29, 2017 —
You may have noticed a new walking path and bike lanes along Sidney Smith Street between Dysart Road and Sifton Road. A pedestrian path (1.5m wide) and bi-directional buffered bike lanes (3m wide) have been introduced on the west side of Sidney Smith Street, with vehicle traffic flowing northbound-only in this area.
This infrastructure is the first interim step in a series of pedestrian and cycling improvements to be developed at the Fort Garry campus. Sidney Smith Street is part of the newly realigned Great Trail (Trans Canada Trail) running through our Fort Garry campus. The trail is also part of the University of Manitoba's exciting Visionary (re)Generation Campus Master Plan to develop Sidney Smith over time into a campus village street accessing new development in the Southwood Lands.
The new portion of the Great Trail route enters campus from Southwood Lands at Sidney Smith Street, passing by the University's UMCycle Bike Kiosk and Cycle Plaza before exiting at the intersection of Freedman Crescent and Kings Drive.
The improvements are new and it is important to pay close attention to your surrounding as the campus community adapts to this change. Here are some helpful tips to using the new lanes:
Pedestrians walk on the furthest west lane which is marked with a pedestrian symbol
Cyclists ride on the lanes indicated which are marked with a cycling symbol
Pedestrians have the right-of-way. Vehicles should stop for pedestrians signalling their intention to cross.
Cyclists crossing Sifton Road at Sidney Smith Street should cross at the high visibility green bike lane. This paint and signage requires that cyclists stop before riding across Sifton Road and yield to vehicles. Cyclists do not need to dismount when crossing at the green intersection.
Whether you are a pedestrian, cyclist or driver, exercise caution to keep everyone safe.
Thank you for your patience and understanding during the construction and opening of these interim upgrades to the area. If you have any further questions or comments, please comment below or email sustainability [at] umanitoba [dot] ca.