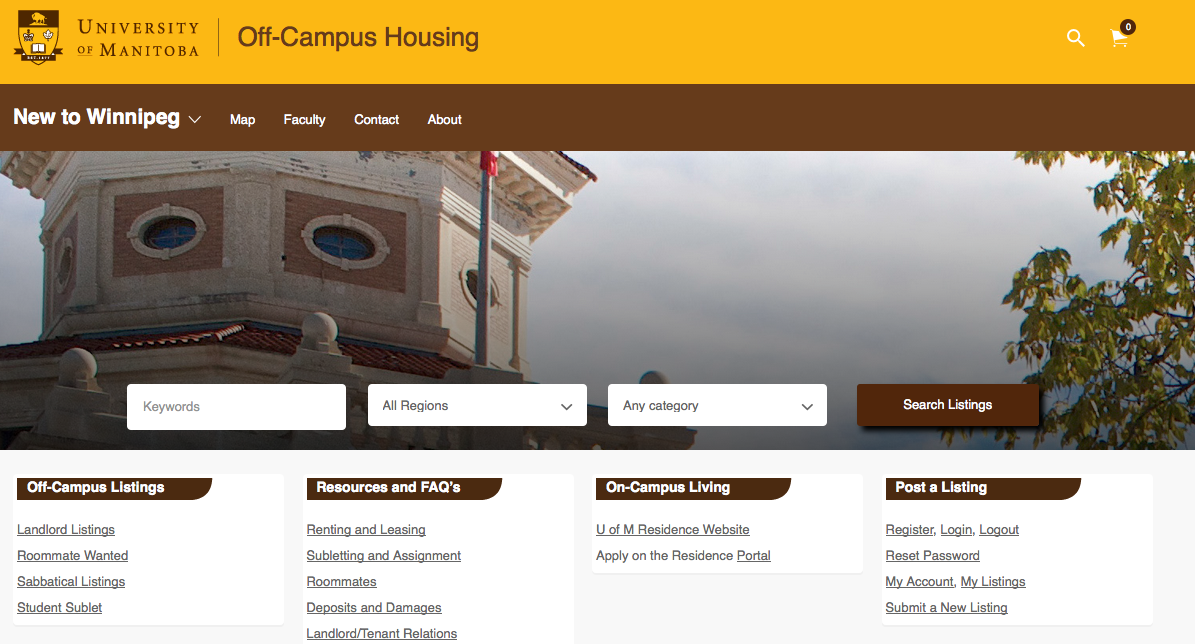 New off-campus housing web site launches
July 2, 2015 —
Students searching for off-campus housing options have a new way to find a place to stay.
The Off-Campus Housing website features listings for rentals, students seeking roommates, and students with sublets available. Managed by Student Residences, this new site also includes general information for those who are new to the city.
"The website is geared toward prospective or newly admitted students coming to the University of Manitoba for the first time. We thought it was important to provide some basic information, maps and resources about living in Winnipeg, its communities, cost of living, transportation, and even the fact that there are two main campuses at the University of Manitoba which are at opposite ends of the city. We want these students to be as informed as possible in their search for a place to live and try to ensure their transition to Winnipeg is not more complicated or stressful than it needs to be," said Barry Stone, director of student residences.
"We know that students are unique in that in most cases, they want a place to live only during the academic year, yet many leases are for a 12 moth period. This can be problematic and ultimately a costly lesson if you don't familiarize yourself with some basic information up front about lease terms, providing notice, sublets, assignments, and guarantors. We have tried to bring a lot of these resources and information about living in Winnipeg to one place," said Stone.
"For landlords, property managers or developers, the site allows them to target their listings to a very specific yet active market – U of M students. For new landlords, like someone looking to rent out a basement apartment in their home, it provides them with many of the same resources we are providing for students regarding the Acts and policies that govern tenancy in our Province," said Stone. "It is important that both students and landlords understand their rights and responsibilities before entering into a lease."
The site is also a resource for visiting faculty looking for a place to live during their appointment, or for local faculty members going on leave or sabbatical who want to advertise the rental of their home or apartment.
The website is the main means of support for finding off-campus housing, but inquiries via telephone or e-mail can be directed to the Off-Campus Housing Co-ordinator at och [at] umanitoba [dot] ca or by calling 204-474-8337.
The site is free for students and the monthly listing fees for landlords and faculty is $28/ month per listing. Listing fees will be waived for July and August 2015.