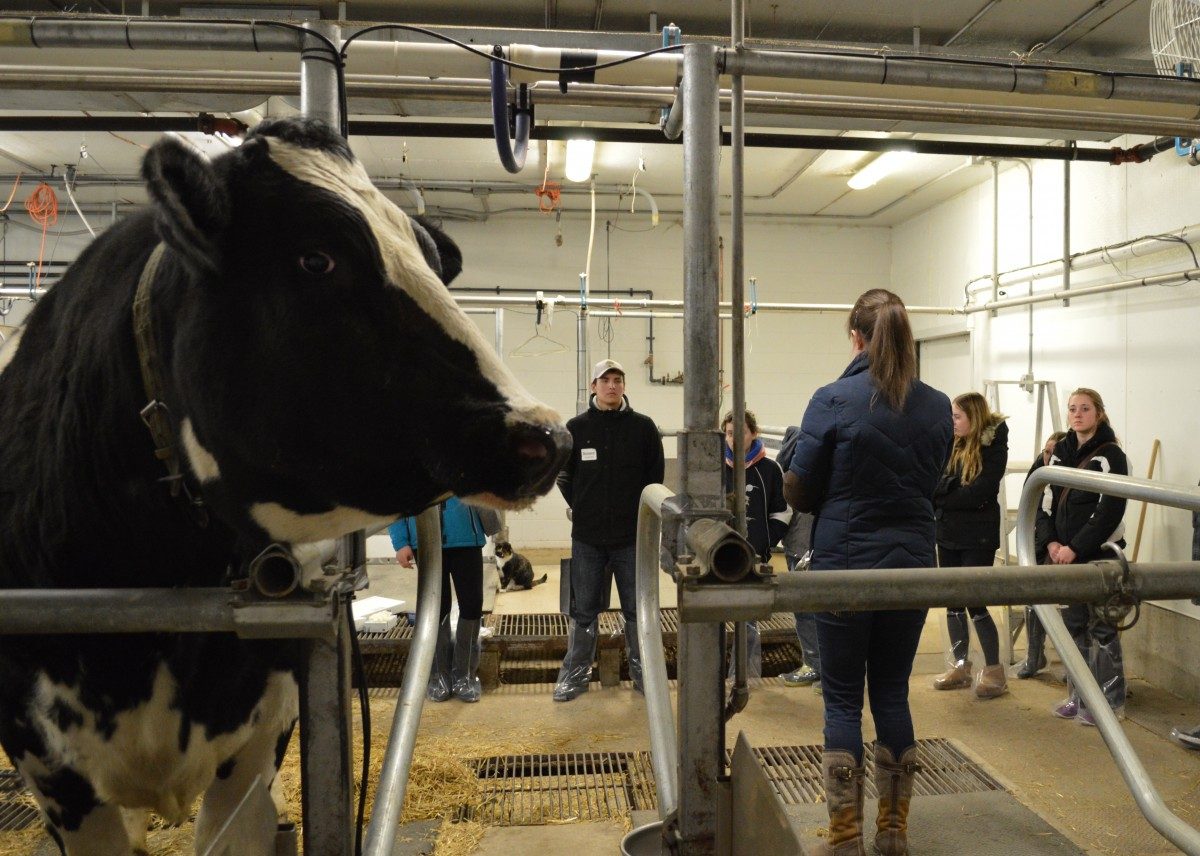 New meaning for 'field trip': Course takes students to the farm
May 3, 2018 —
So you are passionate about food and where it comes from and looking for a place to learn more. Or maybe you love the outdoors and want to learn more about sustainability and food systems, or want to work in the agricultural sector but don't have a farm background. Though you are curious about how farming and food production systems work, you've never been up close to a live cow, or climbed into a tractor, or walked through a barnyard.
Don't worry! We have a solution.
The Faculty of Agricultural and Food Sciences is piloting a new summer course designed to give students an introduction to the workings of a modern Canadian farm with a focus on animal production.
To accomplish this, the Faculty will showcase its livestock farm at the Glenlea Research Station, just a few minutes south of Winnipeg, as a real-life classroom. Over the course of four weeks in July, course instructors will provide experiential learning to students in modern animal production practices, focusing on the dairy, poultry and pig industries. Students will also learn in the farm's feed mill and workshop.
"An increasing number of students who don't come from farms but nevertheless have a keen interest in how their food is produced are enrolling in our programs," said Dr. Jared Carlberg, Associate Dean (Academic) in the Faculty of Agricultural and Food Sciences. "They may come from an urban or international setting, or a non-livestock type of farm operation. This course is designed to give those students a personal and interactive experience that will prepare them for a diverse range of careers in the agri-food industry, and help our students assist with the industry's commitment to building public trust."
Through extensive tours and hands-on activities, along with in-class lectures, students will learn about animal nutrition and handling, biosecurity, equipment safety, and use of production technology such as robotic milking machines and livestock management software. Students will also receive advanced training in tractor and forklift use, and will learn more about the Glenlea Research Station's operating feed mill.
AGRI 3030: Introduction to Experiential Learning runs Tuesday and Thursday afternoons from June 28 to July 31. Students may wish to build on the introductory course with a second more specialized one entitled AGRI 3040: Advanced Experiential Learning which runs July 30-August 23.
For more information, contact Justin Bouchard, Acadmic Advisor, at justin [dot] bouchard [at] umanitoba [dot] ca