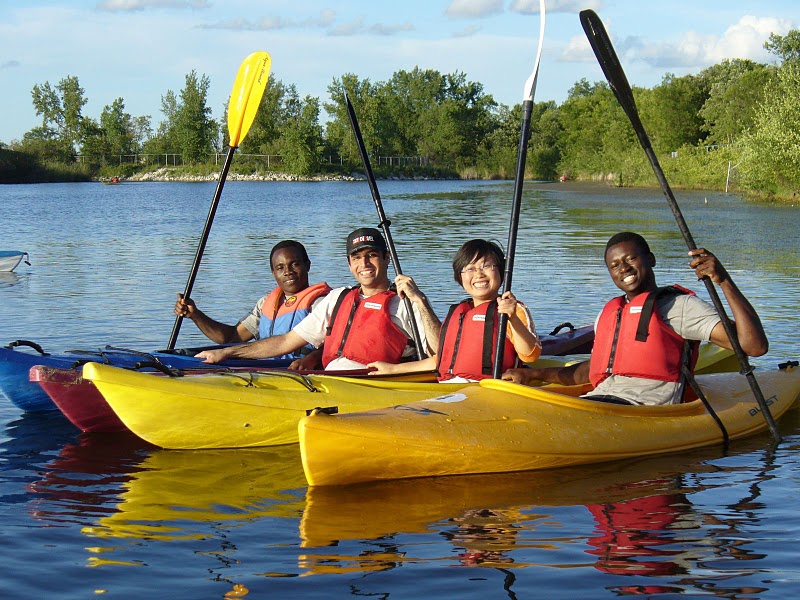 New international student asks, Reddit answers
How to make the best of living and attending university in Manitoba
August 18, 2014 —
International students heading to the University of Manitoba for the first time have a variety of online sources of information to help get them oriented, including the University of Manitoba's own International Centre for Students website.
But other websites are valuable as well. Recently, a new international student from India who had never been overseas decided to reach out on the popular social news site Reddit, specifically local subreddit r/winnipeg, to ask about what they  should be aware of when it comes to living in Winnipeg. Between a new climate, new cultures, new food, and new surroundings, they were a little overwhelmed with what they'd be facing.
Redditors were happy to respond to the questions, with lots of advice on how to make the time in Winnipeg the best experience possible. UM Today shares the Reddit community's responses below.
The winters
Confusedclarity lived in a city where temperatures rarely went below 20°C, and they had never even seen snow before. Where could they buy winter wear, and what was the best way to deal with the cold?
User tee-rex pointed out that arriving in September for the start of school puts international students at a huge advantage. There's still time before the weather gets colder, and stores will just be putting out their fall and winter lines.
Multiple users gave the advice to wear multiple layers and make sure to buy a big, fluffy coat. Scarves, gloves, and mittens are also very important parts of any Winnipegger's wardrobe. User ataradrac pointed out:
"Most folks got the point about layers across, but something that I've found a lot of people disregard – especially if they're new to really really cold weather – is their extremities. Your fingers, nose and ears get really cold really fast when it's super cold, and even faster in extreme windchills."
University of Manitoba and Bisons sweaters, toques, and more are available at the University bookstore, as well, so students can show their school pride and stay warm.
The food
Confusedclarity was learning to cook just before moving, and wasn't much of a picky eater. They wanted to know what kinds of food would be readily available, and if there was anything specific they should learn to cook.
For students staying in residence, prepaid meal plans will give them access to over a dozen different restaurants across campus, offering a huge variety of food. Canadian staples like hamburgers, pizza, and sandwiches are readily available, and the newly renovated University Centre food court at the Fort Garry campus will have a lot of different ethnic options for homesick students.
Redditors were very happy to praise the great restaurants available across the city, and also encouraged students to travel to nearby grocery stores to pick up anything they might need.
For the budget-conscious, user SimonSays12345 had this to say:
"Kraft dinner, buddy. Cheap, delicious and a Canadian delicacy."
Local customs and making friends
Confusedclarity asked what western customs they should prepare for, having never been to Canada before.
Winnipeggers were quick to point out that it might feel like there is a lot of space everywhere, especially compared to a crowded place like India. Many said that Winnipeg was generally a friendly place, and that there shouldn't be too much to worry about.
User pegpegpegpeg encouraged confusedclarity to check out the Indian Students Association at the U of M to meet other international students like themselves, but still cautioned that students should make an effort to meet people from a variety of different backgrounds. They had some great advice to give, as well.
"You're traveling and studying abroad to extend your horizons, meet others, etc. So, you'll want to make some Canadian friends! The problem (I've found) is that the Canadian students are almost all from Winnipeg or the closely surrounding area. That means they've had the same friends for a long time and have well-developed social networks. And, they live in neighbourhoods quite distant from campus and drive to campus for classes and leave right afterwards. This can be challenging: Everyone is very friendly and nice, but it's actually quite hard to make new friends, since you're trying to "break in" to existing social circles.
I think the best way is to immediately get involved in some clubs that have members from a range of backgrounds. For instance, if you're an MBA student, a case competition or MBA Games type club would be great to meet people (and in many cases travel to other cities in Canada to compete). Or, join a soccer league… or summer softball (it's easy to learn, and a very social summer sport).
Hope this doesn't sound negative — just wanted to offer some advice on both buffering the culture shock (by finding some others from your culture) while still meeting others and not ending up isolated!"
Where to visit
Lastly, confusedclarity wanted to know where to go and what to see in this new city, and how to make the most of the time here.
Seasonal events were a hot topic. Festival du Voyageur was mentioned as a must-see, as was the annual ice skating trail on the river and heading to Fort Whyte Centre in the fall. User khmeroldiez recommended a visit to http://www.tourismwinnipeg.com/ to find out where to go and what to do.
Corydon and Osborne Village came highly recommended. User Theryanasaurus had some great advice on year-round places to visit. "A few of the staples are the Forks, the Canadian Museum of Human Rights, the Manitoba Museum, (and) The Aviation Museum."
Jaydengreenwood also chimed in with some more places. "You're going to need a car to see most of the interesting sites outside of the city. Riding Mountain Park, Grand Beach, Falcon Lake, etc. are all worth a visit."
Confusedclarity hopes to move to Winnipeg permanently, so hopefully the Redditors' advice can make their – and others' – transition to the city smooth and enjoyable.
What are your tips for international students moving to Winnipeg?