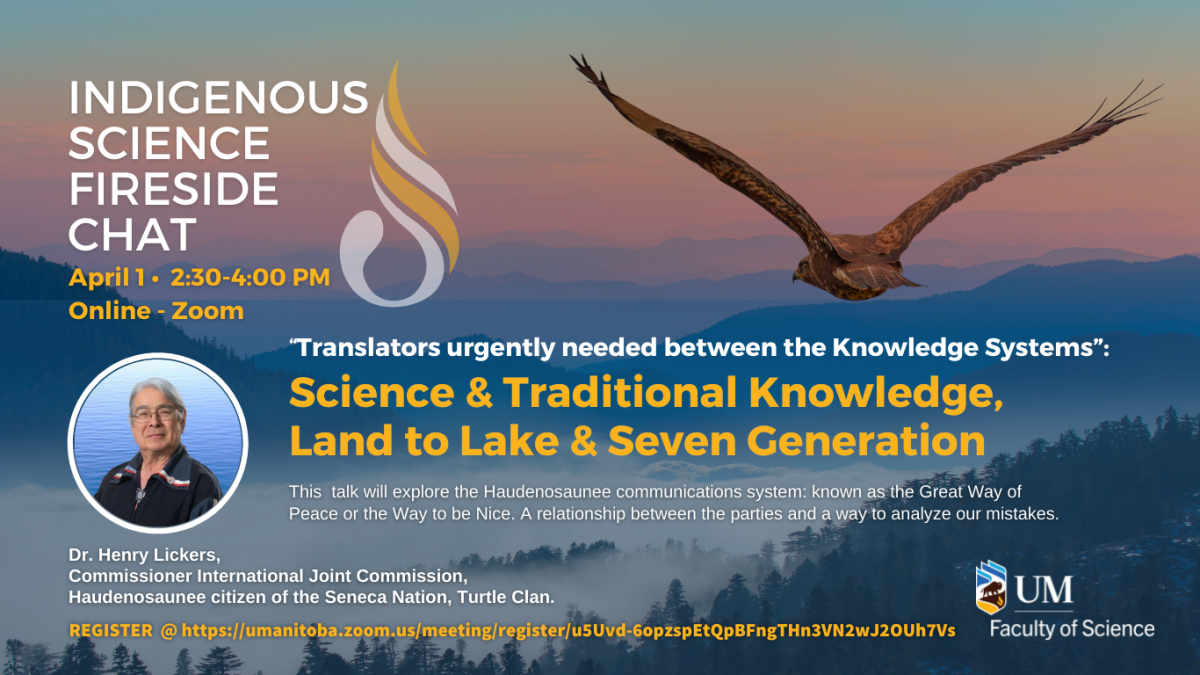 New Indigenous Science Fireside Chat Speaker Series
March 29, 2022 —
"Climate change, poisoned environments, faulty finance systems and out-of-control governance systems are threatening our joint existence," says Henry Lickers, Canadian Commissioner for the International Joint Commission, the first speaker scheduled on Friday, April 1 at 2:30 pm; part of a new Indigenous Science Fireside Chat speaker series. The series of talks aims to explore a range of current topics including water/aquatics, fisheries, land use, wildlife management, plants and medicines, climate change, astronomy and mathematics.
INDIGENOUS SCIENCE FIRESIDE CHAT
Featuring Henry Lickers
Science and traditional knowledge, land to lake and seven generation.
When: 2:30 PM to 4:00 PM
Where: Virtual
REGISTER
Register today to receive Zoom link.
Incorporating Indigenous Science and perspectives into the current curriculum is a key strategic priority at the University of Manitoba. A priority identified in the Truth and Reconciliation Commission of Canada's Call to Action, and the UN Declaration on the Rights of Indigenous Peoples.
"The challenge is not only to present Indigenous Science," explains Dr. Myrle Ballard, Indigenous Scholar and lead organizer, "But to understand how to braid the two knowledge systems together. In order to succeed, first we need to find ways to share, so, it is fitting that our first talk in this new series is a focus on communications, and building relationships."
Guest speaker, Commissioner Henry Lickers, a Haudenosaunee citizen of the Seneca Nation, Turtle Clan, will discuss the Haudenosaunee principles of the Great Way of Peace or the Way to be Nice, which suggests for a communication system to exist, we require three things: respect, equity, and empowerment. His talk explores how cultures in North and South America, each with their own language and understanding, discovered ways to communicate, to facilitate safe crossings between continents and trade between Indigenous communities prior to the arrival of Europeans.
Dr. Lickers was the Director of the Department of the Environment for the Mohawk Council of Akwesasne for 32 years and is now the Environmental Science Officer. Throughout his career, he has been instrumental in incorporating First Nation's peoples and their knowledge into environmental planning and decision making.
Prior to his appointment as IJC Commissioner in 2019, Dr. Lickers was a member of the IJC's current Great Lakes Science Advisory Board (SAB) since 2014, having previously served as a SAB member from 1987-91 and 1997-2000. Formerly a principal investigator on the EAGLE (Effect on Aboriginal in the Great Lakes Environment) Project, the Naturalized Knowledge Systems Project and the First Nations' Community Health Indicators Project. He has been a Director, Ontario Professional Foresters Association, Scientific Co-Chair of The Haudenosaunee Environmental Taskforce, Vice President of the Board of Directors, St. Lawrence River Institute of Environmental Sciences and a member of the Board of Directors for the Eastern Ontario Model Forest.
Organizer, Dr. Ballard hopes students, faculty, alumni and friends from across the UM community will be inspired to participate in the series of talks and will stay tuned as more details are announced.
For more information please contact, Dr. Ballard: myrle [dot] ballard [at] umanitoba [dot] ca.