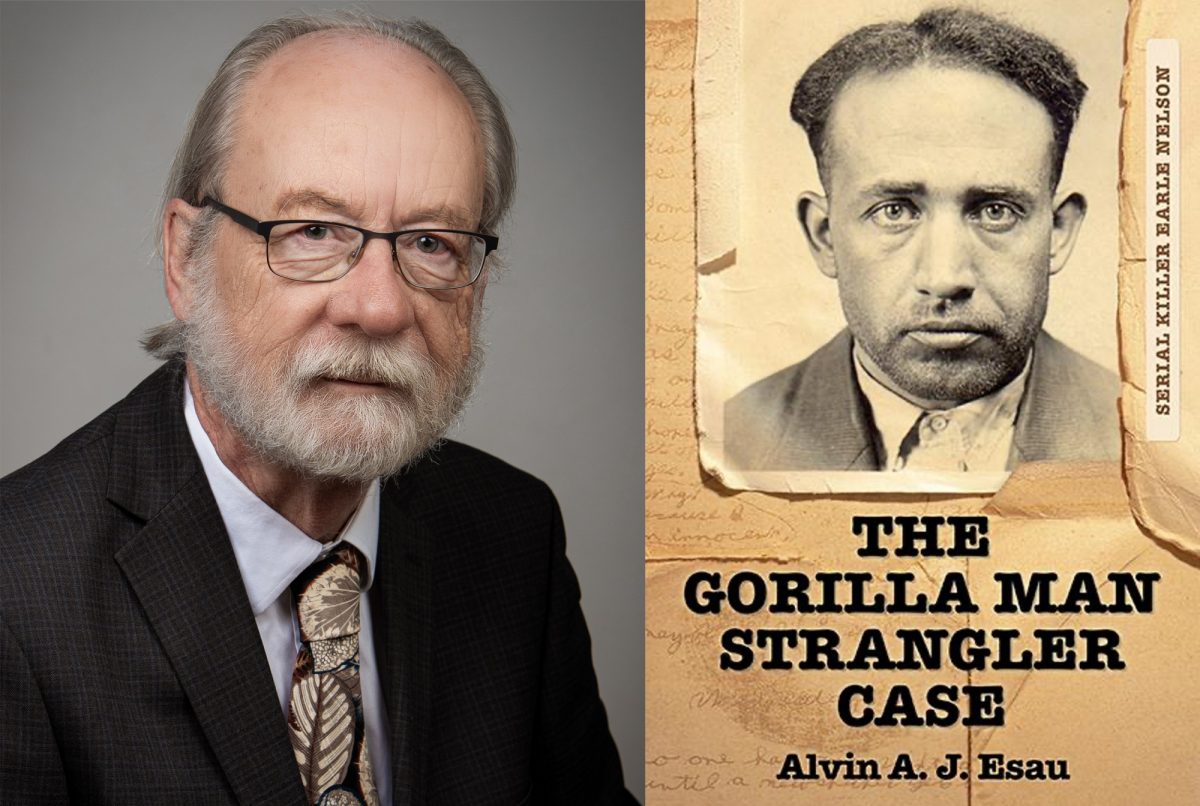 New book from retired law professor Alvin Esau explores dramatic 1920s serial killer case
August 30, 2022 —
Robson Hall Alumni may remember Professor Alvin Esau as a mild-mannered Albertan with an LLM from Harvard and an interest in ethics, professional responsibility, and the legal history of anabaptist communities. Having previously published a study on The Courts and the Colonies: The Litigation of Hutterite Church Disputes (UBC Press, 2004), no one would suspect that his new book would be about a violent serial killer from the 1920s known as the "Gorilla Man Strangler." This summer, Professor Esau, a faculty member from 1977 to 2010, has got away with – publishing about – murder.
The Gorilla Man Strangler Case: Serial Killer Earle Nelson, published by FriesenPress, is a detailed historical account of the Canadian part of the manhunt, capture, and identification of Earle Leonard Nelson, an escapee from a California mental institution. Nelson had crossed the Canadian Border in June, 1927. After evading capture multiple times, he was finally – after one last capture and escape – apprehended for the last time in Killarney, Manitoba having murdered a total of 34 possible victims throughout his travels from California to Oregon, New York to Illinois, Minnesota to Manitoba.
A Particular Perspective
Esau's book focuses on the murders that took place in Canada, and Nelson's manhunt, capture, escape and recapture. He gives special attention to the press coverage, particularly the editorial commentary published in the Winnipeg Tribune and the Winnipeg Free Press. The book deals with the political and professional issues that arose in the pretrial and trial periods, involving various judges and lawyers, whose names read like a list of the Winnipeg street names and schools named after them: Attorney General William Major, Deputy Attorney General John Allen, Justices Daniel Macdonald, Andrew Dysart and Chief Justice Mathers, and James Stitt, who was appointed by the court to defend "the gorilla man," and finally, prosecutor R. B. Graham. Special attention is given to Dr. Alvin Mathers, the psychiatrist, who testified as to the sanity of the accused, and to serial killer hangman, "Arthur Ellis."
Even though the publicity, process of identification and the prejudgment of the suspect raised serious issues as to the fairness of the trial, this is not a book about a wrongful conviction in the sense that someone else was responsible for the crime. Despite his psychopathic denials of guilt, Esau maintains that the circumstantial evidence was overwhelming that Earle Nelson was indeed the "gorilla man strangler."
Readers may well conclude that Nelson should have been found legally insane, or at least, his death sentence should have been commuted due to his insanity. Esau raises various enduring issues about the social construction of serial killers, debates about capital punishment, psychopathy, the scope of the insanity defence, the effect of pretrial publicity, and the trial as public entertainment.
Book Origins
Much of the research for the book, Esau admits, was done while he was head of the Legal Research Institute, so perhaps by encouraging in-depth legal research, we at the Faculty of Law are partly to blame.
For the record, Esau misses teaching, but took early retirement in 2010 to join his wife, Sandra Fowler, a fused glass artist, in Victoria, BC where she had transferred her business in 2003. Two of his four children are nearby, one being a lawyer in Port Hardy and one practicing internal medicine in Victoria. A third is a professor in Montreal while the fourth is an architect in New York.
The gruesome details of Nelson's crimes are not for the faint of heart, raising the question for Professor Esau: Why on earth would you want to write about this hair-raising murder case? Professor Esau obligingly took the time to answer this and a few other questions we asked (in abject horror and fascination), and we invite everyone to gather round for the full story:
What drew you to this topic? Did you teach criminal law during your time at Robson Hall?
I did teach criminal law for various periods of time, although my main research and writing interests were in the fields of legal ethics and in law and religion. I never planned to write a book on a serial killer or a famous trial, but at some stage I had invested too much time going down the path and I felt I had to carry on rather than turn back. This book itself has a long history going back more than 30 years!
[The late] Roland Penner, [then] Dean of the law school suggested that for the celebration of the school's 75thanniversary in 1989, we should identify famous Manitoba trials for purposes of making some presentations for the formal celebration. As the head of the Legal Research Institute, I identified nine trials, of which the "gorilla man strangler" case was one. Ken Kehler, a law student at that time, was hired in the summer of 1989 to help gather and organize materials for all the nine trials. He was a terrific researcher, especially adept at freedom of information applications dealing with materials in the National Archives in Ottawa, and a great deal of material was gathered on all the nine cases, and the project took on a much greater ambition than originally intended. Ken was hired back for the summer of 1990 as well. (Ken Kehler subsequently tragically died of cancer at the age of 43 in 2006.)
While some published writings were completed, notably on the 1919 strike trials (Alvin Esau with Ken Kehler, The Winnipeg General Strike Trials: A Research Source (Winnipeg: LRI, 1990) 168 pgs), I became personally interested in the three famous murder cases, one of which was the Earle Nelson case. However, it was not until five years later in 1994, while on sabbatical at St. John's College, that I undertook to do some writing on the case. It was in this period that through a freedom of information application approved by Bruce McFarlane and delivered through the tireless work of the late Gordon Dodds, one of Canada's most accomplished archivists, I received the voluminous Attorney General files on the Nelson case. It was also in this period that I was denied access to the Winnipeg Police files, until the late city solicitor, Douglas Buhr, paved the way for me. Many years later, Detective Sergeant John Burchill of the Winnipeg Police Force, who was also a law student at the time, provided additional material from the Winnipeg police files. Some of the first part of this book dealing with the murders and manhunt, and some of the material on the preliminary legal maneuvers, was researched and written in 1994, culminating in a presentation that I made to the bar and bench at a legal studies seminar in December 1994. I then dropped the case for many years and turned my attention to other projects.
Progress was made on the case during my last sabbatical in 2009. However, instead of finishing this project after retirement in 2010, I spent the next seven years studying theology, writing in the field of religious freedom, and working in my wife's business. It was not till 2017 that I started to seriously take up this project when time allowed.
I travelled to many American cities, working in archives and libraries, and ended up with a book that was well over 1000 pages, so I decided to split the book into two, with the second dealing with 32 murders in the United States which I think might be attributed to Earle Nelson. Yes, I think the conventional list of 22 is at least 10 murders short of Nelson's actual body count. I hope to have this second book published sometime next year. After that, I will be happy to have my desk cleared of dozens of tote boxes of archival materials, and about 100 binders of newspaper clippings. And my family will be relieved that I am moving on to more useful endeavors.
With your previous topic of research interest having been religion and law, what was it about Earle Nelson (who seemed obsessed with a particular bible verse) that compelled you to explore his case?
As noted above, the topic came to me rather than being drawn to it. While Nelson was indeed very interested in religion and was often known to quote the Bible, there is no evidence whatsoever that his maternal grandparents who raised him after the death of his parents from syphilis were particularly religious and that as a boy he was subjected to "hell and damnation" preaching from his grandmother or obsessed with a certain passage from the book of Revelation. These are all myths and legends that are endlessly repeated in the literature without a shred of factual evidence to support them.
The only connection with my previous research is that I write historical accounts with a great deal of detail, rather than telling the narrative in a more summary way. That is to say, I am less concerned about narrative ease for the general reader, and more concerned about the historical record, leaving "no stone unturned." This was true in my accounts of Hutterite litigation and other articles dealing with freedom of religion cases involving illiberal religious groups as well.
What gaps in the existing literature on this case does your book propose to fill?
Aside from my claim to being as historically accurate and detailed as possible (with about 1,500 footnotes), unlike other accounts much of this book is about the legal personalities and proceedings rather than just on the narrative of the murders and manhunt.
Why is it referred to in the Friesen's description as "the first reliable biography of Nelson"? What was flawed with any previous works?
Most of the previous accounts in the literature and podcasts dealing with Earle's genealogy, events in his youth, juvenile and adult crime record, jail time, military "service," marriage, asylum stays and escapes, are full of misinformation, myths, and gaps. With the help of the more comprehensive digitized newspaper and genealogical databases available to me, and the obtaining of the military records, and so forth, I think my account, while not necessarily comprehensive, is the most historically accurate to date.
What thoughts might you have on the compelling nature of this true crime story versus a work of horror fiction?
Interesting question. I do not read mystery or horror fiction. Because I am writing true crime, I have a vast library of true crime books, and have read a lot but have more than I could possibly read in a lifetime. I guess I would venture the adage that sometimes "truth is stranger than fiction?"
—–
The Gorilla Man Strangler Case: Serial Killer Earle Nelson is available at McNally Robinson Booksellers, the University of Manitoba Bookstore, or online at Friesens or Amazon, via hardcover, softcover, or ebook.