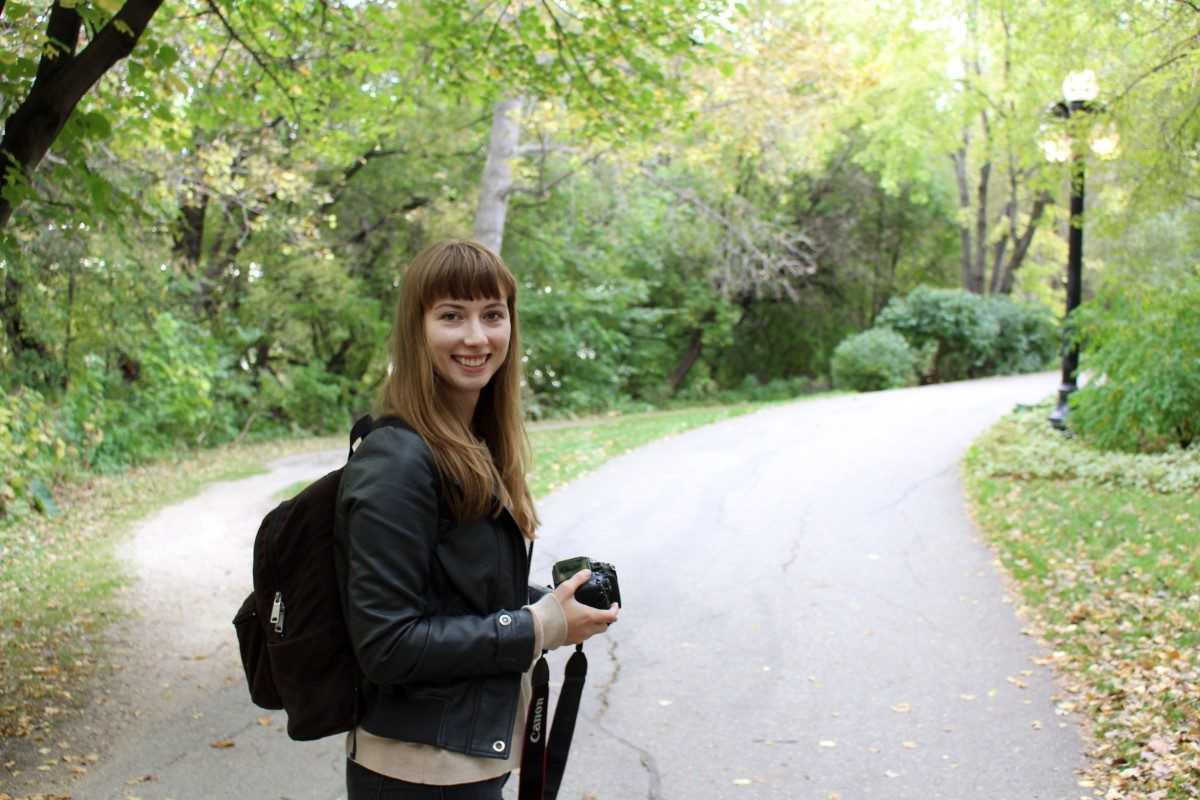 New book by alumna Kaitlin Vitt celebrates the connection Manitobans have to their natural world
March 29, 2017 —
On March 2nd, University of Manitoba alumna Kaitlin Vitt released her first book entitled Planted: Stories From Manitoba's Natural World. The 80 page piece of creative non-fiction is a exploration of the people, plants, and fungi that make our province diverse and rich.
The 24-year-old graduated from the University of Manitoba in 2015 with a Bachelor of Science degree focusing on biology. Equipped with a few extra letters at the end of her name, she immediately began studying journalism at Red River College, seemingly leaving the world of plants and fungi behind her, at least to the untrained eye.
"When I came to Red River, I always tried to connect science and writing, and I thought this book would be a good opportunity to do that on a larger scale."
The concept of a book filled with tales from Manitoba's natural world stemmed from Vitt hearing the story of Nadia Monaco, a mushroom enthusiast who was left stranded after losing her picking party in Belair Provincial Forest in 2010. This story of mushroom picking and survival was the perfect mix of familiarity and suspense to pique Vitt's interest.
"I grew up outdoors—the bush beside my parent's house has always had honey mushrooms, so we've always grown up going picking," said Vitt.
"But I didn't actually eat mushrooms and I didn't appreciate them until I studied them in university—I found it fascinating that they're more similar to animals in some ways than they are to plants."
Monaco's adventure of drinking swamp water, surviving on wild mushrooms, and sleeping in abandoned buildings fit in naturally with the other seven stories detailing how Manitoban plants and fungi shape the lives of a professional prairie restorer, a procurer of traditional medicines from Long Plain First Nation, an English botanist, and more.
Vitt decided to not write her book from a first person perspective, a narrative tool that is used in a lot of nature writing. Her intent was to bring the reader as much into the fold as she possibly could without dragging them out into the Whiteshell and throw them underneath a plant-made shelter. Since the stories are all so personal to the people Vitt featured interviewed, she felt that it was best to represent them as essentially as she could.
"During the interviews, people's personalities definitely came through, in not only the stories, but also in how they told the stories. There were both laughs and tears during the interviews. People talked with their hands. Some showed me the spot their story happened. And everyone's enthusiasm during the interviews allowed me to capture their personalities in my writing."
Planted was more than just a personal project for Vitt, it was also familial. Her sister, Rayna Meakin, illustrated all of the plants and fungi that anchored each of the eight stories featured in the book.
Places and spaces play an important role in Planted. In order to accurately portray these stories, Vitt had to have a good idea of where each of these eight individuals planted their roots. This involved travelling to everyone's homes and, as much as possible, the places where their stories took place.
"I think people connect to things they're familiar with. That's why I wanted to keep the stories local. Manitoba is full of forests, lakes, grasslands — there are many opportunities for stories," she said.
"But if we don't recognize the power of nature, to heal, to eat, and to relax, we may lose the land and the stories that go with it. But Planted is more about celebrating, and learning about, what we can find in our province. There's a lot to explore, and this book gives people just a small idea of what's out there."
Culture too underpins a number of stories Vitt featured in her book. Her own Ukrainian heritage shows a number of times throughout the book (those honey mushrooms are also known as pidpenky).
At Planted's book launch at McNally Robinson on March 2nd, and it was wonderful to see how many friends, family members, and strangers came out to support her book—for anyone running a bit late there was standing room only.
"It was amazing to see the different groups of people that I know and the people that I don't know interacting. It was pretty neat to see them all come together."
The support from the Manitoban naturalist community was surprising and much appreciated. Not only did Nature Manitoba help coordinate a number of Vitt's interviewees with her, but they helped promote the book with all of their members, a number of whom showed up to the launch.
A few of the contacts for the book were made in the extremely Manitoban way of how everyone in this province knows everyone else. And at least one of the stories in the book was featured through coincidence alone.
"Les, whose story is about the Dragon's mouth orchid, I met him on the Brokenhead Wetland Interpretive Trail," she said. "We were just walking and he spilled out this story to me, and I asked him 'Could I include that in a book?'."
Like most 24 year olds, the prospect of being an author and writing a book may seem a bit surreal to Vitt.
"When I got it in my hands from the print, I just sat in my car laughing and screaming—that was the first time I realized that it was done, it's a book—I wrote a book."
But also like most 24 year olds, Vitt has ambition and a creative mind.
"I'd very much like to write another book," she said. "I love people and I love hearing about their lives."
"I've seen a disconnect between people and science," said Vitt. "Science effects our everyday lives, but we often forget about that."
"This book is a way for me to try and bridge this gap between people and science, and I think that's what I would like to continue to do—to explore these challenging topics and help people become interested in them and understand them."