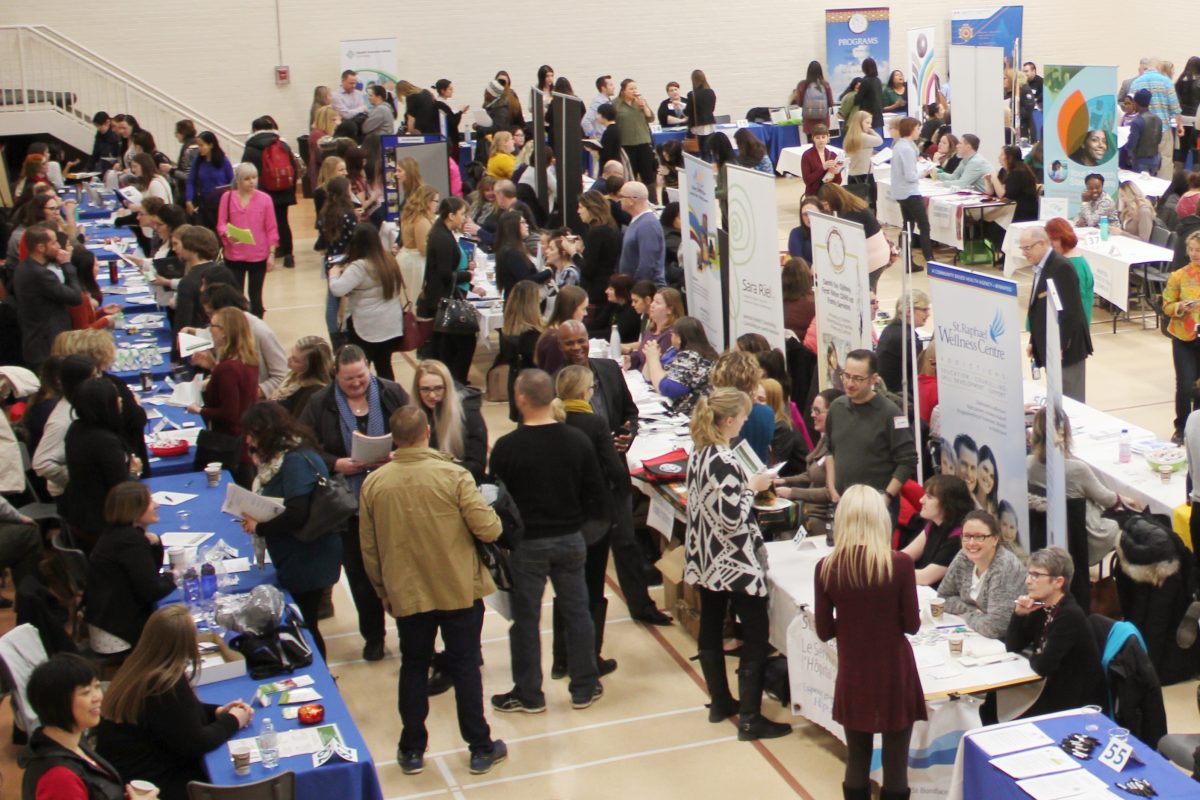 Networking event for students and potential practicum agencies a success
February 28, 2017 —
Nearly 100 community agencies attended this year's Field Information Day on February 3, 2017, hosted by the Faculty of Social Work's Field Education Program in partnership with l'Université de Saint-Boniface Social Work Program.
During Field Information Day, over 160 students from the Bachelor of Social Work (B.S.W.) and Pre-Master of Social Work (Pre-M.S.W.) degree programs met and networked with agency representatives from across Winnipeg offering field placement opportunities.
"Having community programs gathered in one area is very impressive, students can see the range and wealth of social services programs offered in the city and the Province," says Florette Giasson, directrice de l'École de travail social et coordinatrice des stages.
Giasson, along Kelly Scott, field education coordinator, Faculty of Social Work, understand the impact field experience has on students and see the importance of events such as Field Information Day.
"It is an opportunity for students to begin planning for their professional future. They can discuss with field instructors the unique field opportunities offered within their programs in order to determine if the placement is right for them", says Giasson.
"This event provides an invaluable information gathering opportunity for students and is beneficial to the success of the Field Education Program," adds Scott.
Field education continues to be a crucial component in the B.S.W. and Pre-M.S.W. curriculum, allowing students the ability to integrate classroom learning with hands-on practice experience in the field.
The support and training afforded to students would not be possible without the commitment and contributions of the program's numerous field instructors and agency partners.
Agency support contributes to the richness of the social work field program. "Their guidance and dedicated efforts truly help to shape our social workers of tomorrow and play a pivotal role in our program", Scott
Contact Kelly Scott [kelly [dot] scott [at] umanitoba [dot] ca] if you are interested in partnering with the Field Education Program.
Special thank you to Field Information Day's student volunteers: Jessica Cochrane, Tina Doerksen, Carla Kirkpatrick, Amanda Martinson, Leah Wilson, and Heather Young.