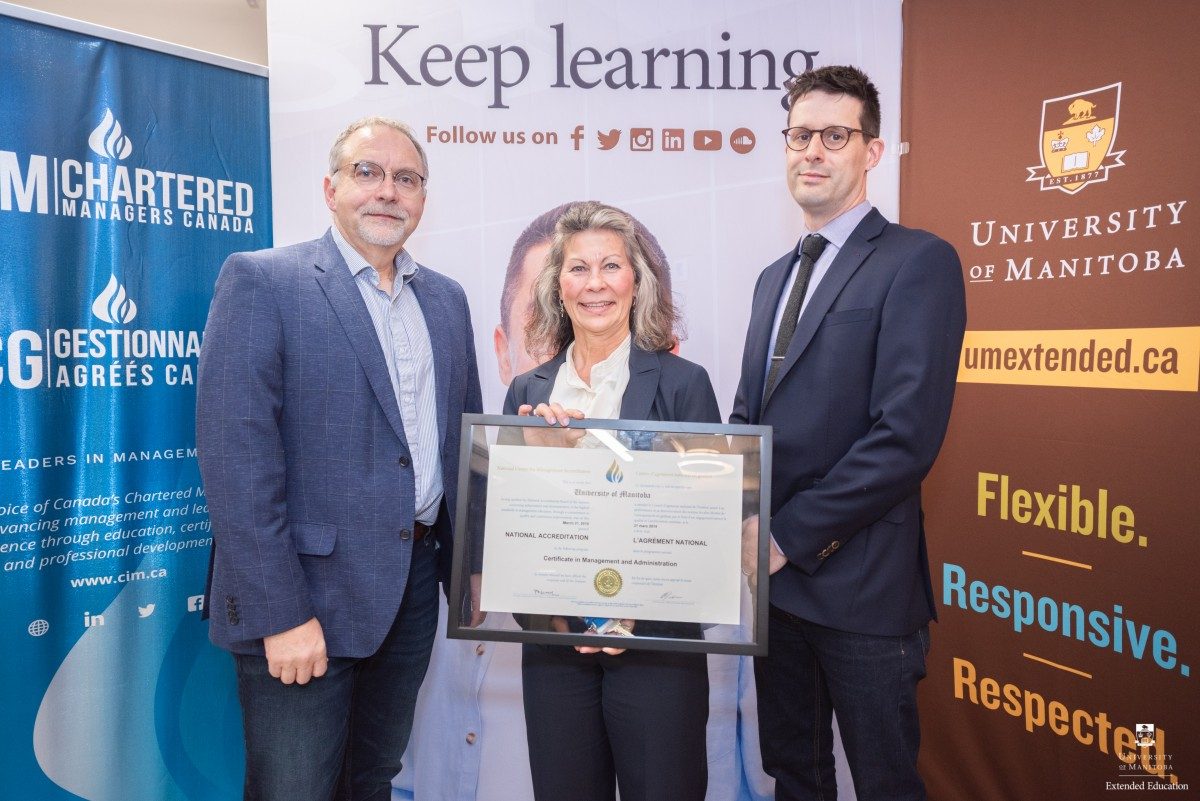 National partnership celebrated
CIMA program now accredited
April 30, 2019 —
Extended Education at the U of M's Certificate in Management and Administration (CIMA) program is now accredited by CIM/Chartered Managers Canada.
The move enhances the long-time connection between Extended Education and CIM/Chartered Managers Canada with a higher level of professional approval of the Extended Education at the U of M program. CIM will also elevate the program on a national level by promoting it as an accredited program.
Ensures a dynamic, relevant program
Extended Education is driven by long-term learning partnerships like this one, says Paul Jenkins, Manager, Delivery, Extended Education.
"A professional partnership is a great thing. It's great for Extended Education," says Jenkins. "It ensures a dynamic, relevant program that helps students to retool or reshape their professional lives. Students get their certificates from us. If the program is recognized by a national body, it has a higher profile. Graduates can take their locally-earned certificate even further. What they are learning here are the core professional competencies of the field while also gaining a more formal relationship with the professional organization."
This accreditation is really indicative of what Extended Education does, says Jenkins. "It represents the power of education, the way it allows all people to reshape themselves and their position in the world. It merges the theoretical learning and applied learning in a nice partnership. Students learn, and they connect to the professional community. It's like a jump-start for their careers. We are proud to be a part of it."
Over 50 years
CIM and the U of M have had a long relationship that goes back 50 years or more, says Matthew Jelavic, CEO, CIM/Chartered Managers Canada. "Many professionals have completed the program with Extended Education and obtained their Certified in Management (CIM) professional accreditation with us."
CIMA is like a mini MBA, says Jelavic. The CIMA program attracts a lot of students because it is flexible and students including working professionals can complete it on a part-time basis.
While the program is also run in some other Canadian universities, U of M is a very close partner, and more integrated with the organization, he says. "Not all programs are nationally accredited. National accreditation requires programs reflect the competencies and standards we have set. U of M applied and achieved accreditation."
CIM was founded in 1942 and has graduated and certified over 80,000 members since that time. Adding the letters CIM after their name gives grads an excellent opportunity to be recognized professionally.
Quicker professional designation
The professional standing requires both education and experience. Now that Extended Education's CIMA program is accredited, graduates can jump-start their professional careers. They now have the opportunity to complete an online aptitude evaluation successfully and obtain their CIM right away. Previously, CIM required both completion of the program and 24 months of management experience.
"It's a value-added benefit, to be recognized by a professional organization. It gives graduates the opportunity to showcase their education and experience, with a great start," says Jelavic.
"CIM is very proud of our relationship with the U of M. We offer graduates lots of opportunities to network and develop as members of our organization. We bring professionals together through networking, to develop their careers."
CIM's Manitoba Chapter is the largest of the organization's 15 chapters in Canada. They were founded in 1964, and currently have 540 members.
"It's great to see U of M recognized for the CIMA program," says Steve Lupky, chair, Manitoba Chapter. "This is a program a lot of our members went through. It's meeting all the standards and delivering quality education. We appreciate our partnership with the U of M and look forward to future CIMA graduates joining our organization."
Learn more about Extended Education's Management and Administration program