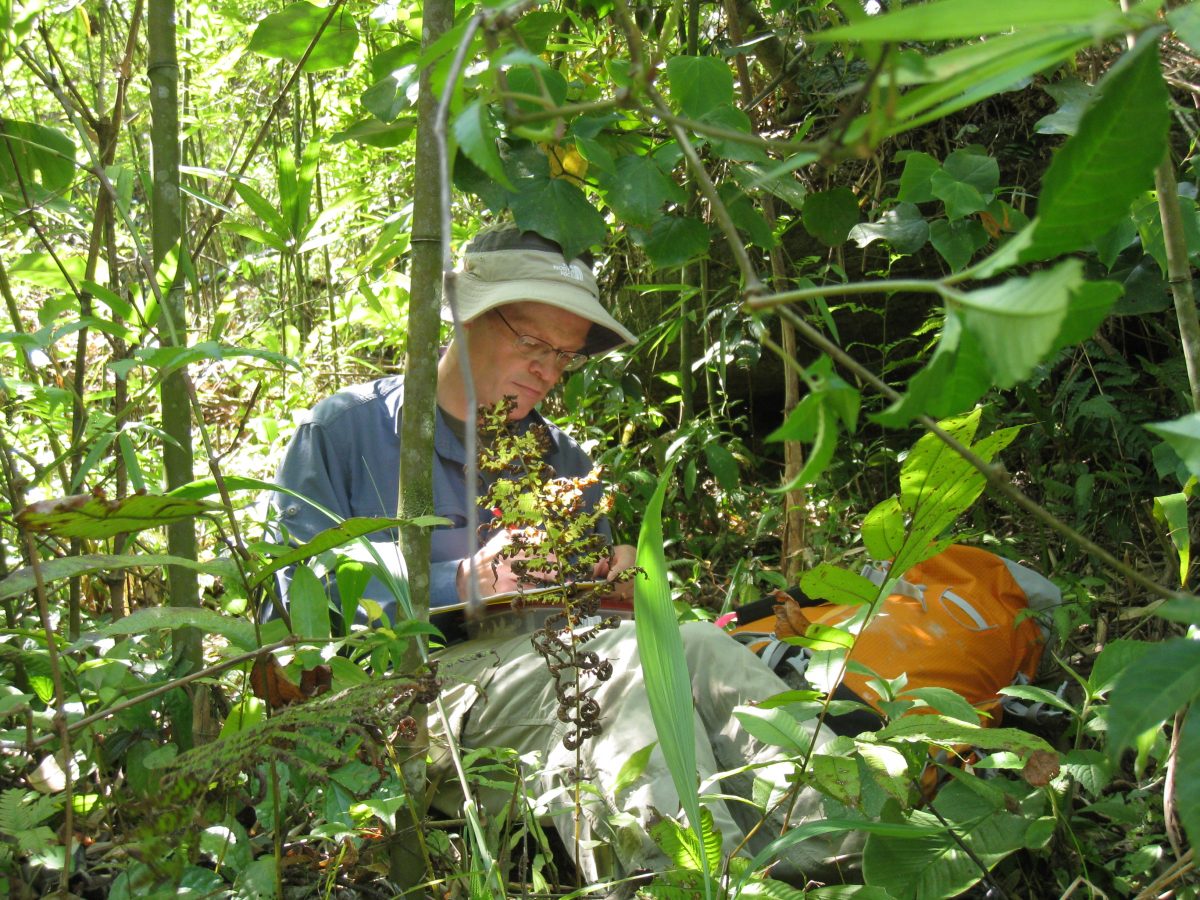 National Geographic Society funded expedition leads to discovery of two new plant species
Bruce Ford hopes his research team's findings in Vietnam will contribute to a greater understanding of the biodiversity of the country and help facilitate conservation efforts.
November 27, 2017 —
High on a shelf in Biological Sciences Professor Bruce Ford's office sits a sign that reads: "Knowledge is knowing a tomato is a fruit. Wisdom is not putting it into a fruit salad." It's a bit of whimsy that indicates Ford is not one to take things too seriously in life. It's that sense of perspective that has likely helped him in his chosen field of study as a plant biologist.
"Plants, and especially the discovery of new plant species, don't often generate a lot of interest. I read an article about a new species of rat that eats coconuts and that made the BBC website." Ford goes on with a chuckle: "So I can't compete with coconut-eating rats, but I think the species we are discovering are just as spectacular."
The "spectacular" plants to which Ford refers are species he and his team discovered on their expeditions to Vietnam and which are described in their recently published paper in the journal Systematic Botany (42: 402-417. 2017.). It was during a trip in 2012 that the group found two new plant species, one of which they named Carex geographica in honour of the National Geographic Society, which funded their efforts. Ford affirms that without the Society's help, the voyage to Vietnam (and their groundbreaking discovery) wouldn't have happened.
"As far as we can tell this is the first flowering plant to be named in honour of the Society."
Ford and his colleague, Julian Starr, a professor at the University of Ottawa, study sedges (Carex), a group of grass-like plants that are considered to be the world's most diverse genus of flowering plants with over 2000 species.
"We found that many of the sedges in Vietnam have very unusual morphologies with many of these species representing unique major lineages within the genus. We have also been discovering sedges that have not been seen by botanists in over 75 years or are undescribed species. Two of those are new species to science. That was really exciting."
Amid the thrill of discovery, there were some significant challenges as well. When asked if Vietnam has changed since his initial visit to the country in 2012, Ford is quick to give an example of one major difference he and his colleagues encountered.
"The rate of change is unbelievable. The one thing that was most upsetting, though, were the changes we saw to Hoang Lien National Park, one of the main areas where we do our research, which is just this incredible area for biodiversity, almost 2000 species of plants (that's more than all the species found in Manitoba) 30% of which grow nowhere else in the world. It also has the highest peak in Indochina (3143 m), which goes by the lovely name of Mount Fan Si Pan. You can get to the summit in two days if you really push it. However, they have constructed a cable car to the summit, so this once remote area can now be accessed in about half an hour.
"But it's not just the cable car, of course you have all the construction activities that come with it, you've got hydro, construction access roads, and all that kind of stuff. So that was a massive change in terms of the landscape. And it's really changed the aesthetics of the whole place and the local economy, especially for the Hmong, who are an ethnic minority living in northern Vietnam and who provide porting services for people climbing to the summit. The pace of environmental destruction is breathtaking, in terms of how fast it occurs. What we saw on Mount Fan Si Pan is just a small example of the changes we have seen in Vietnam over the past five years."
The rapidity of change provides added incentive for Ford and his colleagues to explore as much of the area as thoroughly as possible. Ford's collaborator Julian Starr and his graduate student Étienne Léveillé-Bourret discovered an obscure species in another sedge genus called Sumatroscirpus during their 2015 expedition. They have found that this particular species is "sister" to the rest of Carex; basically, it is the genus' closest living relative.
Also exciting for Ford was the chance to collaborate with fellow scientists around the world. It didn't happen overnight, however. Many emails and phone calls were exchanged in an effort to establish contacts in Vietnam.
"I was able to get the names of two researchers at VNU University of Science, Vietnam National University, and the Institute of Geography, Vietnam Academy of Science and Technology in Hanoi through colleagues at the Canadian Museum of Nature and the Missouri Botanical Gardens in St. Louis. Nguyễn Kim Thanh and Vũ Anh Tài have become wonderful friends and collaborators, and they are co-authors on our recent Systematic Botany paper. We actually have a memorandum of understanding between the University of Manitoba and the Vietnam National University, which facilitates our research and fieldwork, because we really need to be sponsored by the local university to obtain logistical support and permits to collect in national parks. That's been great.
"We've been able to overcome a lot of obstacles by working with people locally, and that's key to working in any country. It's not just because I have to work with my Vietnamese colleagues, they have really added to our research. They know the country, they know the plants there, and they're able to give me information that I would otherwise be unable to get. So it's just been a wonderful collaboration."
Ford is hopeful that his discoveries will lead to a clearer understanding of evolutionary relationships within the world's largest genus of flowering plants, as well as to understand how this remarkable group of plants evolved and how they're related to one another. He is also interested in describing what he considers to be important elements of biodiversity.
"As a taxonomist, one of the obligations that I feel that I have is to document species diversity. I mean, we're losing species at such an incredible rate, so one of the things that I hope to be able to do is to document unrecognized species diversity and hope that through that discovery we can facilitate conservation efforts. Vietnam is such an unexplored place in many respects, so I'm hoping that our research contributes to our understanding of the biodiversity in [this country]."
In light of Ford's obvious enthusiasm for his work, it's hard to imagine him staying away from the site of his discoveries for very long. Asked what's next on his agenda, Ford's face lights up as he describes his team's return to Vietnam, which will probably take place in 2019, if all goes to plan.
"That's the goal. So far, we've focused primarily in the north. Since then, I've become aware of a number of high elevation areas further south in Vietnam, and so those are going to be the target for our next expedition there. Those areas are unexplored, at least botanically, and we have seen very few plant specimens from those areas."
Until then, Ford will continue his work in the Department of Biological Sciences, happily anticipating the day when he can once more hike through the countryside, searching for more specimens to document and classify.
"I consider it such a privilege to be able to make these scientific discoveries. I just find it incredible that I can do this. I want to keep on exploring.
---
Research at the University of Manitoba is partially supported by funding from the Government of Canada Research Support Fund.