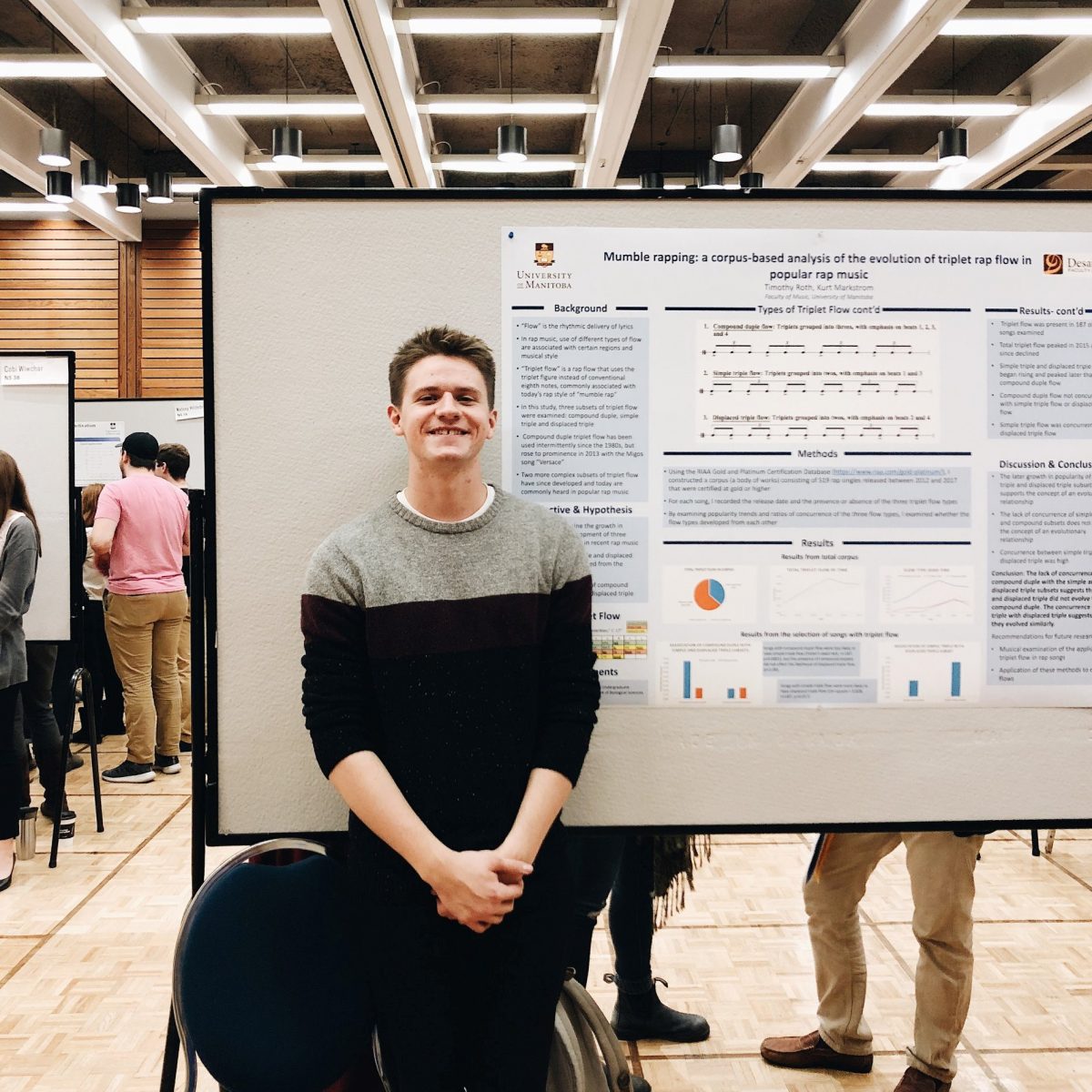 Musician, researcher, historian: Tim Roth is a triple threat studying triplet flow
Desautels Faculty of Music student Tim Roth will be presenting his research on triplet flow at two major academic conferences
April 13, 2019 —
When it comes to hip-hop, few listeners would immediately think of flow subset over time, corpus-based analysis, or sample size and graphical representations of one's resulting research.
Those people just aren't Tim Roth.
There seems to be nothing that can stop fourth year Desautels student Tim Roth. The percussion performance major and 'unofficial' music history major is often lauded by his professors.
"He is someone who is capable of doing anything he chooses to do," says Desautels faculty member Colette Simonot-Maiello.
So when it came to doing research for the University of Manitoba Undergraduate Research Competition, what did he choose?
Triplet flow.
For those unfamiliar with the concept, Roth is happy to break it down.
"Almost all songs divide their syllables into groups of two," he says. "'Ma-ry/had-a/li-ttle/lamb,' or groups of three, such as 'hi-ckor-y/di-ckor-y/dock.' Triplet flow is when rappers use the latter rhythm when they rap," he explains. "While it has been used by rappers since the 1980s, it didn't become popular to rap this way until the last decade or so."
Roth has been aware of triplet flow for a number of years, but it wasn't until 2017, and the release of Kendrick Lamar's song "DNA," that Roth decided he wanted to research the concept more.
"The flow that [Lamar] uses in his second verse of the song is so complex that it made me want to investigate how triplet flow had evolved in the years leading up to the song's release," Roth says.
Putting in the time
Roth wasn't content to just listen to a few songs to get the gist of how triplet flow has evolved. Instead, he compiled a list of every rap and hiphop song released between 2012 and 2017 that had been certified gold or higher by the Recording Industry Association of America (RIAA). This became his corpus, or body of works to be examined in the research.
How many pieces of music would he be analyzing? A whopping 519 songs.
"Once I had established the corpus, I simply listened to every song and recorded whether any sort of triplet flow was used in the song," says Roth. "It took a very long time, especially because I kept falling asleep and had to go back and listen to what I'd missed!"
After he finished analyzing the songs, he was able to graph the popularity of triplet flow, and how it changed, over time.
More than one kind of triplet flow
Roth divided the triplet flow in the songs into three different subcategories: compound duple flow, simple triple flow, and displaced triple flow.
The easiest way for a non-musician to understand the differences in these types of triple flow is to hear examples of them, so Roth provides the following context:
"Compound duple flow can be heard on the song "Versace" by Migos," he says. "In fact, this song made the flow so popular that it was originally referred to as the Versace flow!"
"Simple triple flow can be heard on Kevin Gates' '2 Phones,' and displaced triple flow can be heard on 'Grammys' by Drake featuring Future," he adds.
"You will often hear more than one type of triplet flow in one verse or song though! All three types are still triplet flow, but each use distinct accent patterns," Roth says.
Getting noticed
Roth decided to submit his research on the evolution of triplet flow to several professional music conferences. Anyone in academia knows just how difficult it is for an undergraduate to be accepted to speak about his or her research at a national conference.
His music professors, who heard his presentation at the University of Manitoba Undergraduate Research Competition, encouraged him to apply.
Roth submitted his research to both the International Association for the Study of Popular Music Canada (IASPM) conference and the Music Theory Midwest conference, both highly selective and respected organizations. Even if one knows he or shew will not be accepted, it's good to get some experience preparing research for publication and applying to conferences, right?
But Roth was accepted to present.
At both conferences.
Roth didn't realize that the odds had been stacked against him. At the 2018 IASPM conference, only one out of the sixty presenters was an undergraduate student.
"Wow, I had no idea how few undergrads were accepted. I guess I better really make sure I'm on top of my presentation now!" he quips.
"It was amazing to find out that about both IASPM-Canada and then Music Theory Midwest a few weeks later," says Roth. "It's certainly very daunting, as I'll be going and alone and won't know very many people at the conferences, but I guess that's how you make new friends!"
Support and guidance
Roth likely would have submitted his research even if he had known the odds, though.
"The biggest lesson overall that I've learned from the faculty here is that there is no barrier stopping anyone from participating in academia," Roth says. "As a Music Performance major, almost all of this work is extraneous to what I'm supposed to be doing, which is practicing to get good enough to play in an orchestra. Despite that, the faculty, administration and the conference committees have been more than welcoming to a 21-year-old guy who wants to study rap music. I hope to encourage others in my faculty and in my university to explore topics that interest them, even if it is outside of what they're 'supposed' to do."
He credits his faculty mentors for encouraging him to study the things in which he is most interested, and he has many mentors.
"Practically every Music History and Theory professor at the Faculty of Music has been hugely helpful and I would not have gotten this far without their support," he says. "It was Dr. Markstrom who originally encouraged me to conduct research in rap music, and he supervised the 2018 Undergraduate Award research that I did over the summer. Although I am a Performance major, he is also the supervisor to my 'unofficial' double-major in Music History."
"I took a research methods course with Dr. Simonot-Maeillo, and she went above and beyond to answer any questions I had about the field and to encourage me to apply for the conferences, he adds.
"Dr. Simpson-Litke has been a huge help as well. I doubt I would've been accepted to the conferences if she hadn't torn the first draft of my conference proposal to shreds!" he jokes.
Roth is delighted to be having these very unlikely experiences, and is looking forward to the conferences. The Music Theory Midwest conference will be taking place May 10-11, 2019, in Cincinnati, Ohio, USA. IASPM – Canada's conference follows closely thereafter, on May 24-26, 2019, in Montreal. Roth is looking forward to seeing what music offerings the cities have to offer while he is there.
"I've been to Montreal several times, and look forward to visiting again when it's warm out!" he says. "I've never been to Cincinnati but I plan on skulking around the College-Conservatory of Music while I'm there to check out their facilities. For both, however, I'm probably just going to nerd out at the conferences!"
Next year, Roth will continue to nerd out at the University of Toronto, where he will be working on a Master of Music in Percussion Performance.
You still have one more chance to hear Roth perform before he heads out for his conferences! He will be performing in his final credit recital for percussion at 7:00pm on Wednesday, April 17, 2019, in Tache Hall, Room 266.