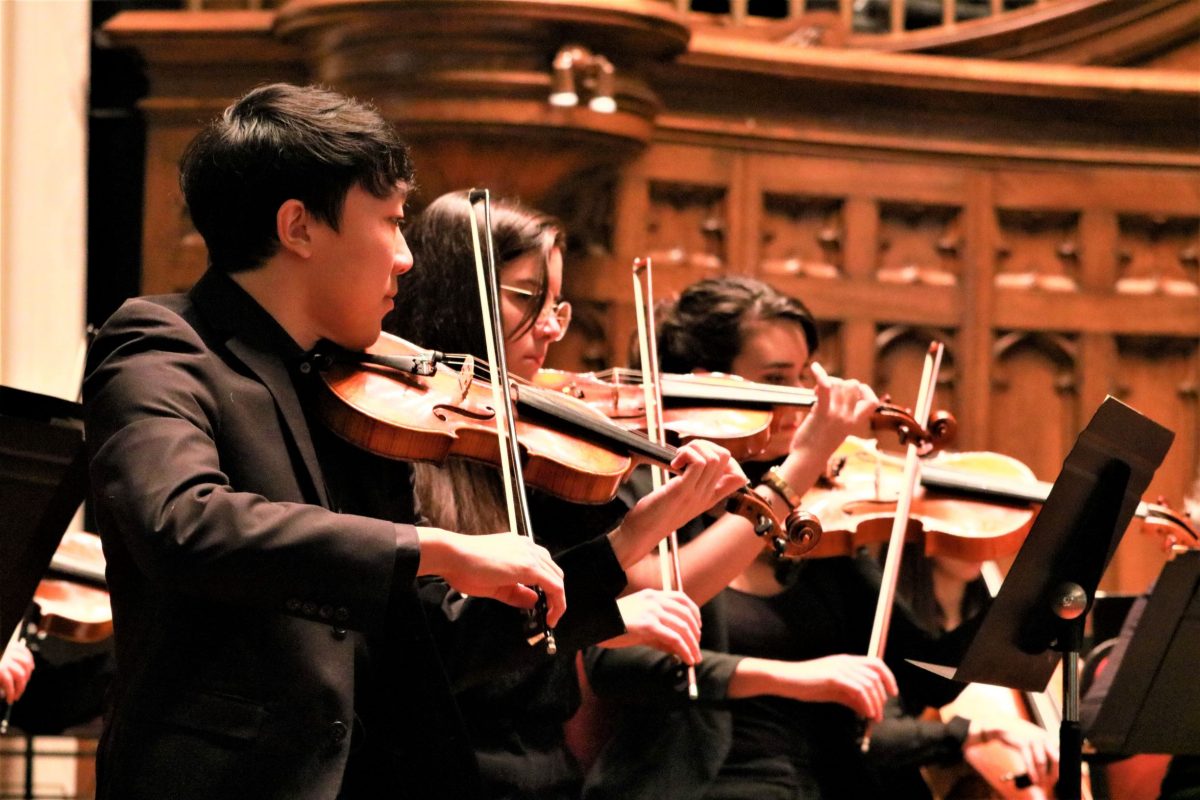 The Desautels Faculty of Music adds scholarships for non-music majors
Non-music students are an important part of Desautels ensembles, and can now receive financial support for their participation
July 16, 2021 —
Music isn't just for music majors. Many talented and passionate musicians choose to go a different path in their University of Manitoba studies, but would like to continue making music. The Desautels Faculty of Music's many ensembles have always been open to students pursuing non-music majors, and these enthusiastic students have helped to thrill audiences across Winnipeg.
New for the 2021-2022 academic year, the Desautels Faculty of Music is thrilled to announce an ensemble scholarship available to non-music majors at the University of Manitoba to help cover the cost of ensemble participation!
The process
The DFOM Ensemble Scholarship is designed for UM students who wish to receive university course credit for their ensemble participation, and who perform in one of the following instrument areas: jazz, strings, woodwind, brass, or percussion.
UM students who do not wish to receive credit for their participation in an ensemble can audition for DFOM ensembles as a community member, and will pay a nominal fee for their participation.
In order to receive university credit for their participation in a DFOM ensemble, non-music majors must complete the following:
Fill out the DFOM Ensemble Scholarship Application 2021 and submit to Louella Yambot by August 15, 2021.
Request and receive departmental permission from their home faculty in order to register for the ensemble for course credit.
Successfully audition for the ensemble with which they would like to perform. Ensemble audition requirements can be found on the DFOM's ensemble auditions page.
For which ensembles can non-music students receive an ensemble scholarship?
Non-music students can receive an ensemble scholarship for any of the following ensembles:
University of Manitoba Jazz Orchestra
University of Manitoba Wind Ensemble
University of Manitoba Symphony Orchestra
Participation in ensembles enriches the university experience
Participation in music ensembles can be an enriching part of the university experience. Non-music students have the opportunity to continue to engage in activities they love, meet new friends from outside of their major, and keep their brains sharp by engaging in practical, hands-on learning. Additionally, having a creative outlet outside of one's major studies can be a great way to relieve tension and avoid burnout.
We in the DFOM look forward to having you with us for ensembles this year! We can't wait to see what you create!
If you have questions or would like more information regarding ensemble scholarships, please contact Jacquie Dawson, Director of Bands, or Louella Yambot, Admissions and Recruitment Coordinator for the Desautels Faculty of Music.