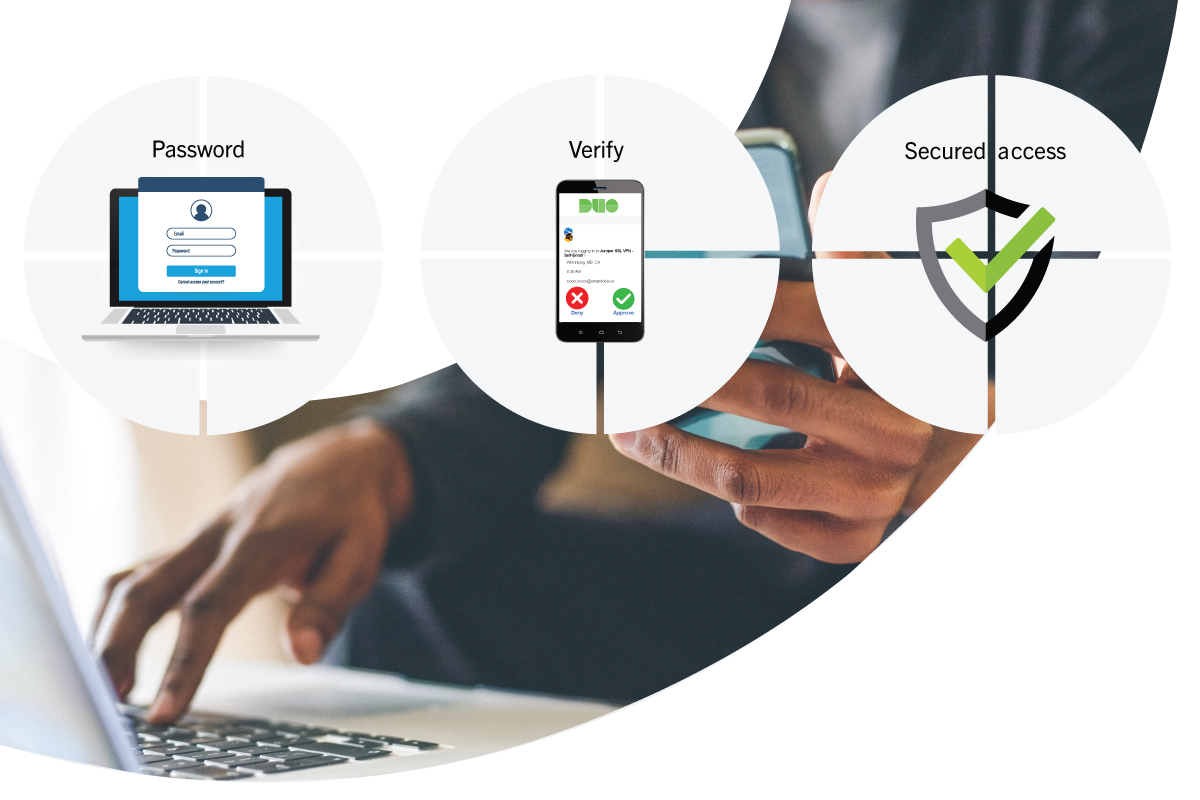 Multi-factor authentication (MFA) mandatory for students May 4 and all users June 1
Self-enrol today to ensure your uninterrupted access to email and other IT services
April 11, 2022 —
Effective June 1, 2022, multi-factor authentication (MFA) will be mandatory at the University of Manitoba for all faculty, staff and students.
Duo MFA will be required to continue using an ever-increasing number of applications, including Microsoft 365 (Outlook, Teams, OneDrive etc.), UM Intranet, UM Zoom, EPIC and Concur.
What does this mean for you?
To ensure you will have uninterrupted access to your email and other services like UM Zoom, self-enrol your account and device in Duo before your automatic enrolment deadline.
Information Services and Technology (IST) will automatically enrol all students, staff and faculty accounts in Duo MFA by June 1, 2022. Enrolments will focus on students first, then faculty and staff.
Student accounts will be automatically enrolled in Duo starting May 4, 2022.
Staff and faculty accounts will be automatically enrolled in Duo on June 1, 2022.
Why is this happening now?
The deployment of multi-factor authentication (MFA) for faculty, staff and student accounts is in response to a dramatic rise in the scope and sophistication of phishing, spear phishing, and malware attacks targeting our university community. The high rate of compromised credentials associated with these campaigns is an acute threat to information security at the University of Manitoba. Hundreds of user accounts are compromised at the University each year.
MFA is shown to reduce the number of exploits from compromised accounts by upwards of 99%.
For more information, visit UM multi-factor authentication.
Support and resources
Visit the UM multi-factor authentication website for more information about Duo MFA, self-enrolment guides and answers to frequently asked questions. 
Prioritized IST Service Desk support will be available following the automatic enrolment dates.
We are also launching a series of lunch and learn webinars to help staff and faculty enrol in Duo after May 4.
Important note about user issues after enrolling in MFA
After enrolling in MFA, a small percentage of users may experience one or both of the following:
You cannot send or receive UM email from some of your devices.
You are continually prompted to enter your login information when trying to access your UM email.
This known issue is resolved by removing and re-adding your email account:
Any questions or concerns about mandatory MFA or automatic enrolment may be directed to MultifactorAuth [at] umanitoba [dot] ca.