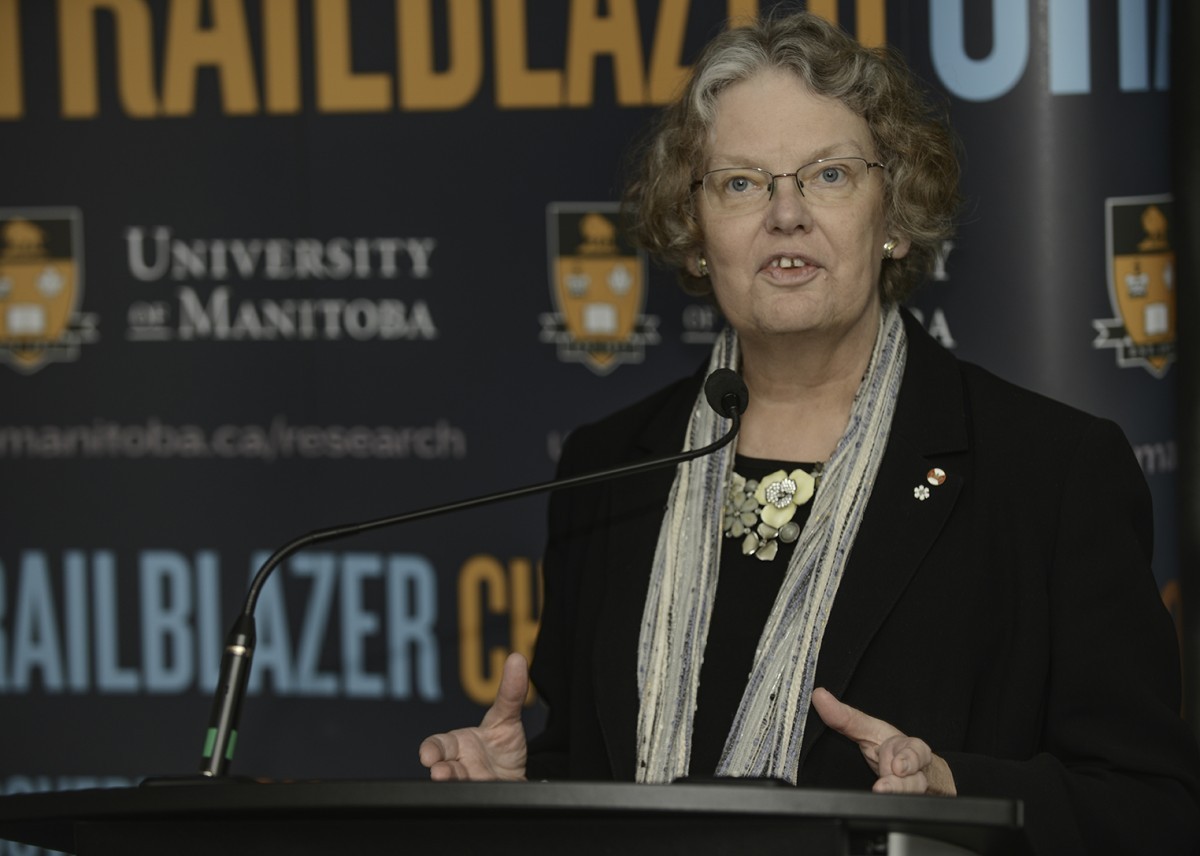 Mourning the loss of Distinguished Professor, Patricia Martens
January 12, 2015 —
The University of Manitoba mourns the passing of Distinguished Professor Patricia Martens on January 10, 2015. Martens was a Distinguished Professor in the College of Medicine and Senior Scientist as well as former Director of the Manitoba Centre for Health Policy (MCHP), an internationally-acclaimed centre using administrative data to study health and social services, population and public health.
"I am saddened to learn of the passing of Dr. Martens," said Dr. Brian Postl, Dean of the Faculty of Health Sciences. "Patricia was a strong and inspirational leader. She worked tirelessly to improve the health of Manitobans. Students and colleagues, both locally and around the globe, looked to her as a role model in the field of population health research."
"The MCHP family is deeply saddened by this loss. Pat had a profound effect on so many of us personally as well as in our work," said Dr. Alan Katz, Director of MCHP. "She was a gifted teacher, inspirational leader, compassionate human being and irreplaceable friend to so many. Her extraordinary contribution as a scientist and mentor will be sorely missed. I was blessed to be mentored by her. Manitoba has lost an extraordinary woman."
Martens received the 2005 CIHR Knowledge Translation Award for Regional Impact for The Need To Know Team, a collaboration of RHAs, Manitoba Health and academics. She had a strong record of academic and community engagement, having spoken at over 400 conferences, and published over 300 articles, reports, book chapters and abstracts. Her research interests included studies on health status/healthcare use (including Métis and First Nation), inequities, mental health, child health, and breastfeeding. She was the co-Principal Investigator (PI) in the pan-Canadian CIHR CNODES (Canadian Network for Observational Drug Effect Studies) and nominated PI of "PATHS Equity for Children" program of research.
Martens was recognized for her research excellence and pioneering spirit through many awards including: the 2010 Manitoba YM/YWCA Woman of Distinction for Health & Wellness, a CIHR/PHAC Applied Public Health Chair (2008-2013), and was a Fellow (FILCA) of the International Lactation Consultants' Association. In 2013 she received the R.D. Defries Award (highest award of the Canadian Public Health Association for outstanding contributions in public health) and was elected a Fellow of the Royal Society of Canada. She became a Member of the Order of Canada (CM) in 2013, and in 2014 received the Justice Emmett Hall Laureat award for contributions to health services research and was elected a Fellow of the Canadian Academy of Health Sciences.
She is survived by her loving husband of 40 years Gary Martens (School of Agriculture) of Kleefeld, their son John Martens (Emilie Lemay) and granddaughter Charlotte; daughter Rebecca Guderian (Robert Guderian) and grandson Alexander; her sister Janet Hill (Sandy Hill), niece Karen and nephew Warren, and brother John Weber (Connie Mariano Weber) nephew Mark and niece Melissa.
A funeral service for Patricia will be held at Kleefeld Evangelical Mennonite Church on Tuesday, January 13, 2015 at 2:00 p.m. Per her wishes, donations may be made to the Dr. Patricia J. Martens Endowment Fund at the University of Manitoba.
Read the Winnipeg Free Press obituary
Research at the University of Manitoba is partially supported by funding from the Government of Canada Research Support Fund.