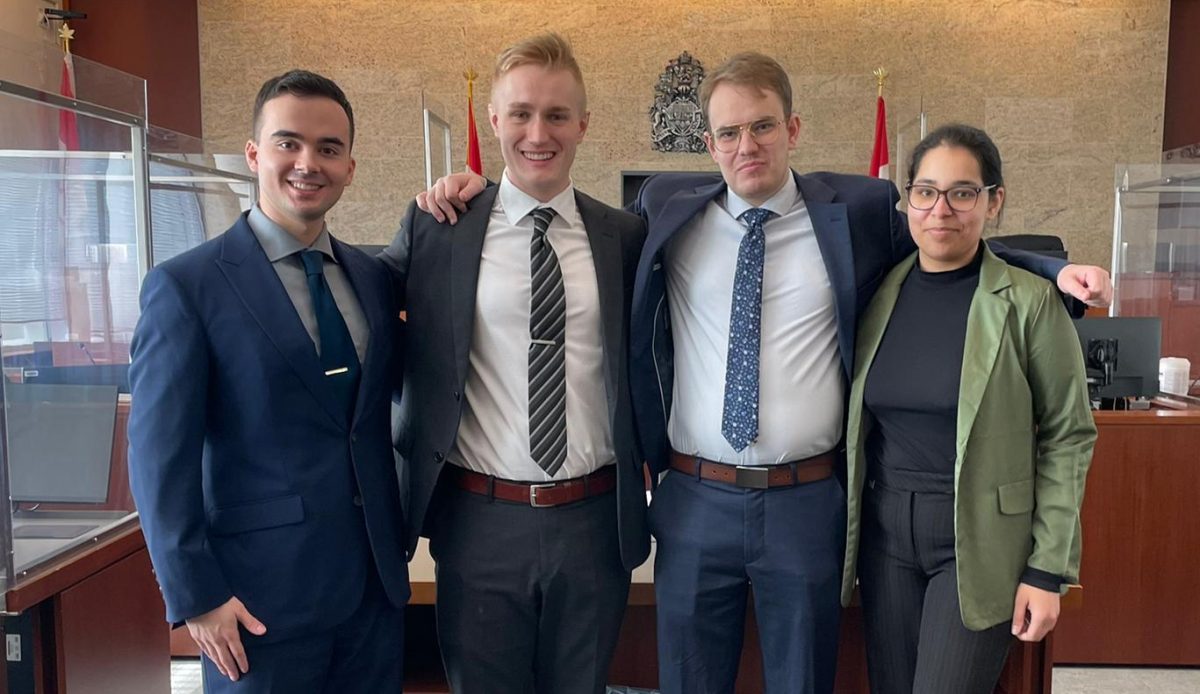 Moot Report 2023: Success for Robson Hall at the Donald G. H. Bowman National Tax Moot – Best Appellant Factum
March 10, 2023 —
Over the weekend of March 3-4, 2023, the University of Manitoba participated in the Donald G. H. Bowman National Tax Moot. The colours of Robson Hall were carried by Brandon Gray (3L), and Sawarn Benning (2L), Matthew London (2L) and Justin Papoff (2L) as oralists, with support from Ben Maness (3L) as the researcher. Coaches Professor Darcy MacPherson and David Silver (Department of Justice, Canada) were very pleased and proud of the team's performance. The team was rewarded with the prize for Best Appellant Factum.
The Bowman Tax Moot is hosted annually by the international law firm of Dentons, and is administered by a committee of judges and practitioners. The Moot is named after the Honourable Donald G.H. Bowman, former Chief Justice of the Tax Court of Canada. This year, it was held in Toronto.
Upon winning Best Factum – Appellant, Brandon Gray modestly directed praise aimed at the team towards their coach's advice. "I don't think we can take too much credit for our factum," he explained. "Our coach David Silver told us to do two things: one, point-first writing; and two, short sentences. We basically just did that and it seemed to work out okay."
Communicating your case clearly is an essential skill for mooters, and students at the UM Faculty of Law are demonstrating that well this year.