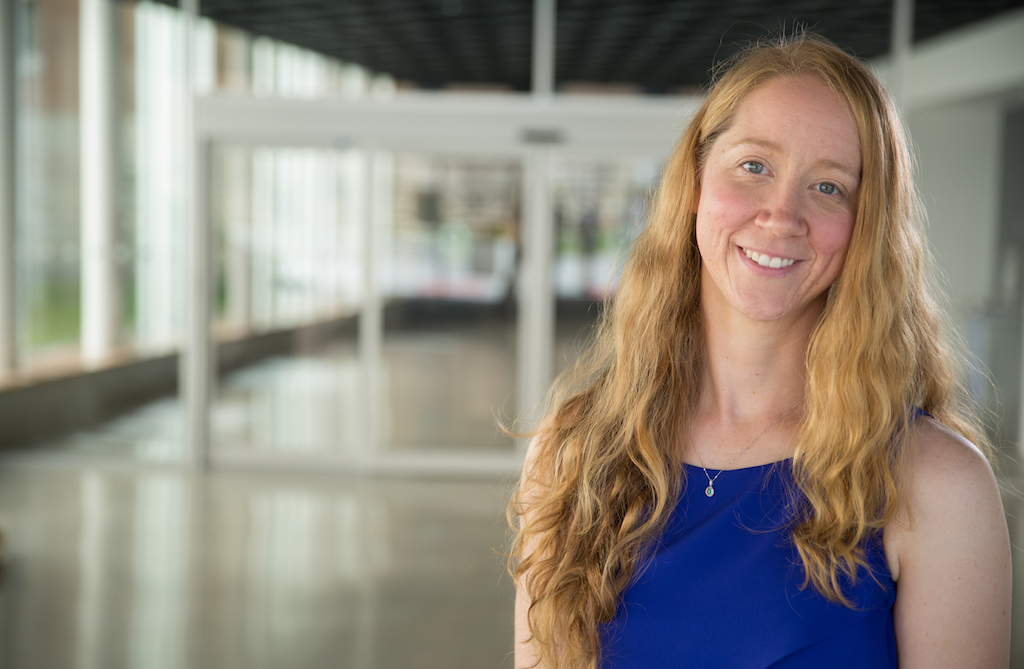 Meet Vanier Scholar Jacqueline Hay
September 20, 2017 —
When she was eight, Jacqueline Hay hung from a monkey bar for 11 minutes to prove a point, which was that she could hang from a monkey bar for 11 minutes. Her physical education teacher held a school-wide competition to see who could dangle the longest. Outlasting all her Grade 2 classmates, Hay clung to the bar despite her teacher telling her to get down. She ignored him and dropped only after she felt confident she won. But she didn't: A Grade 5 kid hung for three seconds longer.
"I was very upset about this. I was walking around victorious and then I learned I didn't win and I was crushed and it was awful. It haunts me. I'm 32 and it still ruins my life," Hay says with a laugh. "I could have had it. I could have been top of the school."
Vanier scholars, which Hay was named this year alongside two other U of M students, are an exceptional group of driven individuals. To receive the prestigious title, they must show a record of excellence in academics, leadership, and research.
In the past 9 years, U of M has announced 24 Vanier scholars.
Hay's Vanier-supported work will explore the complex interactions between genes, the ecosystems of bacteria in the gut, and personal lifestyle factors to see how they relate to risk factors for chronic diseases.
UM Today sat down with Hay, who is supervised by Dr. Todd Duhamel in the Faculty of Kinesiology and Recreation Management, who is also a researcher at the St. Boniface Albrechtsen Research Centre, to learn more about her.
UM Today: When and where were you when you found out you got a Vanier Scholarship?
Jacqueline Hay: I was at home playing with my nephew. I received an email notification on my phone that the results were available. I stepped outside to be alone to take the bad news. You get excited about these things but you never think they are going to happen because they are just so prestigious. So I thought I'd go outside and have my quiet moment. It is quite a drawn-out process to find the results. First you log onto a website, find your application, open the results, and then actually read the letter. And you're just waiting for it to say 'thanks for coming out'. When I actually read the letter that said I won, I was in disbelief. And I read it about four or five more times before I was sure it was real. Then I started jumping around and tearing around the house yelling. Everyone thought I was crazy! It was exciting. It is such a big honour and so unexpected.
Where's home?
Winnipeg. I was born and raised here. I'm very interested in the effect of physical activity in helping individuals at risk or living with a chronic disease and there is a lot of important research going on here, and that's why I stayed.
How did you get into this topic?
I'm trained as CSEP, a Certified Exercise Physiologist. I started personal training when I was still an undergrad student. I became aware of a study looking at the role of different intensities of exercise on type 2 diabetes risk in youth that was running out of the local YMCAs. I volunteered as a trainer for the study, and my involvement got me excited about research, and led to me pursuing my Master's. Throughout my research experience I noticed that even when individuals performed the same amount of exercise that people responded differently—this got me interested in genetic differences. Then I heard about the TMPLR project, which I am now a part of. It's groundbreaking stuff. The research looks at the interaction between lifestyle, genes, and organisms in the gut and may play an important role in moving towards personalized medicine.
Now that you're a Vanier scholar, do you feel a different pressure on you?
I do feel that I must hold to a standard, but I feel I am up to the challenge. There is a pressure inherent in academia to do the best with the opportunities you are given—and this is a huge opportunity. By having this honour, it will hopefully open the door for even more opportunities and allow for more collaborations throughout my career. The award is not based solely on research… it kind of itemizes me as someone who has something, whatever it is – because the Vanier Scholarship is about leadership, academic and research potential. I intend to follow my passion and make a lasting difference in the field of Kinesiology.
What's your favourite part of doing your research?
I just love new information to be perfectly honest. And that is what's great about the TMPLR project. There is so much information we can gather that will be useful for years down the road. So that's the main thing that is really interesting.
I am also an interventionist at heart. I really look forward to using the data we collect to create trials to try to improve the health of someone at risk or living with a chronic disease in the future. Also, because all the information we are collecting is in Manitobans, we have the possibility of making a real difference in the health of our population here at home, which is very important to me.
I'm all over this. I really do want to make this province better, and we have so much potential. We have so much potential for opportunities and collaborations. I'm glass half-full. We have a ton of talent here and a lot of untapped talent. Any support could greatly help keep talented students in province to study and make a difference at home.
What's an interesting fact about you?
I'm smarter than I look.
What are your hobbies?
I love so many activities. I've done Judo, ultimate, volleyball, and competed in several half Ironman races.
You don't seem like a go-half-way person. Why didn't you do the full Ironman triathlon?
I didn't do the full because my friend didn't steal my credit card for the full event. I have been dragged into many sporting events because my colleague used to steal my credit card, and because of my frugal nature, if I got signed up for it and I paid for it, I'd go regardless of whether or not I did the training.
So your colleagues signed you up for it?
Yes, they signed me up with them. And I never trained for the event, but I have done some random biking and swimming before.
Did you finish?
Oh yeah. Once I'm in it I'm good to go but I just needed that nudge. So they'd steal my credit card and sign me up for events all the time. I have lots of very 'great friends'.
Research at the University of Manitoba is partially supported by funding from the Government of Canada Research Support Fund.