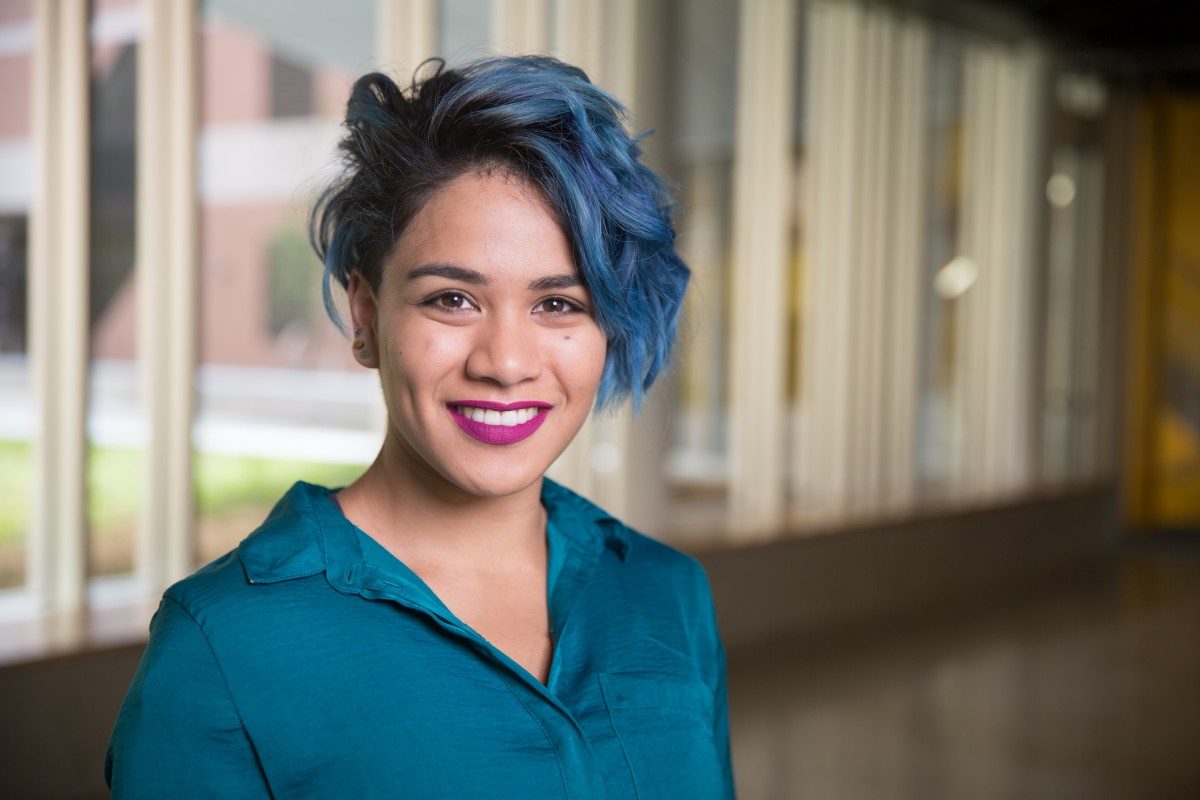 Meet Vanier Scholar Deirdre Khan
September 20, 2017 —
Deirdre Khan is still bothered by a question that was asked of her the first time she was in kindergarten ("it's worth noting that I had to repeat kindergarten"). What do you want to be?
Khan said unicorn.
Told it wasn't a job, she then said, "witch."
"And [the teacher] was like, 'That's not a job either.' To which my response was, 'Do you mean, how do I want to make money for the rest of my life?'," the PhD student recalls.
"There's no particular reason a five- or six-year-old would think that question meant 'What do I want to do to make money to live?' It was the wrong question to ask. It was a poorly framed question, which as a scientist still bugs me. And I still think it would be great to be a witch," she says.
In the end, Khan became something much better: a Vanier Scholar. She shares this prestigious honour with two other U of M students this year.
Khan's Vanier-supported work in Mark Belmonte's biological sciences' lab will focus on improving canola seed yield and nutrition.
UM Today sat down with her to learn more about her.
How was it learning you got the Vanier?
At the time I had food poisoning so I was really, really sick and had a bad fever. So I saw the email and clicked the link and read it, and then thought, this is exactly the kind of thing I would make up in feverish dream. So I sent it to Mark—and to my mom—asking if it said what I thought it said. It's all very polite and Canadian. "We regret to inform you" and "We are pleased to inform you" look the same when you're delirious. So I wasn't sure what was going on. I thought I was making it all up.
When your mom and professor Belmonte got back to you, confirming it said you got it, what then went through your mind?
I actually went back to sleep because my fever was super high. Like three days later I felt the joy.
Now that you have a Vanier, the financial pressure has been lifted and you can focus on your work. But now do you feel a different type of pressure on you?
Yes. A lot of it has to do with where my funding was at. I wasn't sure what kind of scholarships, if any, I was going to get. I wasn't sure if I was going to get a Vanier or other scholarships I applied for. So I was planning to wrap up my studies in about a year and I had sort of changed a lot of my expectations. And then I got the Vanier. So I thought, well, you have to take those three years because you are never going to have an opportunity like this again. So I had to change my expectations from basically wrapping up, to wanting to do so much again.
Prior to the Vanier I was getting kind of bummed thinking about all the research I wanted to do but couldn't. But now I get to do so much more. I can pursue so much more. On the flip side, I also feel a big pressure that everything I do has to be awesome and groundbreaking. It's a big opportunity, and I'm always worrying that I'll mess it up.
So what is it you're looking into? What problems are keeping you up at night?
It does keep me up at night. I study what I like to call the gene expression landscape of canola.
I like that phrasing.
Yeah, I like the word "landscape." And I like the word "profile." Profiling the gene expression landscape. So what I do is I study both the transcriptome and epigenome of canola seed development.
The transcriptome would be a snapshot of all the messenger RNAs. When you go from gene to protein, the RNA is what takes the info from the gene to make a protein. So it gives you an idea of the processes that are actually happening in the cell. The logic being, if something is turning on a gene, it's likely doing so for a reason.
So it's one piece of a very large puzzle. I also look at the epigenome – and at the marks that get tacked onto the DNA to help determine which genes are turned on or off. The transcriptome gives you an idea what a cell is doing with its genome, but the epigenome kind of tells the genome what to do and how to be.
And then, I have to prove it. The transcriptome and epigenome are like a jumping-off point for the rest of what I do, like making transgenic plants to figure out what all these genes are really doing once they've been turned on.
What can come from the information you're gathering?
I'm interested in making the oil properties of the seed better… including making seeds with more oil.
The nice thing about canola is that [molecules that are not ideal for our health] have been bred out…. But I'd like my project to affect which fats end up in the seed, how much of them, which types of proteins end up in the seed coat as well—because after they press the oil out of the seeds the seed coat remains and it's used as animal feed. So increasing the nutritional value of that is also important.
Basically, making a healthier, more productive canola plant.
How did you get into canola?
I wanted to study developmental biology but after one of my first dissections I cried because I felt so bad for the rat. I feel slightly less bad for the plants. I still feel a little bit bad when I grind them up with my mortar and pestle.
So, anyway, I realized not animals. Then in third or fourth year, in my honours, we had an opportunity to do research and profs came into our class and talked about their research. And one thing that really interested me was when Mark Belmonte came to talk. He talked about all the different components of canola seeds and the roles that they play. How they're trying to figure out how the parts piece together to coordinate seed development. And I thought that was really, really cool and decided I was going to do my honours project with him, and I've been there since.
What's your favourite part of doing research?
My favourite part is actually when the experiments are done and I'm putting it all together in writing. I like the bench work, don't get me wrong, but at the end, once you have the data, going through it and putting it together and making a biological story that actually makes sense and is interesting…I love it. Placing all your data into the knowledge gaps that exist. Finding its place in science. Making it interesting for people to read. That is my favourite part.
Do you have any hobbies?
I play and coach volleyball. I've been playing less because I tore my ACL last year and my meniscus this year. But I help coach my sister's school team, and I'm an assistant coach for club volleyball, and I help run development camps. Twelve to fifteen is an interesting age. The girls are fun; they always want to learn.
Also, recently, my friend decided we have to learn various ballroom dances. It's just for fun. So, I'm gaining maybe slightly less than mediocre proficiency at basic Latin dances, and the tango. I'm a disaster on the dance floor, but I like to tell myself that at least I'm good at science, so my life balances out.
Research at the University of Manitoba is partially supported by funding from the Government of Canada Research Support Fund.