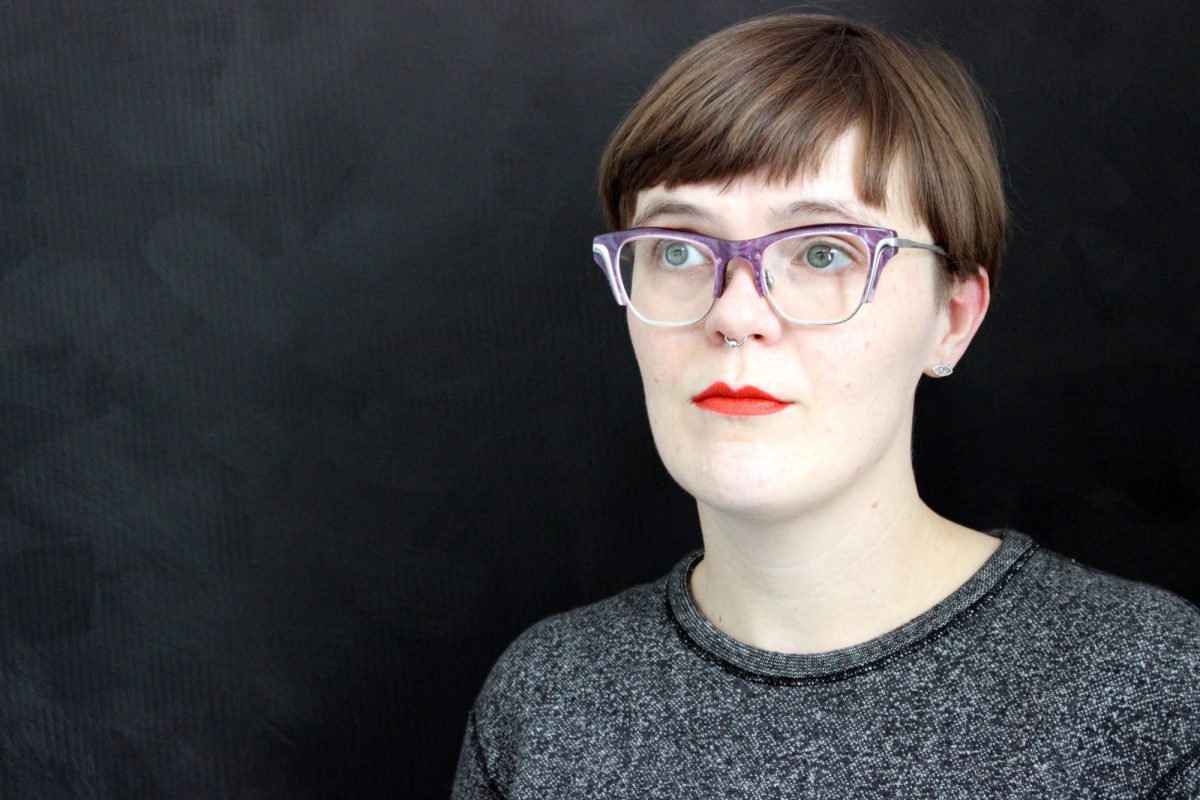 Meet the Director/Curator of the School of Art Gallery
September 4, 2020 —
Blair Fornwald is the new director/curator of the School of Art Gallery, joining the University of Manitoba just prior to the COVID-19 pandemic. She shares with us some of her thoughts about her vision for the Gallery and what she looks forward to in her new position.
What is your vision for the School of Art Gallery?
I envision the role of the School of Art Gallery in terms of service – who are we in service to, and how can we best serve them? We serve many: academic communities at the School of Art and the University of Manitoba, the local art community, and broader publics, including local, national, and international artists who are part of our programming, and art communities near and far who experience our work through touring and publishing activities, criticism and reviews, or digitally. Via publishing and collecting, we also serve future publics and contribute to future art history, which is very exciting but also carries with it a certain gravitas. What we do matters, right now and in the future, so it's our responsibility to help build a more just and empathetic world through our work.
To that end, I want to ensure that our work reflects and responds to broad and future publics by asking ourselves how our curating, collecting, writing, collaborations and structure can decentre whiteness and challenge patriarchy, cis- and heteronormativity, and ableism. Our exhibitions should articulate many perspectives and positions, and our collecting should address historic oversights that have privileged some voices and marginalized others. Being truly accessible also means presenting programming that looks beyond art-specific discourses and situates work in contexts that are important and interesting to broad audiences. Things like beauty, humor, emotional resonance, or a compelling narrative can also be great points of entry for viewers. I'm interested in presenting work that is generous and generative in these kinds of ways.
Finally, I want to create more exhibition, presentation, curation, and writing opportunities for local artists and arts professionals, strengthening current partnerships and seeking new collaborative opportunities between the School of Art Gallery and other galleries and artist-run centres in Winnipeg.
What unique perspective do you bring to the School of Art Gallery?
Prior to coming to the School of Art Gallery, I was the Curator of Moving Image and Performance at Dunlop Art Gallery and RPL Film Theatre, which operate as part of the public library system in Regina, Saskatchewan. The Dunlop has two gallery spaces – one downtown and one in the suburbs, and the Film Theatre is the only cinematheque in downtown Regina. As part of the public library system, both spaces have mandates to foster visual literacy through their programming, which has really framed my approach to curatorial practice. In this position, and previously-held positions, I've had the pleasure of programming for, and partnering with, very diverse audiences, including a large incidental audience that might need some assurance that the gallery is a place that they belong. At the same time, the Dunlop and Film Theatre always aim to maintain a high level of critical rigor and discourse, serving art communities in Regina and beyond, and respecting the integrity of the artists and filmmakers presenting their work. Through this experience, I've become quite adept at connecting with different kinds of audiences, and it greatly informs my thinking about exhibition design, the way I write about art, and the exhibitions I produce.
What do you look forward to the most?
Right now I'm working mostly from home, and like many, I'm looking forward to going out into the world more frequently, to more socializing, to getting back to normal, hopefully a new and improved normal informed by the tough lessons we're learning right now. I'm looking forward to getting to know my colleagues at the School of Art and in Winnipeg's art scene better. And I'm really looking forward to realizing the gallery programming we've been working toward, both on- and offsite.
What is your artistic, curatorial and research background?
My background and training is as an interdisciplinary artist. I have a BFA in Intermedia from the University of Regina and an MFA in Studio Art from Western University. Since 2002, I have maintained a visual and performance art practice that is largely collaborative. I was in artist collectives One Night Only and Turner Prize*, I have a couple of current collaborators that I'm working with, and I recently organized Performance Art Gym, a loose-knit collaborative that meets regularly to do performance art exercises together. My curatorial practice is similarly guided by a collaborative impulse.
My research – which encompasses visual and performance art, curating, and writing – explores the aesthetics of failure, the expression of vulnerability, and the use of humour to confront difficult truths. My recent work is informed by my identity as a rural-born Prairie queer of settler descent, and investigates social class, code switching, Canadian regionalism, and the Prairie queer aesthetic (if there is such a thing).
What pursuits do you enjoy in your free time?
I have a very dilettantish interest in a lot of subjects, so I spend an inordinate amount listening to podcasts and googling things. I like fine dining, cooking and baking, repetitive crafts like knitting and embroidery, and leisurely pursuits that are sports adjacent, like going for bike rides, and swimming in lakes.