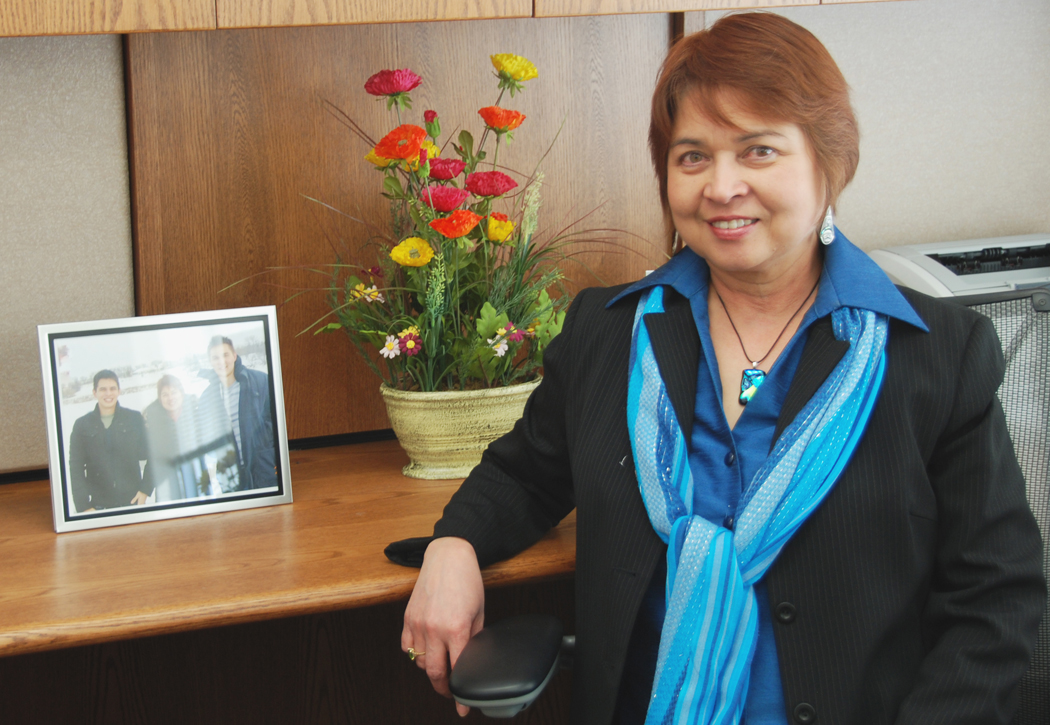 Meet the Dean: Beverly O'Connell, Faculty of Nursing
January 6, 2014 —
Australian Beverly O'Connell is finding Manitoba hospitable – even down to the weather. Besides enjoying the "beauty of snow," she has noted the "remarkable friendliness" of the province, "even more so  than in Australia," she says. The new dean of the Faculty of Nursing also appreciates what she calls Manitobans tendency to "celebrate everything," and "their strong sense of community."
O'Connell was brought to U of M through a search for a new dean at the Faculty of Nursing. She's wanted to be a nurse since childhood, she says. When young, she broke her leg and ended up in hospital where she watched the nurses and decided that she would like to do what they did.
What attracted her to nursing as a profession was that you "could relate to many people in warm and meaningful ways." The diversity of options offered by the career path was another draw for O'Connell. "You can travel (besides her recent move to Canada, she has lived and worked in Australia and the UK) and there are a whole host of career choices one can make as a nurse."
It was only after she had a family that she made the leap to academic life from clinical practice. As a nurse in charge of an emergency department, she did what she could to ensure that the students at her hospital had a good learning experience. Eventually she was asked to consider teaching and after a few years as a sessional, was hired to a full-time position.
"Nurses look after people from birth to death," O'Connell says, pointing out the significant role of nursing in society. "Most of us will see a nurse at some point in our lives. Most will see a nurse many times – even more than a doctor." They are the largest sector dedicated to health care employed in the workplace, she adds. In addition to the health care that they provide, nurses promote general well-being in the community— that model of well-being using a more holistic approach.
Among O'Connell's aims during her tenure are growing the research agenda at the faculty and further development of a "student-centred program," one that's flexible and accessible, she notes; "A positive learning experience that puts students at its heart." To that end, she has already inaugurated a student advisory board composed of 24 students in order to collect feedback. Another of her goals is to strengthen the interprofessional components of the program and the faculty's links with the practice community.
"We want to ensure our that our educational programs align with the workplace, we need to prepare students to work in a modern complex environment. We want to teach them to be adaptable, to be problem-solvers and good communicators, so that they will fit into work opportunities in a dynamic world," she summarizes.
Her motto, "progress collegially," indicates her strongest motivation in her role as dean of the faculty. As someone who herself does not like to "stay comfortable in a zone," O'Connell believes that it is imperative that "we work hard to become even more of a forward-thinking faculty."
Hard work, warmth and a progressive attitude are key to nursing, as she sees it, and O'Connell looks forward to continued engagement within the faculty employing those as her guiding principles.
Q+A with Beverly O'Connell

What drives you in your work and in your life? I thoroughly enjoy what I do –so nothing is too hard. I feel  very lucky. People in my position can influence nursing and health care, and that is very fulfilling.
What keeps you going in the rough patches? My sense of humour, if all fails, laughing does help!
Someone who or something that inspires you: I'm always inspired by successful people who remain humble
Name someone who inspires you today, and why: Michele Obama  and Hilary Clinton –Both in a public eye all the time, always professional, down to earth  and are great role models.
What activities do you engage in outside work? Music and playing the guitar.
Favourite blog/TV show/website: The shows: Australian and American idol.
 This article first appeared in the April 18, 2013 edition of The Bulletin.