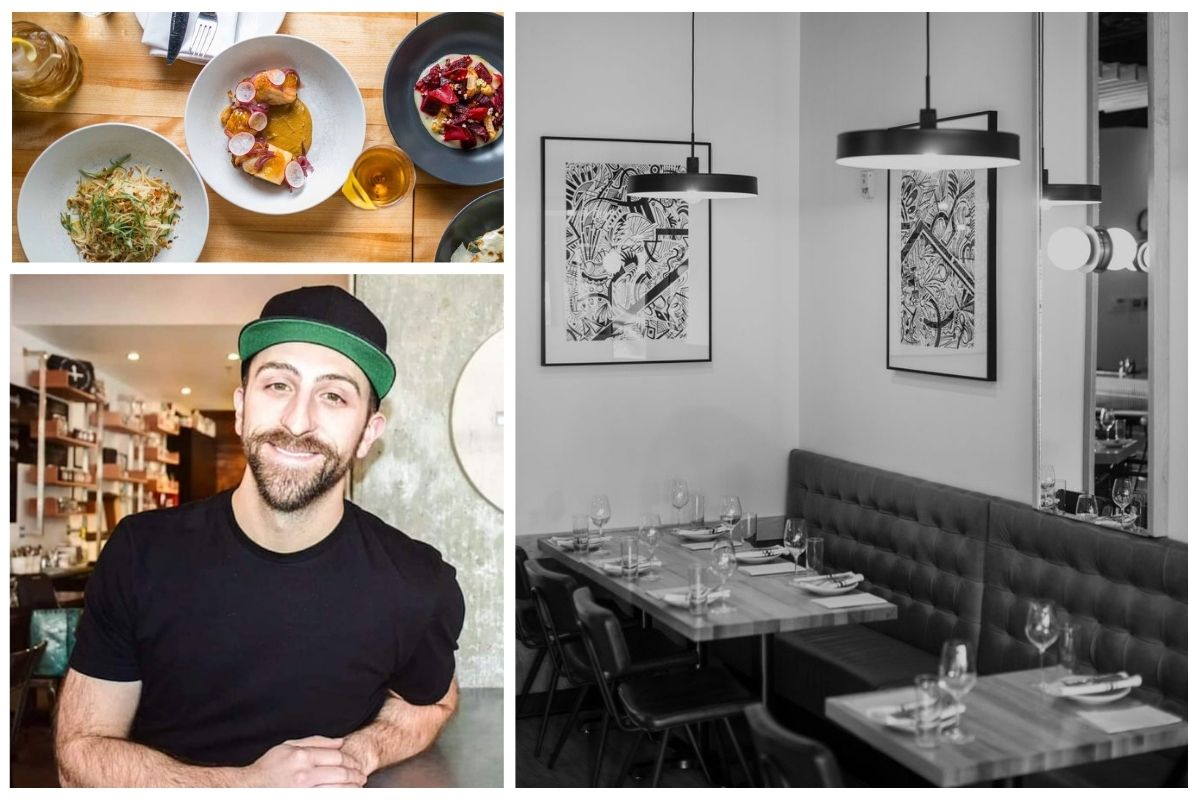 Meet the Asper alum innovating in Winnipeg's culinary scene
Entrepreneur and restauranteur Mike del Buono on the success of Bar Accanto, Nola and King + Bannatyne
November 17, 2023 —
An Asper School of Business Bachelor of Commerce alum, Mike Del Buono [BComm(Hons)/13] is the managing partner of Burnley Place Hospitality Inc., which led the launch of local Winnipeg favourites King + Bannatyne, a premium sandwich shop in the Exchange District, and Nola, an elegant gem of Saint Boniface.
Del Buono's latest concept, Bar Accanto, is located just steps from Nola. The bar is already following in Nola's footsteps, making the 2023 long list of Canada's Best New Restaurants by Air Canada's enRoute magazine (Nola made the same list last year).
Throughout his time at Asper, Del Buono had his sights set on opening a restaurant. He graduated from the program with a concept in mind and got to work trying to make it a reality in the Exchange District.
"I was looking for a space that would perfectly fit the concept that I wanted to achieve in the Exchange but kept uncovering more challenges," he says. "After a long search, I had to decide: Was I married to the concept or to the area? I decided being in the Exchange was more important than my original concept, and that's how King + Bannatyne got started."
Del Buono developed an understanding of how concept and context inevitably inform each other, adapting his original idea to the quick-service, open-concept sandwich shop that proved to be a better fit for the practicalities and feel of the Exchange.
While the neighbourhood shaped King + Bannatyne, Del Buono was busy immersing himself in the area by serving on the board of Exchange District Biz, hosting community events and organizing fundraisers. With his career taking off impressively, he started to feel ready to make another leap into full-service and higher-end dining.
Nola eventually emerged from Del Buono reaching out to chef Emily Butcher and proposing a promising concept.
"It was just the right time for me to move into a role where I could foster an environment for a chef to show their true colours and realize their creative visions," he says.
"I like to say that I'm here to build the runway so that they can take off."
For Del Buono, this role fills a niche in the restaurant industry and engages his skill as a business professional as he calls on his Asper training to support innovate chefs like Butcher. "I'm not a chef, but I understand how kitchens and restaurants operate. The business theory I learned at Asper gives me a background that I don't think a lot of independent restaurants have. I use that knowledge to build those runways."
As he reflects on his time at Asper, he notes that he wasn't as involved outside of the classroom as many of his peers, spending much of his time working in restaurants throughout the degree and trying to find a place in a then-new entrepreneurship stream. He remembers professors who he says had a major impact on his career, mentioning the late Reg Litz and his social entrepreneurship class, and Rajesh Manchanda's integrated marketing course.
"I think a lot of my community work really came from Professor Litz," he says. "I learned so much about leadership and engagement from him. And, I don't think I would be seeing this success today had I not learned how to build a brand in Professor Manchanda's class."
Del Buono actually had a chance to thank Manchanda in person at Nola one day. "I don't know if he recognized me, but I just had to introduce myself and tell him how much that class impacted me," says Del Buono. "I'll never forget that moment—there I was, one former student of many, and he sent me on a path that I wasn't even expecting."
Del Buono is recognizing the impact of these moments years later as he reflects on what matters most to him as an entrepreneur. Despite one-time dreams of making King + Bannatyne a chain, possibly even national, he has another vision today.
"I want to build a community. I want to have multiple restaurants in a neighbourhood, each their own unique concept and led by creative people, and I want to be able to walk down the block and check in and be involved. I only want to grow to the point where I can be present and know everyone's names," he says. "When people come into Nola or King + Bannatyne or Bar Accanto, I want them to feel this throughout their experience."
As an accomplished restauranteur and entrepreneur, Del Buono understands the value in creating spaces for impactful moments to happen, from the classroom to the kitchen—cultivating unique dining experiences, supporting talented chefs in their creative vision and using his business expertise to build even more runways to success.